This is even more important when you ride a non-standard cycle. I need to make sure it is accessible as steps, bollards too close together or gates will mean the end of the road even before I reach my destination. Okay, this is an exaggeration but that is how it feels at times.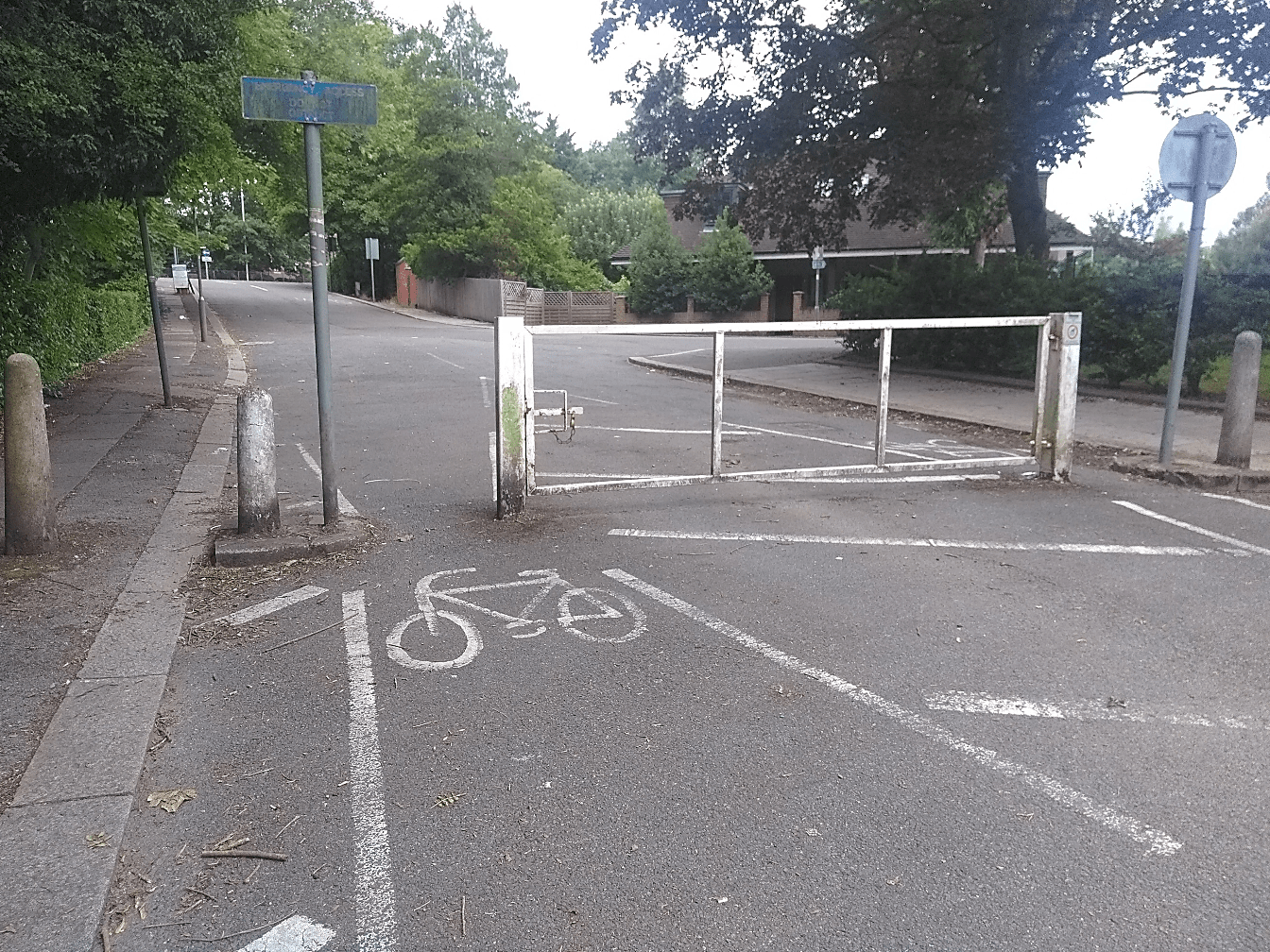 My ability to get lost is, rather embarrassingly, legendary among my friends and family, so much so that more than once people have said to me that I should volunteer 'my unusual skills' to test any navigation app, map, signage or solution before they go to market to ensure they are easy to use!
Personally, I need visual clues so before any planned trip, I will fire up Google Maps and virtually ride the route in Street View more than once, step by step, noting down unusual buildings, the name of shops or any recognisable features to memorise the locations where I need to make a turn. Then I write it all down on paper and keep it handy during the actual trip in a plastic sleeve, attached to the handlebar. It takes forever and kind of limit how spontaneous I can be. A lot can be said, however, about the unexpected joys of getting lost but obviously this is not suitable for all types of trips! At least with the cargobike I have plenty of space to keep food, water, and a phone battery pack just in case…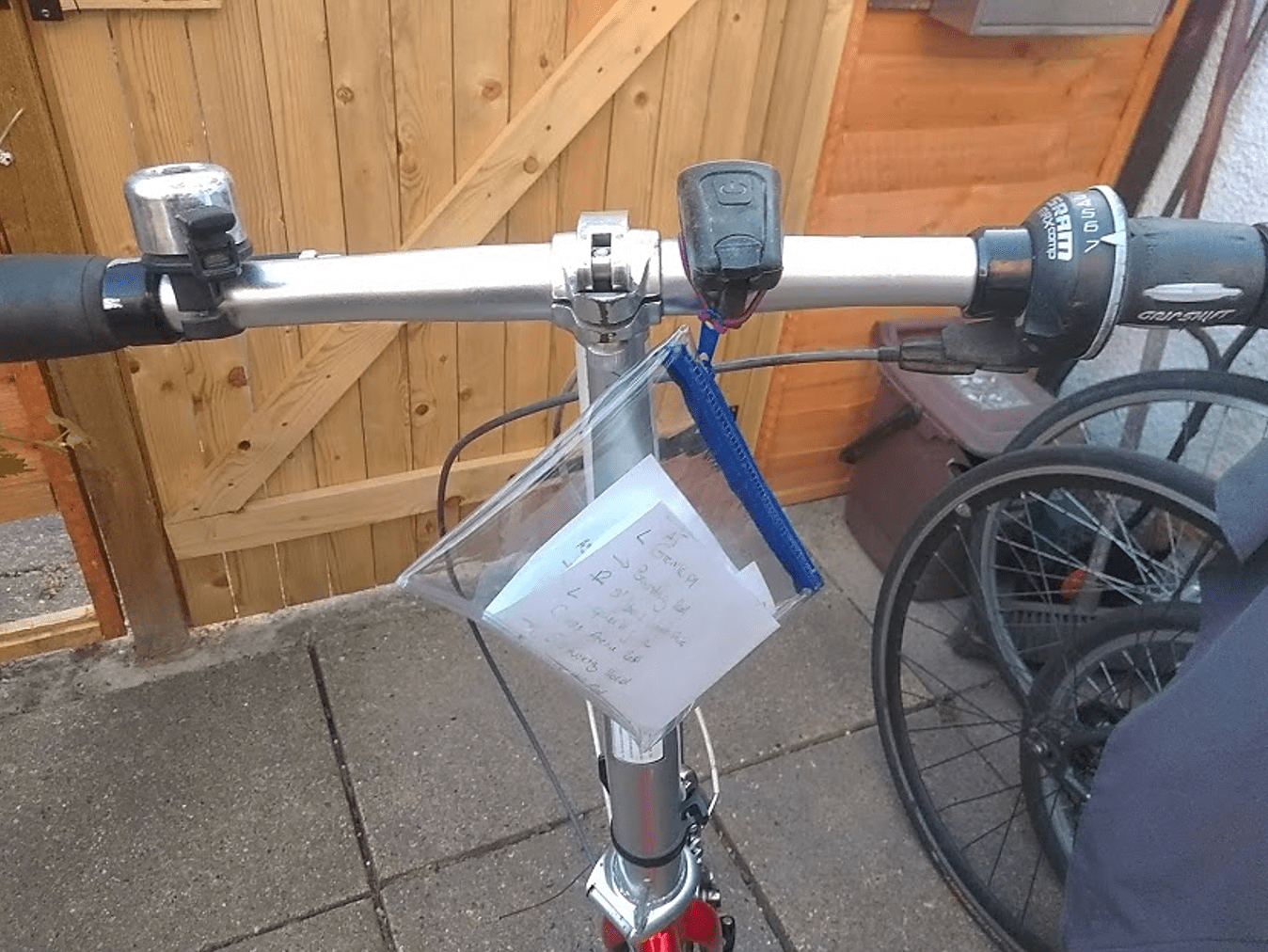 I have tried having the 'voice' telling me where to go but it does not work on me. I think I am missing the visualisation element. I have not been able to use a phone holder on my handlebar, due to the cargobike hood being in the way, and it's just one more thing to forget when you lock up, isn't it? I also have never gone into the habit of having Bluetooth, data and GPS on, all the time on my phone. I just turn them on when I need them. If you like the idea of having your phone on the handlebar though, I have heard Quad Lock is a really good solution to safely mount your phone on your bike.
Even if the situation is generally improving slowly in London with dedicated cycling infrastructure and a wider network of low traffic areas, it is still all too often not yet fully connected nor direct. The signs too, I find, are not always intuitive. This adds to the anxiety when planning a trip and when out riding. Speaking as someone who can get lost in their own neighbourhood, a last-minute detour is the last thing you need. I have always wondered how they came up with the distance on some signs (on online maps too) as it takes me almost always double that.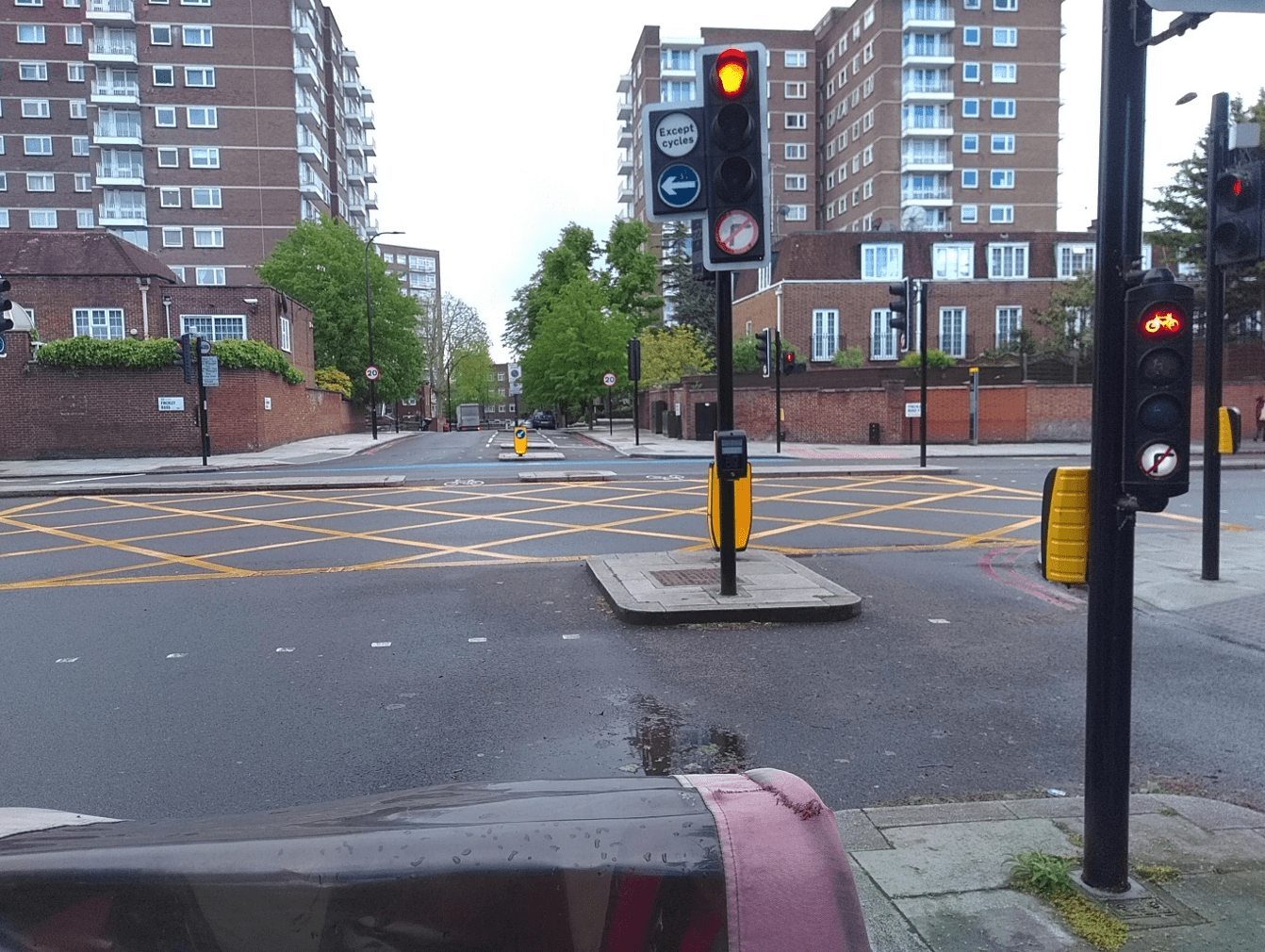 Beyond simple directions, I try to plot routes that avoid busy junctions and roundabouts as well, as this is never a pleasant experience, but that means adding twists and turns which for me, means more chances to lose the few bearings I have.
I also try to find out what is the parking situation at destination as a cargo bike requires a bit more than just a stand. Given the size, I need to park somewhere secure, in full public view, not far from my destination and where I will not risk causing an obstruction to pedestrians. Street View is useful for that although not always up to date.
So, what is out there to help you on your journeys?
For an up-to-date map with the latest schemes across the capital, there's Safe Cycle London, which is a map that has the StreetSpace pop-up Covid 19 cycle lanes and Low Traffic Neighbourhoods implemented recently. This is useful for plotting your own route or check against what other sources suggest.
Cycle Streets has a journey planner with some useful information about accessibility and photos of some locations. We all know that the provision varies greatly in quality, so Route Plan Rate came up with this great idea to add a qualitative aspect. The website allows you to rate the cycling infrastructure against criteria such as family friendly, well-signposted or offering great views of the capital. Do input your views when you get a chance, as the wider range of experiences, the better.
I like Google Maps because you can drag points to adapt your local knowledge or preferences to the suggested route, but I've found the timing wholly off for most of my journeys. There is lot of information missing too, especially in terms of accessibility. Some car-free areas like a pedestrians and cyclists bridge, are not visible either, as not accessible to Google cars, so hard to check them out prior to going there, and you can come against one of those silly inaccessible barriers and this can throw the whole itinerary off course.
Komoot seems very popular lately. I haven't tried it yet but after a quick look, it looks interesting as you can incorporate places of interest to your route which happen to be along the way. Some people have recommended Cycle.Travel too which seems to be doing the job nicely. I suppose, it is then down to your personal preference in terms of the type of map available, colours and layout.
An interesting approach is Beeline Velo which, with its minimalist looking device, simply points you to where you need to go, so even if you take a wrong turn, it will still direct you toward your destination. This would fit on my handlebar as no larger than a bell, but it is almost £100. The Velo works with the Beeline App but you can also use the free map and journey planner on their own.
YouTuber Jon Stone, started filming some routes across London and uploaded them online. Somehow, Jon manages to turn something that is causing anxiety into something not only useful but soothing to watch. I thoroughly recommend these videos, it's like the perfect combination of Street View and a 'voice', guiding you along with interesting comments on the area. To date there are almost 40 videos, so you may find one that is relevant to your own route. In a similar vein, Joy Riders also has some routes on their YouTube channel.
Once you have plotted a route, chances are you won't be able to do a physical reconnaissance before the planned trip. So, once on the road, signage becomes very important. London has made some good progress over this, trying to have uniform signage and informative enough to help rather than confuse further. We need more of these, but this is a monumental task.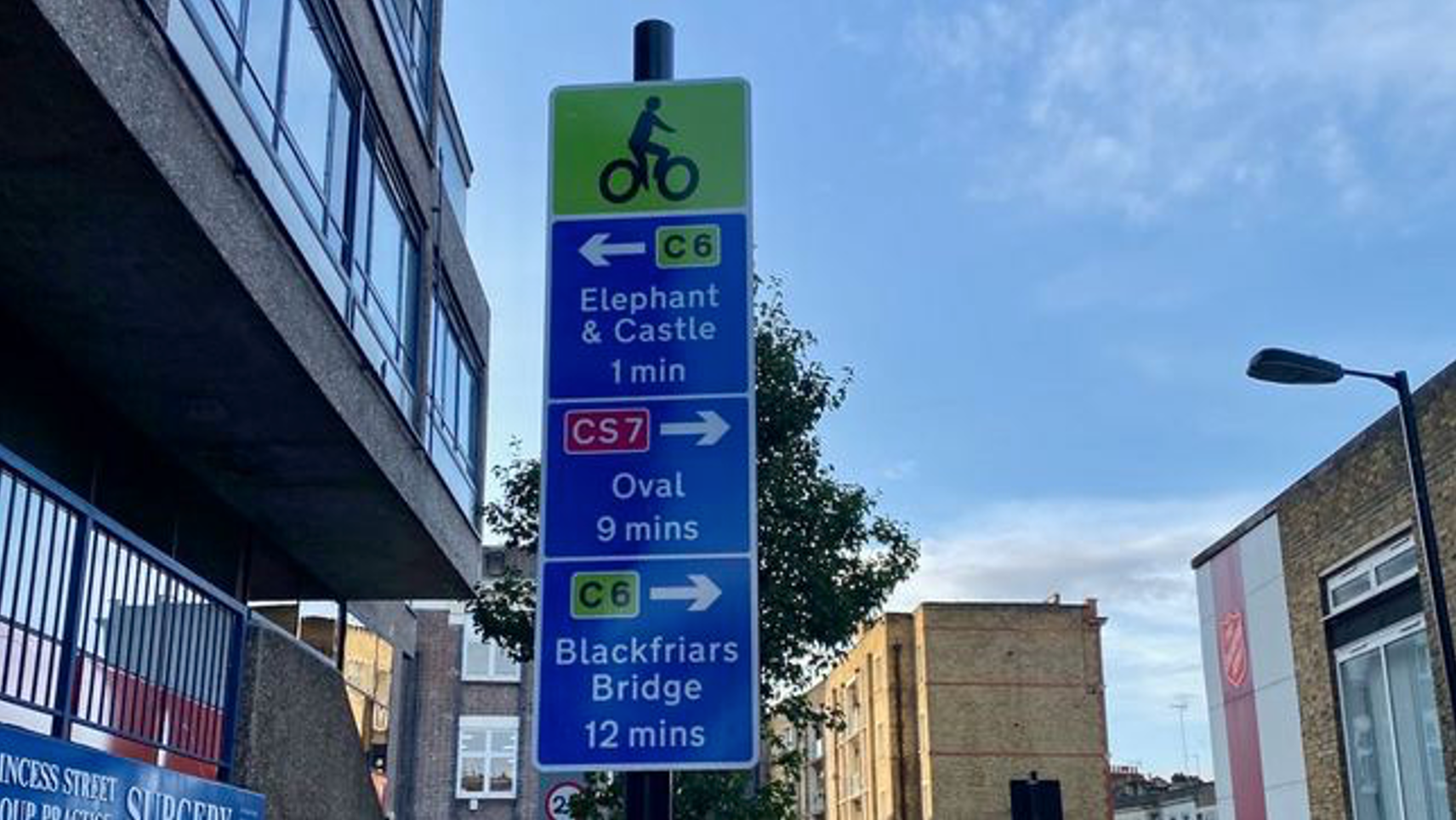 To conclude, there is not one tool that is good for everyone, but enough solutions are out there to experiment and find what works for you. Allow extra time if you can, don't worry if you have to stop to check if you are still on course. And of course, local knowledge is everything, so do ask your local cycling campaign group for help so you can learn the routes that no maps have.
SPECIALIST CARGO BIKE INSURANCE BY LAKA
All cargo-bikes are covered against theft, damage and much more. With flexible monthly policies you can cancel anytime.
Why not give us a try?