The concept of wearing fluorescent kit to be safe and seen is hardly new, even if it has been traditionally shunned by cyclists in favour of a sleeker, more subtle look. And who can blame us?
Until relatively recently, safe cycling options for cycling kit resembled day-glow bin bags, with all of the comfort and aesthetic appeal being used up on the more fashionable items that people actually wanted to spend their money on.
I remember my Dad presenting me with an exceptionally low-quality yellow parachute style jacket when I was a teenager, and the argument that ensued when declaring that "I wouldn't be seen dead in that!" Which, as he pointed out, was the whole point.
In the last few years, big teams such as Ineos and Trek-Segafredo have opted for reflective clothing for training kit for that very reason. Thanks to their influence, or coincidentally, most cycling companies now offer bright and beautiful options across a whole range of kit. 15-year-old me would question where it all went so wrong on finding that my favourite winter jacket is a particularly vivid shade of orange.
She could probably make peace with it if she realised it *actually* fits, and doesn't make me feel like overcooked boil in the bag rice. Better still, it can be spotted by the human eye more easily than any other colour (there's a reason Team GB opted for those eccentric yellow and orange helmets for the Madison races in Tokyo this year).
Riding on the road will always come with some level of risk, but there's now more options than ever when it comes to how you'd like to minimise it.
My 5 top tips to help keep you safe on the road:
1. Be seen in high visibility
Invest in some bright kit so road users can spot you easily. If a whole wardrobe revamp is too expensive, look for a lightweight gilet in a bright colour, preferably with some reflective strips. Keeping it thin means it can be worn over any kit combination without affecting your temperature too much.
When I'm commuting to the track or gym over the winter, I use a bright back-pack cover. This little waterproof sack protects my kit from getting wet on rainy days, and also acts as a giant indicator to drivers that there's a cyclist up ahead. I like the Rapha Brevet gilet and the pink rain cover that comes with this backpack.
Using front and rear lights is an obvious one, but you can really double your return by investing in a smart light like this one, which connects to your head unit and alerts you when a car is coming up behind you.
If possible, it's also a good idea to make eye contact with other road users. Getting eye contact with drivers guarantees that you have been spotted.
2. Protect your privacy
As tempting as it can be to want to show off your weekly training hours, or how many metres you climbed on that big ride, don't. Or at least, have your privacy turned on, and consider who you accept as a follower. My general rule is: if I don't know where they live, they can't see where I ride. If you can't bear the thought of reducing your Strava social group, then set your privacy bubble as big as possible. When making routes online that can be seen by others, don't start them at your front door. Make the start/finish point of your ride at the nearest main road or town centre that you'll ride through instead.
3. Be self-sufficient
If you're planning on riding somewhere more rural, it could mean a big walk to the nearest bike shop if you run into any trouble. For a long ride, I'll always bring at least two inner tubes, a pump, tyre levers, a multi-tool, some emergency cash and a mask in my saddle bag. If I'm heading out for a particularly long one, or the weather looks bad, I'll bring a bar bag as well with extra food, inner tubes and clothing. Occasionally it comes out for shorter rides too, usually packed with a picnic! It's usually a good idea to wrap inner tubes in some clingfilm or a plastic bag before packing them in your saddle bag as it protects them from wear. There's more miserable than trying to fix a puncture, only to find that your new tube has a hole in it as well!
4. Find a group
The Breeze Network is an easy first port of call for anybody looking for local, female-only group rides and cycle training. There's loads of information to make it as easy as possible to join a ride, gain confidence and meet new people. You can also find "buddies" and contact details for local clubs and regular informal group rides. If you live near an indoor or outdoor velodrome, or a closed circuit, check their website for details on female only sessions or racing leagues. If you're only just getting started, many clubs will also offer a bike loan service to get you started.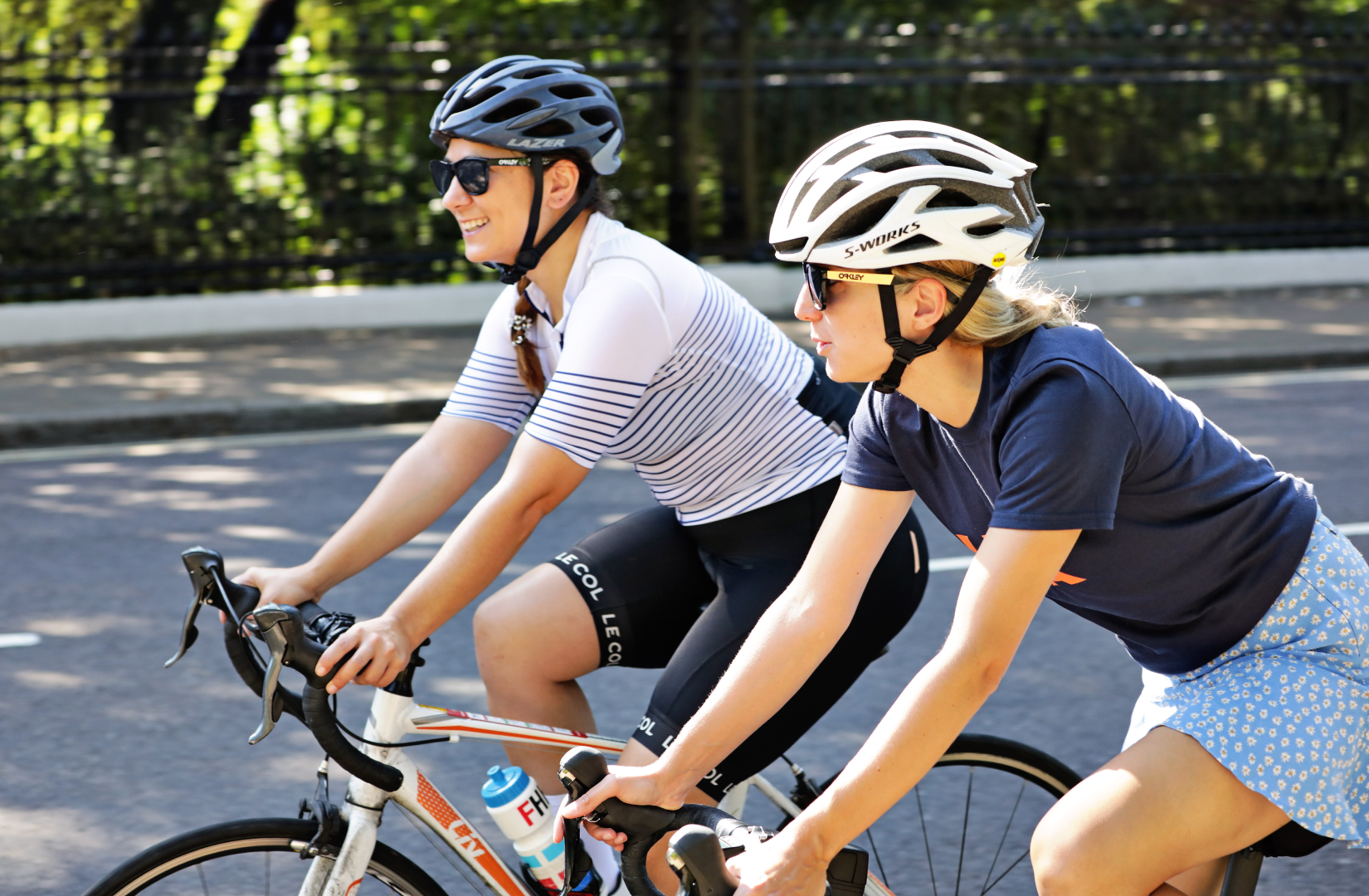 5. Useful resources
For extra peace of mind, there are so many resources you can use to build your confidence on the road by being prepared for a variety of circumstances. If you're riding alone, it's usually a good idea to let a friend or family member know roughly where you're heading, and when you're planning on getting back.
If you need to be picked up at any point during your ride, sharing your live location on Whatsapp can be helpful. However, in the (incredibly rare) situation that you could need to call an ambulance, being more precise could save a lot of valuable time.
The app "what3words" can give an accurate location which is more easily shared with emergency services. In this situation, having some level of first aid training can make a big difference. British Cycling offer online courses which can arm you with the knowledge to help a person in distress for a variety of reasons, for under £20.
Read up on UK Cycling Laws
Looking to brush up on the highway code for cyclists? Or your road signs? The rules for cyclists can be confusing. But as vulnerable road users it's important to know your cycling safety. We keep an updated guide on the legal requirements for cycling in the UK. Check it out to find out the latest cycling laws.
Bicycle insurance will keep you safe whilst cycling. Protect your bike, gear, and yourself with top-notch cover from Laka.