Trusted by the sports greats, Museeuw, Pendleton, Wiggins, hour-extraordinaire Joss Lowden and Giro-winner Jai Hindley. Le Col's kit is adorned by legends.
Made in the shadow of Monte Grappa, Italy, Le Col spins unrivalled quality and performance detailing into every garment. And their kit isn't just for the pros. Le Col makes best-in-class performance kit so that every pedaller can ride further and faster.
And now Le Col Cycling Club members will get access to top-notch insurance cover too!
Why are Laka and Le Col joining forces?
Partnering with Le Col gives us unique access to the latest kit and cycling apparel. If your kit was to get ripped or stolen, we can get you back to your best with some Le Col gear so you can perform at your peak.
We're also supporting Le Col Cycling Club, Le Col's official cycling community, with free Laka insurance cover within their member's portal.
Insurance for clothing? Eh?
Picture this. It's a standard mid-summer Saturday. You've got up early, adorned your favourite kit, and you're ready to ride. You haven't ridden for a while so you're super pumped and barely slept a wink.
With a big bowl of porridge and a morning coffee onboard you get going. The miles are ticking by. You're flying. This feels great! The fresh air, the freedom, the endorphins. You could ride all day.
Just as you're getting into your groove. Bam. You're off. You don't know how it happened but you're in a pile on the floor and something doesn't feel quite right…
You dust yourself off and head back home. With a bruised ego and some shredded shorts. From 100 to 0. Real quick.
But it's not something you need to worry about. It can happen to anyone, anywhere. We don't need to bring up the tarmac-hardened pro cycling images do we? You know the ones.
It even happened to Laka employee Simon! He said the worst thing was wrecking his jersey.
Really Simon? That broken arm looks sore.
When you're more bothered about tearing your Le Col jersey than a trip to A & E...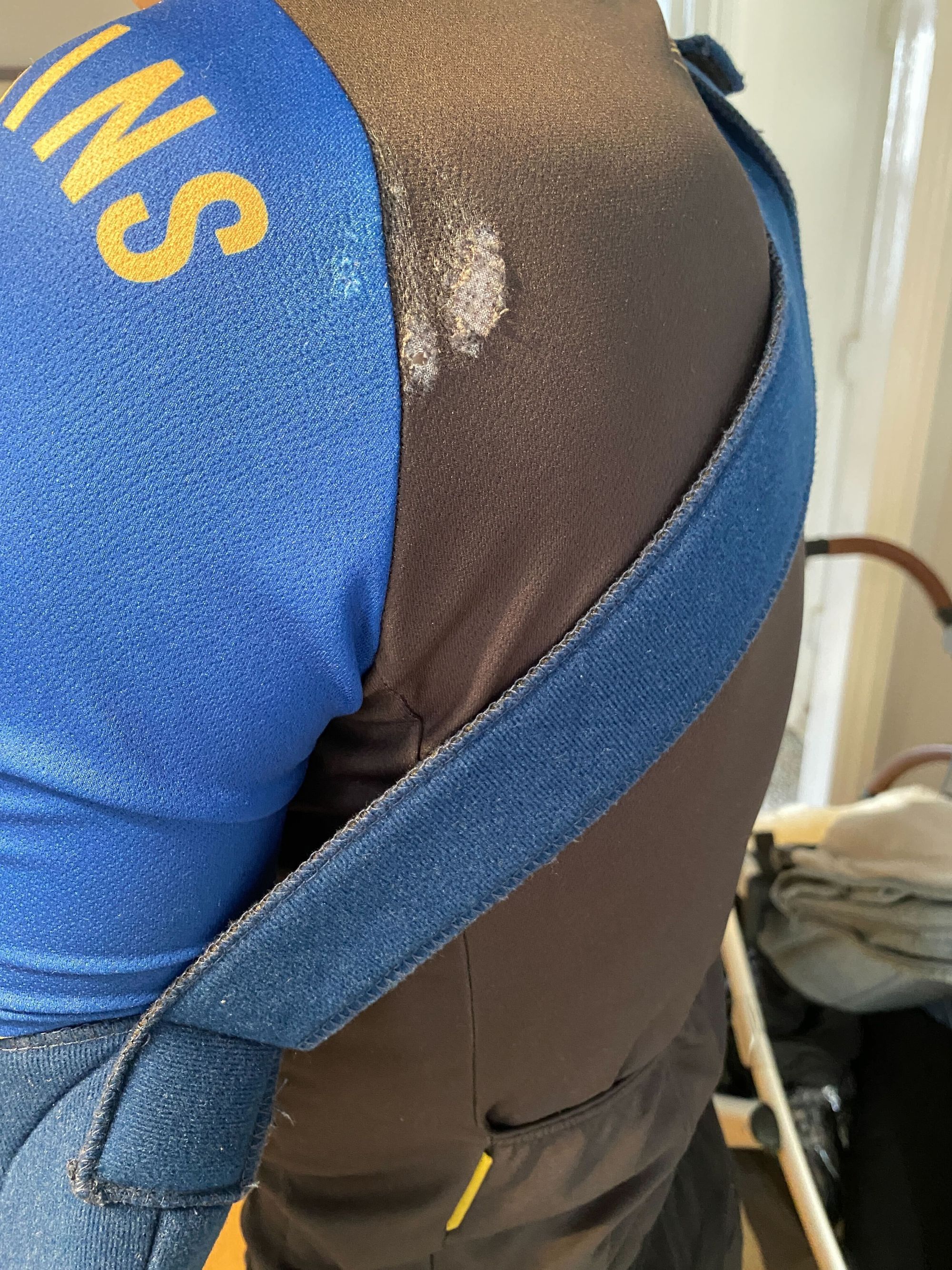 BICYCLE INSURANCE THAT COVERS MORE THAN JUST YOUR BIKE
It's all about the bike they say. But your kit matters too. That's why our cycle clothing insurance can cover all your cycling gear, from rips, snags, tears, you name it. Add your kit from as little as 50p per month.