Even before the pandemic hit, we knew cargo bikes were part of the solution in recovery efforts, particularly in post disaster situations. In the US, Disaster Reliefs Trials have been "making the case with exuberance and fun that cargo bikes are powerful tools for community resilience" for the past decade.  Cargo bikes can carry a lot of stuff, do not rely on fuel and can go to places beyond the reach of traditional transport methods, especially when critical infrastructure is disrupted.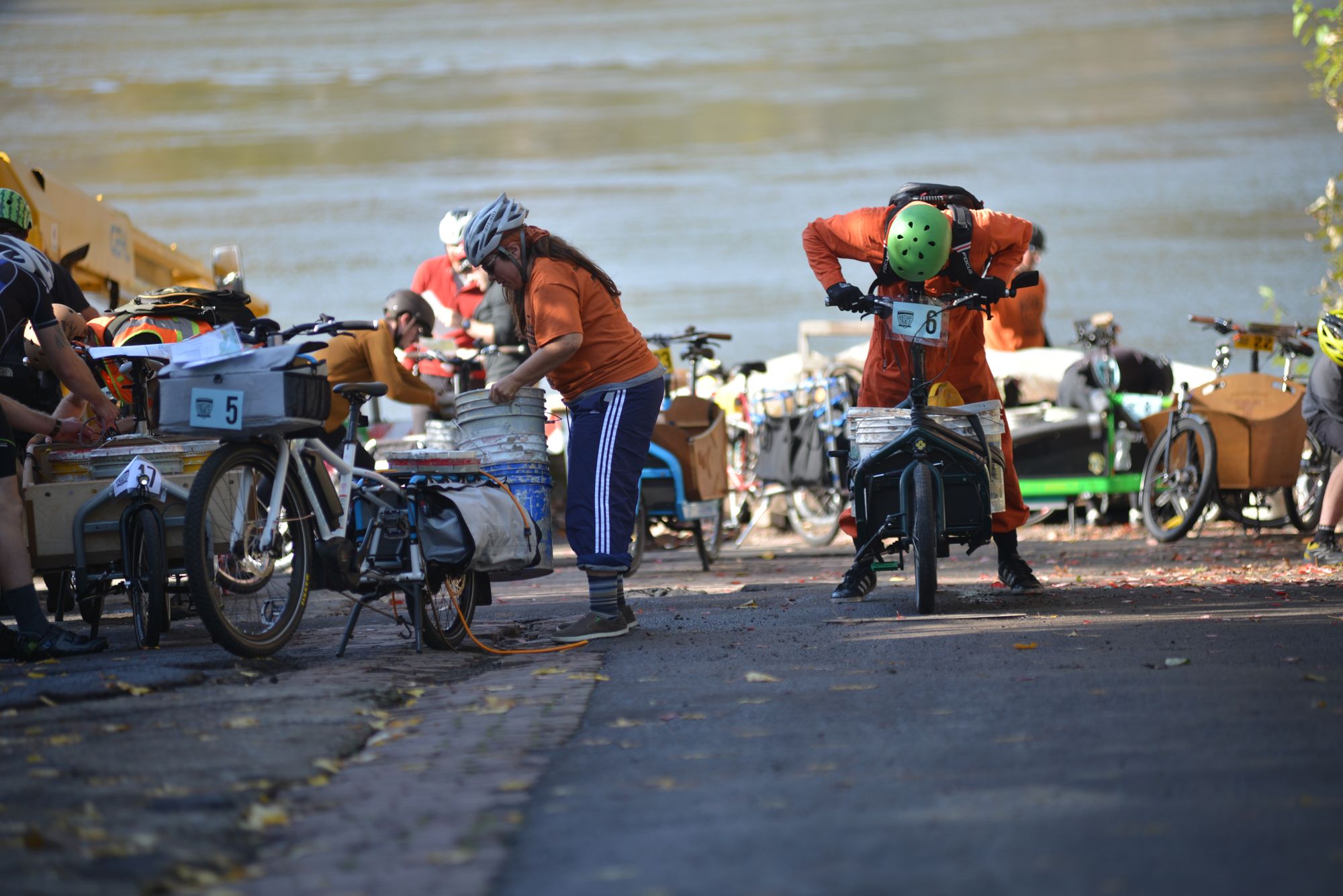 In the EU, the Cargo Bikes in Urban Mobility project (CoBiUM) stepped up to the mark during the pandemic in several countries. This translated in assisting local restaurants staying afloat as well as helping communities accessing a cargo bike to look after the most vulnerable residents, who had to shield for extended periods of time.
Helping each other
Over in London, cargo bikes were used for deliveries to hospital during the pandemic. E-cargobikes teamed up with Leon early in the first lockdown, to deliver food to hospital staff. This kept NHS workers safer, by limiting interactions and enabled delivery staff to move around the city safely. They worked with local councils too to deliver to pharmacies and foodbanks.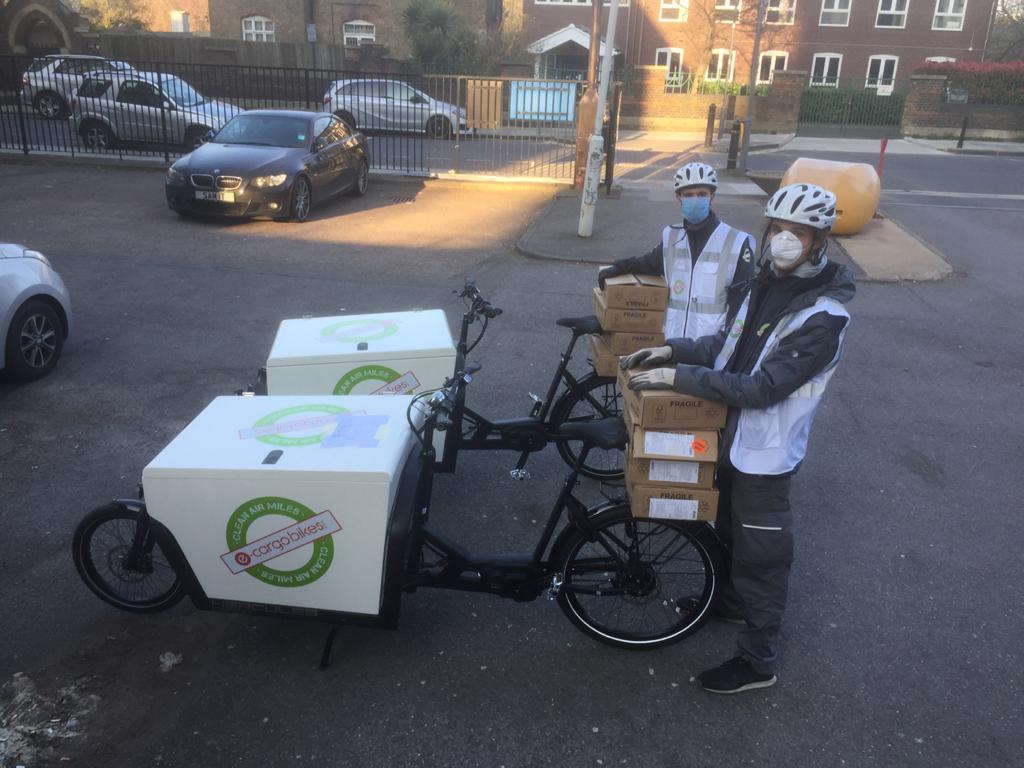 Foodbank deliveries to people shielding last year involved complex logistics at a volume never seen before, and cargo bikes raised to the challenge. In this film by Velo-ADS, you can follow Denise Williams aka Dinkie, providing a vital link between Brickworks Community Centre in Crouch Hill and residents who were left highly vulnerable by the pandemic and lockdown.
Michael Barratt, MBE transport planner, also relied on his cargo bike for his and his family's health needs during that time. "I have a one-year-old and for the whole family to go cycling on standard cycle is a challenge. Having a cargo bike has enabled family cycling -  my daughter sits at the front - whilst my partner cycles adjacent to me. This has formed part of family activities we can all get involved with, especially when active travel is a big part of health and wellbeing", he says. Since the first lockdown, Michael has covered almost 3000 miles in foodbank deliveries including to the Project Malachi, a partnership between The Salvation Army and Redbridge Council. Thinking back on those trips, Michael says: "I've had great responses from the organisations involved and a lot of interest from the communities I've delivered to".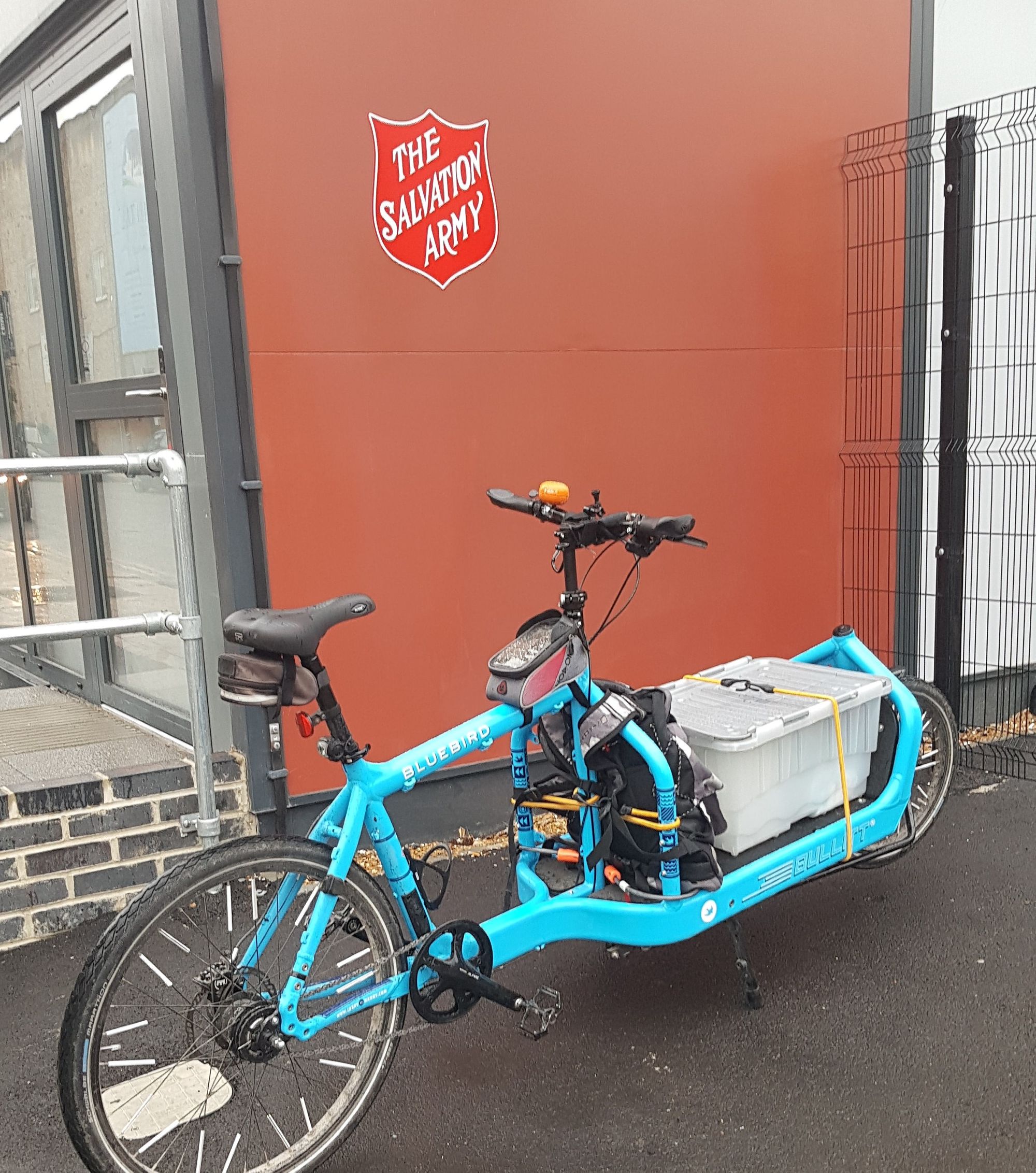 The only passenger (and cargo) taxi cycle service in the UK, Pedal Me also showed the resilience of cargo bikes in a crisis.  They prioritised the most vulnerable passengers to ensure they could travel to necessary hospital appointments, as safely as possible. With a depleted public transport capacity and with a higher risk of sharing an enclosed space with people outside their household in a motor vehicle, PedalMe offered a safe alternative. Over the summer, they partnered with Lambeth Council to support deliveries of care packages to those most in need in the south London borough. This was the largest operation of the history of the PedalMe, with riders covering 20000 kms and distributing over 10000 packages, from essential household items to food.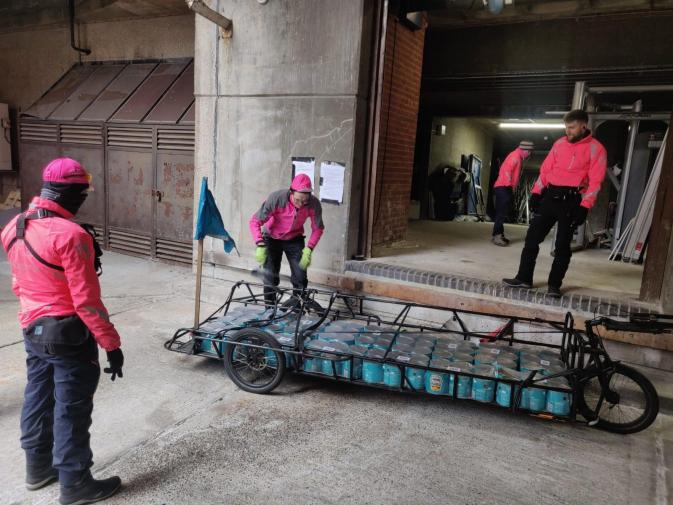 National charity Sustrans also joined force with organisations in London to help deliver food parcels and medication to local residents. This was achieved thanks to cargo bikes funded through the Transport for London's Healthy Streets programme they help deliver in Lewisham.  The cargo bike is the perfect tool for delivering provision quickly and safely without adding to negative impact on the environment.
Mark, from Havering, East London, used his Christiania cargobike to get groceries at the beginning of the first lockdown. This was welcome as switching to home working resulted in being much less physically active. Mark also picked up shopping for relatives, who were shielding, as well as for his parents who live a couple of streets away. "I also use the cargotrike and my usual bike for taking my wife's business post to the parcel postbox in town - but when our postman was off because of Covid and when he was on holiday, I was the stand-in. My usual bike is a Batavus Personal Dutch bike on which I can carry quite a lot, especially if I use a trailer" Mark says. The cargobike, he adds "always turns heads and sometimes people are interested in the trike, how I got it and what I use it for. Living in Outer London seeing people cycle can be quite rare and at least with cargocycles I have only ever seen two others in my area".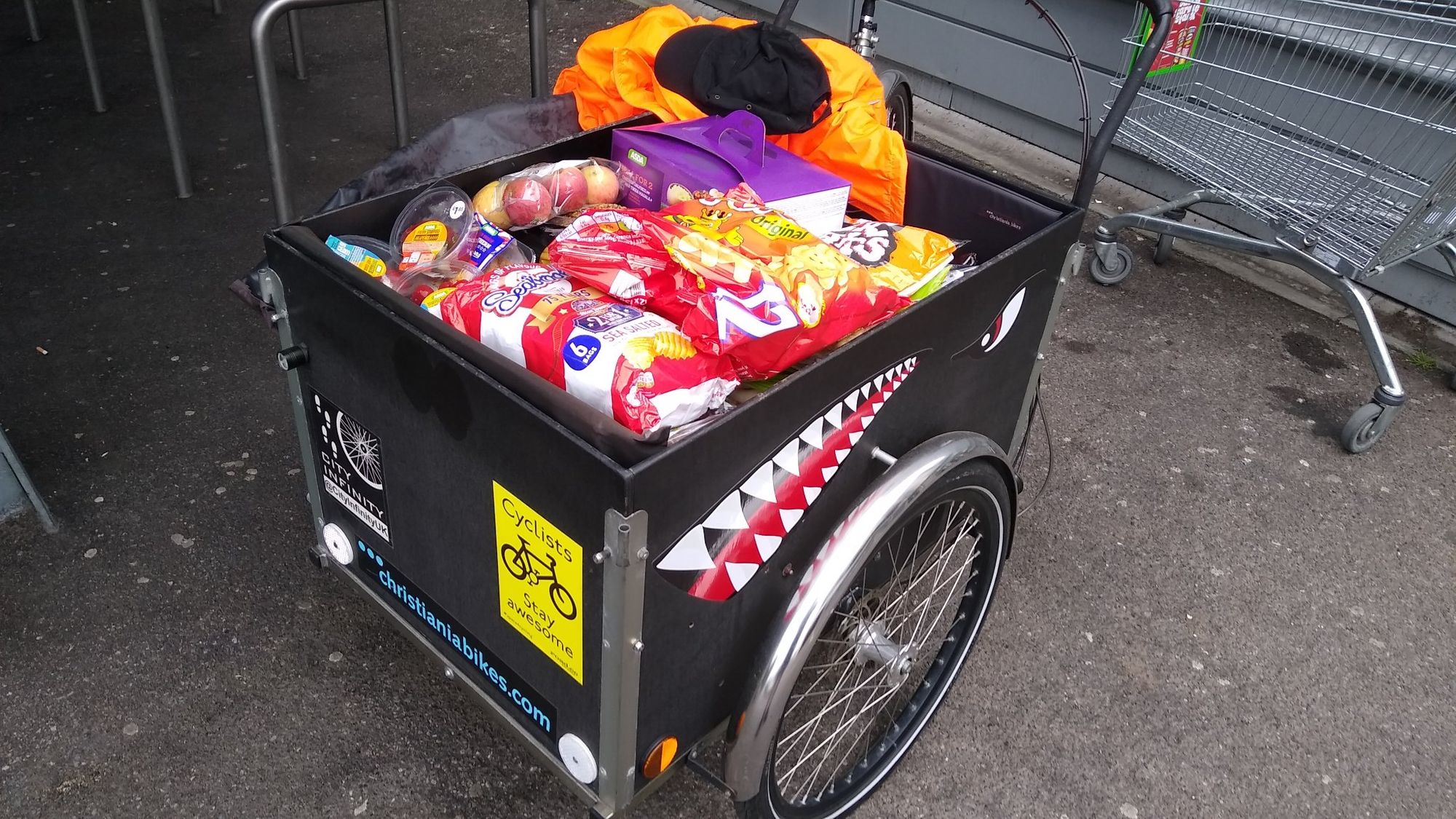 Our cities are changing
So, as the UK and the world slowly recover from the global disruption of the Covid-19 pandemic, how did cargo bikes perform, and will they have made enough of an impression to change the way our cities move in the future?
"The pandemic has shown the benefit and ease of cargo bike introduction and sustainable transport is on the up. With regards to how we have deliveries since being unable to shop, the focus needs to be on education eg for us to caveat a delivery method that helps reduce vehicles on the roads and the associated negative impacts such as conflict with vulnerable road users and pollution," says Michael who, through work, has been advocating the use of cargo bikes in the construction industry for the past three years.  As for Mark, he already knew of the potential for the greater good of cargo bikes, but the pandemic, he reflected: "has made me appreciate this even more. It also reminded me just how poor my local streets are for the trike in terms of surfaces, barriers, and lack of safety. If we can crack these, then more people could choose cycling."
A growing market
Cargo bike sales were already growing pre-pandemic and, in a European-wide study, the European Cargo Bike Industry Survey, this market was projected to increase by 50% last year. The City Changer Cargo Bike project, which carried out the survey, sampled retailers across Europe and results revealed a growth for both business and family segments.  This followed up an earlier research from City Changer Cargo Bike in 2012, showing that cargo bikes could meet the delivery needs of a quarter of all goods and half of all light deliveries in cities.
Several councils in the UK are currently piloting cargo bike schemes, either through investing in their own fleet of cargo bikes or by subsidising trials enabling residents and businesses to experience using them. From mobile libraries to deliveries and logistics hubs, the potential is limitless. Large retailers also know cargo bikes make sense and more are joining the soft and gentle approach to urban mobility. Cargo bikes are efficient, kind to people and the environment.
SPECIALIST CARGO BIKE INSURANCE BY LAKA
All cargo-bikes are covered against theft, damage and much more. With flexible monthly policies you can cancel anytime.
Why not give us a try?