How does Green Commute Initiative work?
GCI is a Cycle to Work Scheme provider.  There are many providers out there but GCI is the newest and most innovative.  The UK Government introduced the Cycle to Work Scheme in 1999. Put simply, it gives access to tax savings on cycles used for commuting. The scheme allows you to take the cost of hiring a cycle and accessories directly from your gross salary, before you have paid any income tax or national insurance. This is known as salary sacrifice. Repayments are taken automatically by your employer (shown on your pay slip) and can be spread over a number of months to make it a very manageable expenditure.
The scheme is based on hire, rather than ownership.  If you own the bike, then HMRC would deem it to be an employee benefit and subject to tax which would wipe out any savings you made. The scheme is based on a hire arrangement so that no tax is applicable. GCI's hire period is for three months. The Hire Agreement is between you and GCI who will own the bike. If you leave your employer, they will have no claim on the bike.
When the three month hire ends, GCI will offer you a free of charge extended loan agreement to take the bike to six years old, after which ownership will be passed to you for a nominal £1 charge. You won't need to pay tax under this arrangement. If you wish to take ownership before the bike reaches six years old, this can be arranged and GCI will advise you of the tax due to HMRC.
How much could I save on a cycle to work scheme?
Although the recent rise in NI was bad news for most of us, what it does mean is that the amount you can save through the Cycle to Work Scheme has gone up.  The scheme is a salary sacrifice based scheme and payments to your employer come from your gross salary which means you don't pay income tax or national insurance on the value of the C2W voucher.  The amount you save depends on how much tax you pay.
Basic rate taxpayers save 33.25%
Higher rate taxpayers save 43.25%
Additional rate taxpayers save 48.25%
Use the GCI Savings Calculator to work out how much you could save.
How is Green Commute Initiative different from other cycle schemes?
GCI leads the industry with innovation.  GCI was the first scheme provider to have no spend limits or so-called "ownership fees".  GCI will enable you to make the maximum savings possible through the scheme.  No spend limits means you can get the bike to suit your needs, rather than having to make compromises on spec and build quality.   We offer a pay-as-you scheme which typically has a 24-hour turnaround time.   Customer experience is key to everything we do; check out our Trustpilot reviews.
GCI is a not-for-profit social enterprise with the mission to get more people cycling rather than making profit on a UK tax-break scheme.  This means we charge bike shops the lowest commission rate in the industry; just 5%.  This helps us to cover our costs and helps bike shops keep more of their profits in their business and local communities.  
What bikes can be bought through Green Commute Initiative?
Any type of bike can be acquired through GCI.  This includes e-bikes, cargo bikes, adapted cycles and trikes, as well as conventional pedal cycles.  If you have mobility issues and require specialist cycles, these are available through the scheme.  Most brands are available, including direct to consumer manufacturers but please note we do not work Canyon, Halfords, Tredz or Wheelies.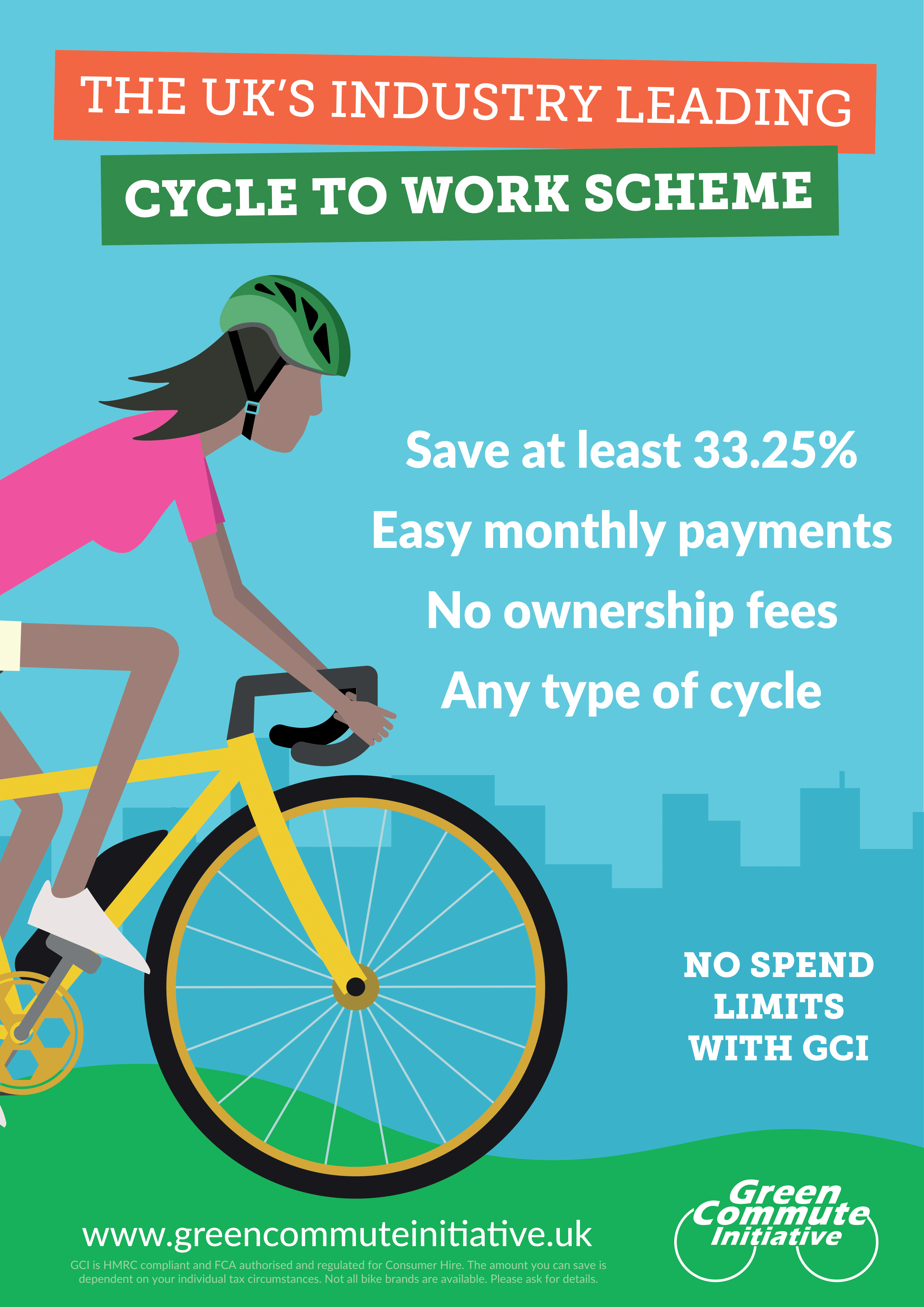 What's your advice for someone who wants to get a bike on the Cycle to Work Scheme, but doesn't know where to start?
Firstly, your employer needs to agree to take part in the scheme with you.  Check with them about any spend limit or salary sacrifice time period they may wish to set.  Use GCI's online savings calculator to be sure you can afford the monthly expenditure.
Next, choose your bike and this means doing your research – both online and in the field. Go visit your local GCI registered bike shop and ask lots of questions.  Then go visit another retailer to be sure about your chosen your bike.  Get a quote from your preferred bike shop and tell them you're using GCI to buy the bike.  From this point, the process is very quick.  Submit your application online and then once GCI has been paid, you will receive your agreements and voucher within 24 – 48 hours.
BICYCLE INSURANCE BY LAKA
We offer insurance made for bike lovers. So whether it's your new commuting wheels or your weekend road machine, find out how much you could save with Laka's award-winning bicycle insurance.