Compare Laka's Collective E-bike Insurance
The table below looks at what you're covered for with the leading electric bicycle insurance providers in the UK.
We took into consideration the top priorities for e-bikers, including making sure you're covered for e-bike-specific mishaps like battery theft and damage.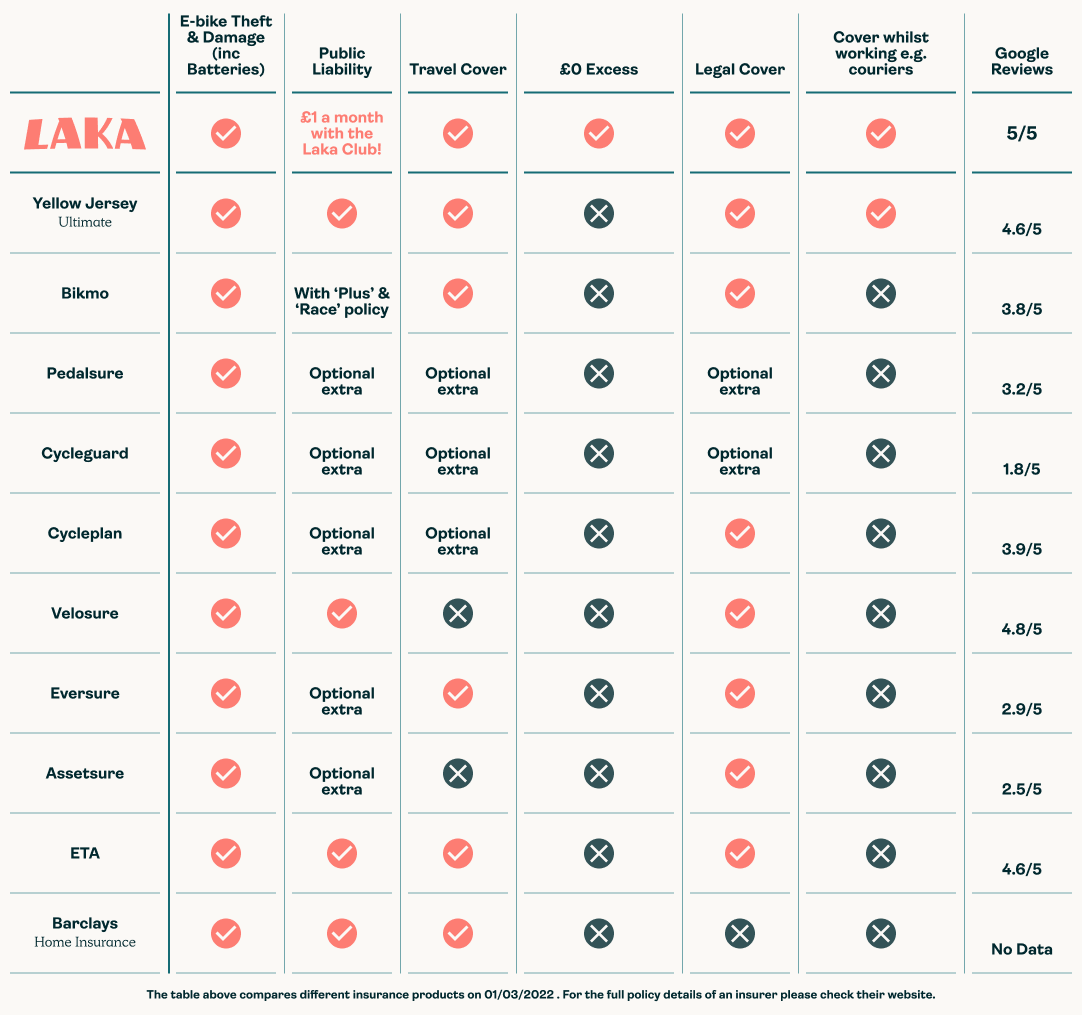 Cover it with Laka
A Laka policy comes with all the necessary cover for the modern e-biker. You'll get cover for:
E-bike theft and damage
Third-party loss
Public liability for £1 a month with the Laka Club
Travel for 120 days
Legal Assistance
Emergency cash to make life easier after an accident or theft
And more!
Our way of doing things
But joining Laka isn't just signing up for an insurance policy. It's joining a collective of fellow e-bikers, to help each other on the roads and trails.
This is because we charge customers at the end of the month, with each individual's monthly cost capped at a personal maximum based on the value of their bike and gear. You'll never pay more than your cap, which means you don't have to worry about unnecessary charges.
We're able to do this because our set-up is collective-driven and puts the power in the hands of our customers.
80% of what you pay goes to help other members get back on the road after a problem - everyone chips in, and our collective of cyclists is stronger as a result.
For more info on the Laka model, find out why you should be backed by the collective.
The Laka price
Since you only get charged for the actual cost of claims that happened in the previous month, your monthly share is honest and fair.
80% of your share is for helping out fellow riders, the other 20% keeps our wheels spinning. We call this the 80/20 rule.
To get an estimate of what you would pay, get an instant quote.
Specialist E-bike Insurance v Home Insurance
Choosing a specialist e-bike insurer can be a daunting step, especially if you've already added your bike to your home insurance policy.
Choosing home insurance might provide some cover but it's certainly not a massive win if you're passionate about your bike.
You'll likely find exclusions and low maximum values. And do you really want your bike lumped in with iPads and washing machines?
We took a deeper look at specialist insurance vs home insurance here.
Flexible e-bike cover when you need it most
Lots of bicycle insurers will try to tie you to long-winded contracts. But we believe you should have the freedom to choose the right insurance cover for when it suits you.
That's why a Laka policy is flexible to the month, and you can cancel anytime. Not for you? You can leave anytime with no hard feelings.
Claims Experience
We pride ourselves on our tiptop claims experience.
With Laka you'll be supported by bike nerds that know their Bosch e-bike motor from their Bosch dishwasher. I mean it's obvious right.
So when it comes to making a claim they can get you back on the road ASAP.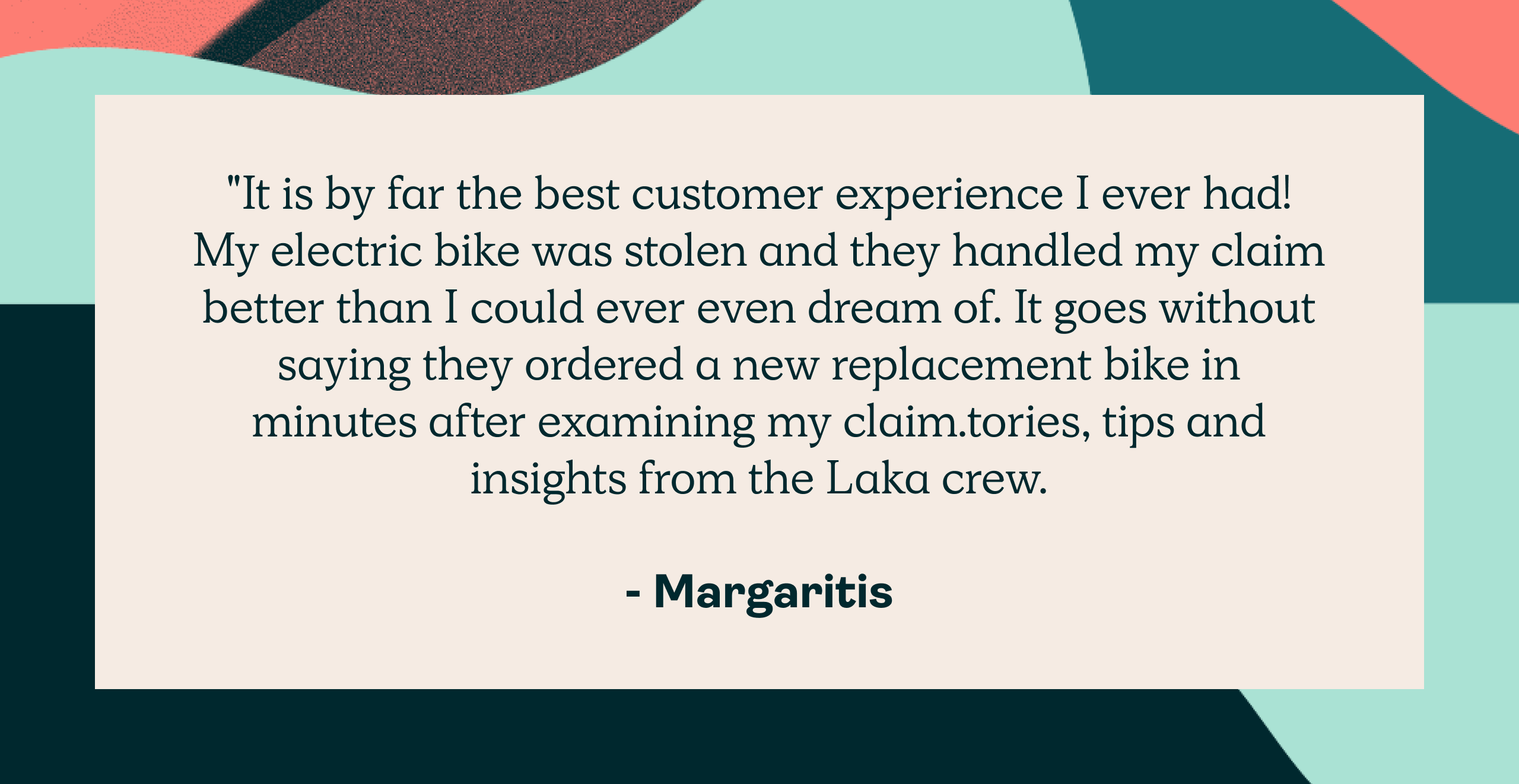 Don't just take our word for it. Have a read of some reviews from e-bikers we've helped along the way:
"It is by far the best customer experience I ever had! My electric bike was stolen and they handled my claim better than I could ever even dream of. It goes without saying they ordered a new replacement bike in minutes after examining my claim. I am honestly grateful and lost for words! I would recommend LAKA to anyone and I intend to let all in my circle know how amazing their people and their service are!
If you have any doubts or thoughts about getting bike insurance with Laka, simply stop thinking and DO IT, You will be grateful to them as soon as you realise how they work and what they offer"
"Crashed my bike into a canal, which was only a problem because it's an electric bike. Laka were an absolute pleasure to deal with re getting it sorted. Communication was excellent, promises kept and often surpassed expectations. Recommended."
"Very many thanks to you and all at Laka. This has been a wonderfully refreshing faith-restoring experience. Your customer service has been fabulous." - Barbra
"Rest assured that when we come to re-insure our new bikes, we will certainly come to Laka... You have redeemed a bad and upsetting experience!! You can be sure that we will tell everyone on our travels about your marvellous service!" - Neil
Ready to jump ship?
This is how to switch your bicycle insurance to Laka.
LAKA E-BIKE INSURANCE
Get covered for theft, accidental damage, full battery cover, loss and more. Try our 5-star rated e-bike insurance. It's e-bike insurance, and then some.