Electric Cargo Bikes?
Ready to ditch your vehicle and go pure pedal power? With a cargo bike you can do that. Carry shopping, accessories and even children with these versatile hauliers.
And with the latest electric bike tech, you can now go further, faster, and carry more than before.
The Bike
For a cargo bike the Tern HSD is slight and goes unnoticed compared to the bigger box-styled bikes. It makes up for it with chunky tires and wide bars which gives the bike added stability.
On first impression you know the HSD is a completely dynamic cargo bike. It comes in one size but can fit almost everything and anyone. Whether that's a child's seat for the rear rack, a beer crate basket for the front. You can add footrests for an extra passenger, all different size baskets and trays, or even a specialist dog basket.
It's backed up with some heavy-duty components too. The Bosch Active Line Plus motor gives you 3 levels of assistance and is paired with a 400 Wh battery for a range of up to 110 km. Different loads and settings will affect how far you can ride but 400 Wh will keep you running for a long while.
The Tern HSD also has suspension. For when you need to jump on a bike path or for a standard pot-holed British road. The fork is a custom Suntour model which performs really well combined with the smaller 20" wheels. This makes the ride comfortable, stable, and safe.
You get 8 gears with a Shimano hub setup and your stopping power is from the Magura disc brakes. Other cool tidbits are the Gates Carbon Drive CDX belt to keep chain maintenance at a minimum and the Abus keyed-alike frame lock to make securing your bike around town a little easier.
If you're wondering about how you go storing this big cargo mean machine, well it's simple. The Tern can be propped up on its back and stood upright. Suitable for fitting in any size flat or house.
The HSD comes in at £4,000. So it's by no means a cheap purchase. But if you're able to use a bike to work scheme and use your car a little less then it becomes super reasonable.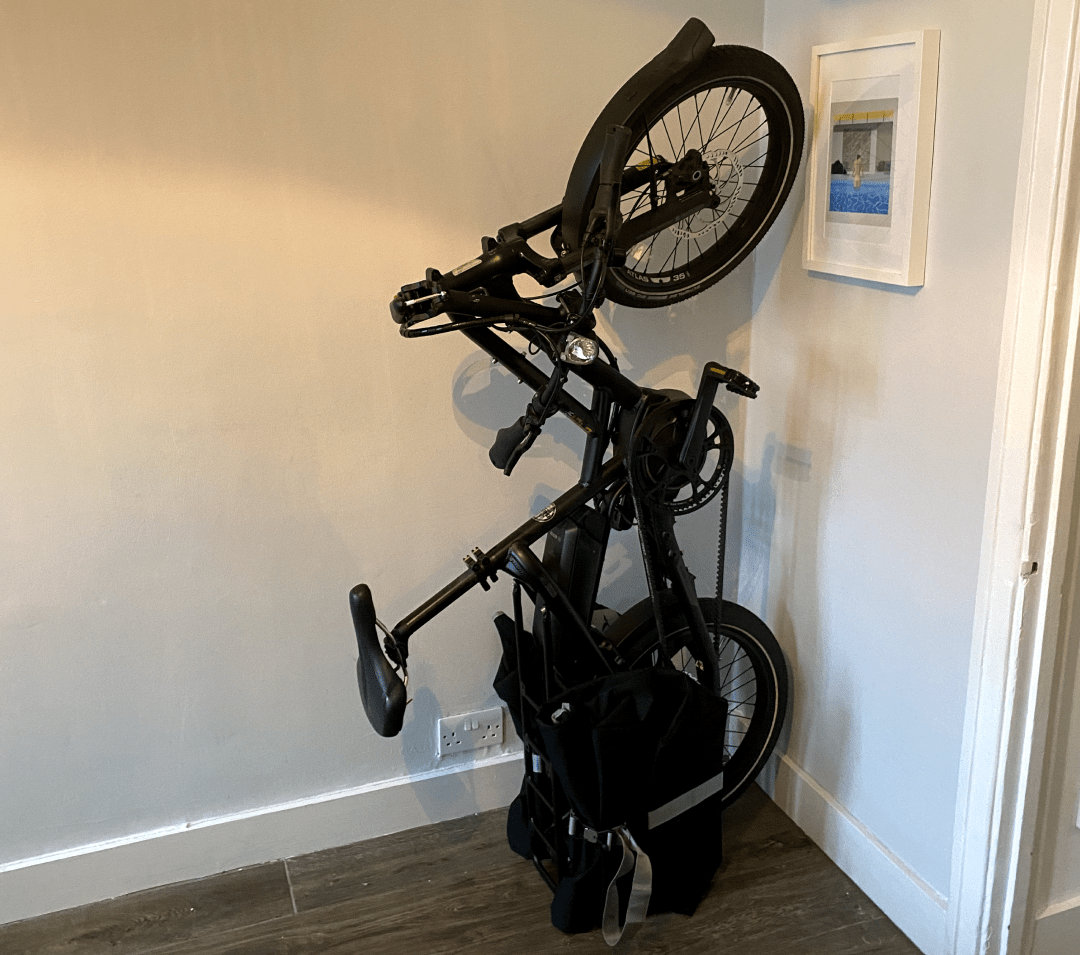 What's it like to ride?
We spoke to our own finance manager and Tern HSD owner Olivia to find out exactly how the Tern handles:
"It's so comfy. It's so whizzy. It feels very sturdy and hefty but when you're riding it the bike feels weightless.
You really feel it propelling you forward, especially when in the turbo mode. I find I ride mostly in the 'touring' mode which is the 2nd setting. Which is more than enough!
The saddle is amazing, the handlebars are comfy. And overall it's really great!"

Could you really go carless?

Ultimately this depends on your travel habits.
"We use it for all journeys in London. We can do the food shop on it and can carry so much! Massive boxes of nappies you name it. We attach things with a cord that just keeps it in place."

Test one out?
If you're looking for a Tern of your own we would certainly suggest trying one out for yourself. There's a tonne of places you can test ride a bike for free too!

SPECIFICATIONS
GENERAL INFO
SPEEDS: 1 x 8
WEIGHT: 25.4 kg (56 lb)
GEAR INCHES: 31" - 95" (2.47 - 7.56 m)
FOLDING SIZE: 163 × 40.5 × 86 cm (64.2 × 15.9 × 33.9 in)
FOLDING TIME: 5 sec
FRAME SIZES: One size
DISTANCE: SEATPOST TO HANDLEBAR: 49 - 59 cm (19.3 - 23.2 in)
DISTANCE: SADDLE TO PEDAL: 69 - 105 cm (27.2 - 41.3 in)
SUGGESTED RIDER HEIGHT: 150 - 195 cm (59.1 - 76.8 in)
MAX GROSS VEHICLE WEIGHT: 170 kg (374.8 lb)
MAX RIDER WEIGHT: 120 kg (264.6 lb)
FRAME
FRAME: Tern HSD, 6061-AL, patented design, Tern sliding dropouts, EFBE Tri-Test approved: 170 kg
FORK: Suntour custom for Tern, 1.5" tapered Chromoly steerer, 32 mm stanchions, Thru-axle, 70 mm travel, EFBE tested for 170 kg
COCKPIT
HANDLEPOST: Tern Physis 3D (G2), 3D forged, 5 patented technologies, 12°, 290 mm
STEM: Tern Andros (G2), adjustable, forged construction, patented technology
HEADSET: Tern Flux Pro Taper, 1.5", angular contact bearings, Physis integrated
HANDLEBAR: Tern Sweep, 6061-AL, Tern Andros adapted
GRIPS/BAR TAPE: Ergon
SADDLE: Tern HSD
SEATPOST: Tern Telescope, 34.9/30.9 mm, 2014-AL
SEATPOST CLAMP: Tern Collar, 6061-AL, 2pc
BRAKES
FRONT BRAKE: Magura MT4, hydraulic disc, 180 mm rotor
REAR BRAKE: Magura MT4, hydraulic disc, 160 mm rotor
BRAKE LEVERS: Magura, hydraulic
BRAKE CABLE & HOUSING: Magura, hydraulic
WHEELS
FRONT WHEEL: Tern Atlas H, cargo wheel
REAR WHEEL: Tern Atlas H, cargo wheel
FRONT HUB: Novatec, Thru-axle, sealed bearings
REAR HUB: Shimano Nexus 8
SPOKES AND NIPPLES: Stainless steel
RIMS: Tern Atlas H, wide 35 mm
TYRES: Schwalbe Big Ben, 55-406, RaceGuard puncture protection, ECE-R75 ebike certification
TRANSMISSION
SHIFTER(S): Shimano Nexus 8
CRANKSET: Tern HSD custom, Gates CDX CNC machined beltring
CASSETTE/FREEWHEEL: Gates CDX, precision CNC machined cog
BOTTOM BRACKET: Motor integrated
CHAIN: Gates Carbon Drive CDX belt
PEDALS: Urban with non-slip surface
SHIFTER CABLE & HOUSING: Shimano
E-SYSTEM
MOTOR: Bosch Active Line Plus (Gen 3), max speed 25 kph (EU); max speed 20 mph (US)
BATTERY: Bosch PowerPack 400
DISPLAY: Bosch Purion, 4 mode selectable, walk assist
RANGE: 42 -110 km (26-69 mi)
CHARGER: Bosch Standard Charger
BELLS & WHISTLES
BELL: Aluminum
CHAINGUARD: Gates integrated
KICKSTAND: Ursus, rear mount
LUGGAGE SOCKET: Combo Mount
FRONT LIGHT: Tern Valo Direct, 45 lux/190 lumens
REAR LIGHT: Herrmans H-Trace, for eBike
FENDERS: SKS, stainless hardware
RACK(S): Atlas H Rack™, Atlas Rack Mount, 6 point mounting; Max load weight: 60 kg (132 lb)
ACCESSORY: ABUS 5650L, keyed-alike with Bosch battery

SPECIALIST CARGO BIKE INSURANCE BY LAKA
All cargo-bikes are covered against theft, damage and much more. With flexible monthly policies you can cancel anytime.
Why not give us a try?