What Is A Cargo Bike?
A cargo bike is a robust bike designed to carry heavy loads or passengers. You can buy these bikes in various sizes and styles, and they either have two, three or four wheels.
One of the outstanding characteristics of cargo bikes is their extra-long wheelbase. The extended length gives them the ability to carry cargo either in front or behind the rider.
The great thing about electric cargo bikes is that you can haul weight much more easily than regular cargo bikes.
The assistance from the motor makes riding with extra weight more manageable. And you can forget about grinding up those hills.
Most electric cargo bikes have a wide range of accessories. This makes the most basic of cargo bike super versatile.
For example, manufacturers provide various solutions to carry specific items. These accessories include extra cargo racks, panniers, and boxes.
By adapting some electric cargo bikes you can carry one or two passengers with added seats and foot pegs.
Already convinced? Read our beginner's guide to cargo bikes.
Types Of Electric Cargo Bikes
Longtail Electric Cargo Bikes
Longtail bikes have frames that extend behind the rider. The extra length accommodates extra seats or more load carrying space.
These electric cargo bikes are popular with families, as you can fit a couple of seats or a bench on the rear rack.
Mid-Tail Electric Cargo Bikes
These cargo bikes are more compact and shorter. But this doesn't mean that they're not suitable for carrying lots of stuff.
They might be small, but they have a much better capacity for hauling loads.
You might want a mid-tail if you're short on storage space or need to manoeuvre around tight spaces. You can even buy foldable mid-tail cargo bikes.
Mid-tails may not be the best choice for larger families or businesses. But they're great if you need to carry more than the average cyclist.
Front Loading Electric Cargo Bikes
These unusual-looking cargo bikes are very versatile in the way you can load them up.
Their frame design adds an integrated box or container that stretches out in front of the rider.
The box sits very low to the ground to keep the centre of gravity as low as possible and make loading it up easier. The nature of the box means that these cargo bikes are popular with families and businesses.
Families can load the kids into the box and watch them while riding.
And businesses can easily pack things into the bike to deliver goods. Without the rider needing to reload too often.
Some front-loading electric cargo bikes are specifically designed for business use. These have a secure loading area. So the delivery person doesn't need to worry about theft while making deliveries.
Front-loading electric cargo bikes are quite different to ride than other bikes. The geometry, wheel placement, and cargo area, makes it less balanced than a standard bike.
But, with a bit of practice, they become straightforward to ride. You'll be zipping through bike lanes and traffic in no time.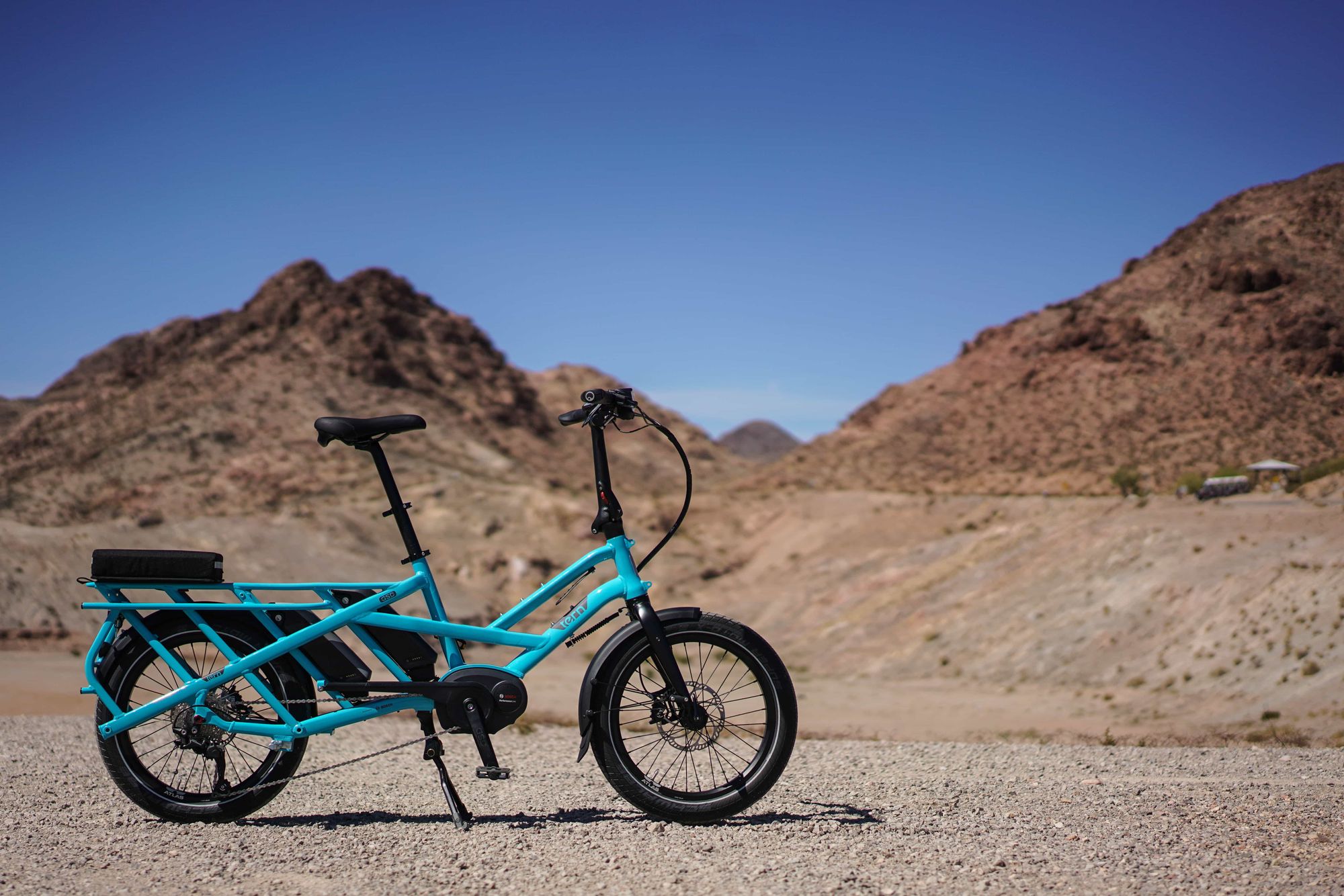 Why do I need a cargo bike?
Due to the versatility of electric cargo bikes, you can use yours for almost anything. Here are 5 different uses for your electric cargo bike:
1 - Shopping
Shopping is easy when you're driving a car to the shops.
But it's not a sustainable way of stocking your kitchen cupboards. Especially if you only need to grab a few things.
Another issue with driving to the shops is finding somewhere to park. This isn't a problem when you go shopping with an electric cargo bike.
An electric cargo bike has enough space and load-carrying capacity for every household. You can carry way more than if you walked, and you don't have to struggle to find a good parking space close to the shop.
You can leave your cargo bike next to the front door with all the other bikes. Then you can do your shopping before loading up your cargo bike and taking a leisurely ride home.
More businesses are beginning to use electric cargo bikes for various purposes. But the primary use is delivering items to customers.
You can carry a lot more stuff on an electric cargo bike than a regular bike. Thus you can make more deliveries in one trip out.
A fleet of electric cargo bikes is also much cheaper to buy and run than a fleet of vans and scooters.
They aren't affected by inner-city traffic restrictions such as congestion charges. And of course you won't need to buy petrol.
Plus electric cargo bikes are often quicker for shorter journeys in urban environments.
You'll see more businesses replacing their vehicles with electric cargo bikes soon.
Driving your kids to school through heavy traffic in the morning can be stressful. But a cargo bike equipped with seats will allow you to take the kids to school without using any petrol.
These bikes are small enough to get through traffic and take shortcuts, but large enough to carry one or two passengers.
Electric cargo bikes are also great for family days out. Load it up with your child or dog, and head out to your favourite spots.
4 - Weekend Adventures
You can use your electric cargo bike for days out and weekend trips. We mentioned earlier that these bikes can be accessorised to enhance their versatility.
Fill the panniers and boxes with everything you need for your day out. There's often enough room for camping equipment too.
Some cargo bike manufacturers make activity-specific accessories. Like carriers for surfboards or fishing equipment. So there's a good chance you'll find a cargo bike that wily suit your needs.
5 - Commuting And Daily Errands
Electric cargo bikes are perfect for getting to and from work and general transport for running errands.
They are much more eco-friendly than driving, and you get some exercise too.
Electric cargo bikes have more than enough load-carrying capacity to suit most people's day-to-day lives.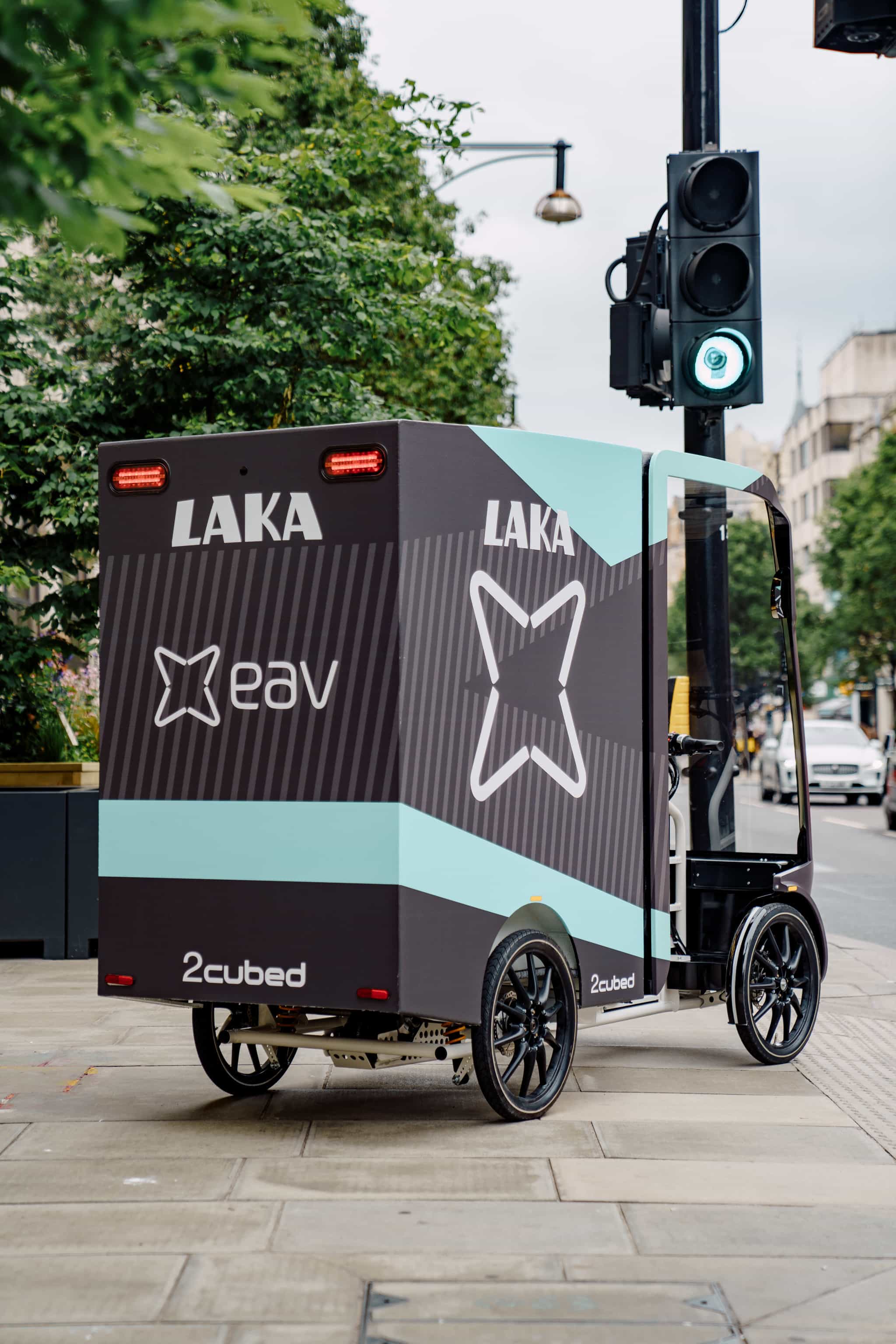 Things To Consider When Buying An Electric Cargo Bike
How Many Wheels?
You can buy electric cargo bikes with different numbers of wheels. Which you choose depends on your personal preference and what you want to use your bike for.
Two-wheeled electric cargo bikes are popular because they ride like regular bikes.
But three-wheeled electric cargo bikes have more stability which may be important to you if you need to carry heavy loads or kids. They also make loading and unloading easy due to the extra width.
Four-wheeled electric cargo bikes are the most stable. These are mainly used for commercial use, as they can accommodate lots of stuff and heavy loads. The downside of these cargo bikes is that they are the least manoeuvrable, and narrow gaps can cause you access problems.
What Motor Type?
Like regular electric bikes, you can have ones with the motor mounted in the wheel hub or mid-mounted. But most electric cargo bikes use mid-mounted motors, as they're better at coping with the extra weight.
You'll notice that the batteries have higher capacities than regular electric bikes. This is so you don't run out of juice too soon when you have to haul a full load up a steep hill.
The more power your motor has, the easier you'll be able to carry heavy loads. More powerful motors have higher torque than lower-powered ones, which helps haul all that weight. But make sure you know what the electric bike laws are in your area.
Electric bikes fall into specific categories on power and speed. So you need to know what is permitted in your area so you can stay on the right side of the law.
Brakes
As you research electric cargo bikes, you'll notice that most of them have disc brakes. Disc brakes offer excellent stopping power over the traditional rim brakes, especially in wet weather.
Disc brakes are used on electric cargo bikes to keep all the extra weight under control. But if you want the best performing brakes, look for bikes with hydraulic disc brakes.
Hydraulic disc brakes have more stopping power, but they're also easier to modulate and have better feel than mechanical ones. These brakes are the best choice if safety is your primary consideration.
Final Thoughts
Now you have a good idea of what you can use a cargo bike for. But this is just scratching the surface. Electric cargo bikes are now being used by fire departments and as alternatives to ambulances. This gives you an idea of how effective electric cargo bikes are.
Main Image 📸 - Farr Out Deliveries
SPECIALIST CARGO BIKE INSURANCE BY LAKA
All cargo-bikes are covered against theft, damage and much more. With flexible monthly policies you can cancel anytime.
Why not give us a try?