The hardware has improved too. From direct drive turbo trainers to smart rollers, there's so much choice when it comes to making your bicycle indoor-cycling friendly.
Riding indoors is safe too. You're off icy roads, out of the dark, and away from traffic. It also stops your tyres and brake pads from wearing out. But it's not completely problem-free.
Your bike will still be subject to wear and tear whilst riding indoors. Wear and tear that's non-existent anywhere else.
Here are 5 ways that your kit can suffer whilst riding the turbo trainer and how you can stop it:
1. Frame damage
The elephant in the room. Frame damage whilst riding the turbo trainer isn't a myth. Riding a bike that's attached to a turbo trainer puts stress on the bike that it wasn't designed for.
Especially when sprinting or swinging the bike from side to side which is now common in Zwift racing.
Bike brands have issued warranty notices on riding their bikes on the turbo trainer.
Canyon has a dedicated webpage for checking the compatibility of your bike with certain turbo trainers.
Specialized has also said that riding their bikes on the turbo trainer could impact the warranty.
But bike brands have recently shifted their stance. Frames are now designed to handle more side to side movement in the bottom bracket, chainstays and seatstays.
Your bike's handbook or website will tell you if you could void your warranty by riding your bike indoors.
It pays to take care when attaching your bike to the turbo trainer. A key thing to look for is making sure your skewer is tight. The last thing you want is your bike bouncing off the trainer halfway up Alpe du Zwift!
No matter what your warranty says, with Laka if you have a turbo training mishap, your bike's protected.
2. Sweat corrosion
The cycling internet was rocked when people shared pictures of their handlebars after a solid block of turbo training.
When you ride indoors you will sweat buckets. And the sweat that lands on your bars can seep into the bar tape and cause all sorts of problems.
It's the salt causes the issues. It will react with the aluminium to erode bars, stems, and headsets. The parts that you definitely don't want to fail!
Whilst you can't ask people to sweat less, there's a couple of tips to protect your bike from sweat corrosion.
Using a good towel to mop up most of the sweat is a simple fix. You can also get special sweat protectors for your bars and top tube.
There are also a few products out there designed to protect your bike when turbo training. Muc-off have both an antibacterial cleaner and a sweat protector spray. They also smell great too!
3. Component damage
We've already mentioned how riding your bike on the turbo trainer can add stress to your frame. But it can also cause issues for certain components too.
Your spokes and wheels can buckle under the pressure of a stationary front wheel. The added load when sprinting or putting out high power can put unnecessary stress on your spokes.
A solution is to turn your front wheel every so often to even out the strain.
You should also make sure your skewer is solid enough for indoor cycling. Usually, when you buy a turbo trainer it will come with a specific steel skewer to use, for added strength.
4. Component wear
Riding indoors doesn't stop our chains, gear cables, and cassettes from wearing. In fact, sweat can make them wear faster.
Even if your bike is going to be sat on the turbo trainer all winter, it's a good idea to give it a little check over now and again. Focus on all the components that are still going to wear riding indoors.
Drivechain is the main one. But also handlebar tape, seats, and pedals. Any contact point between you and your bike is going to feel the force of indoor riding.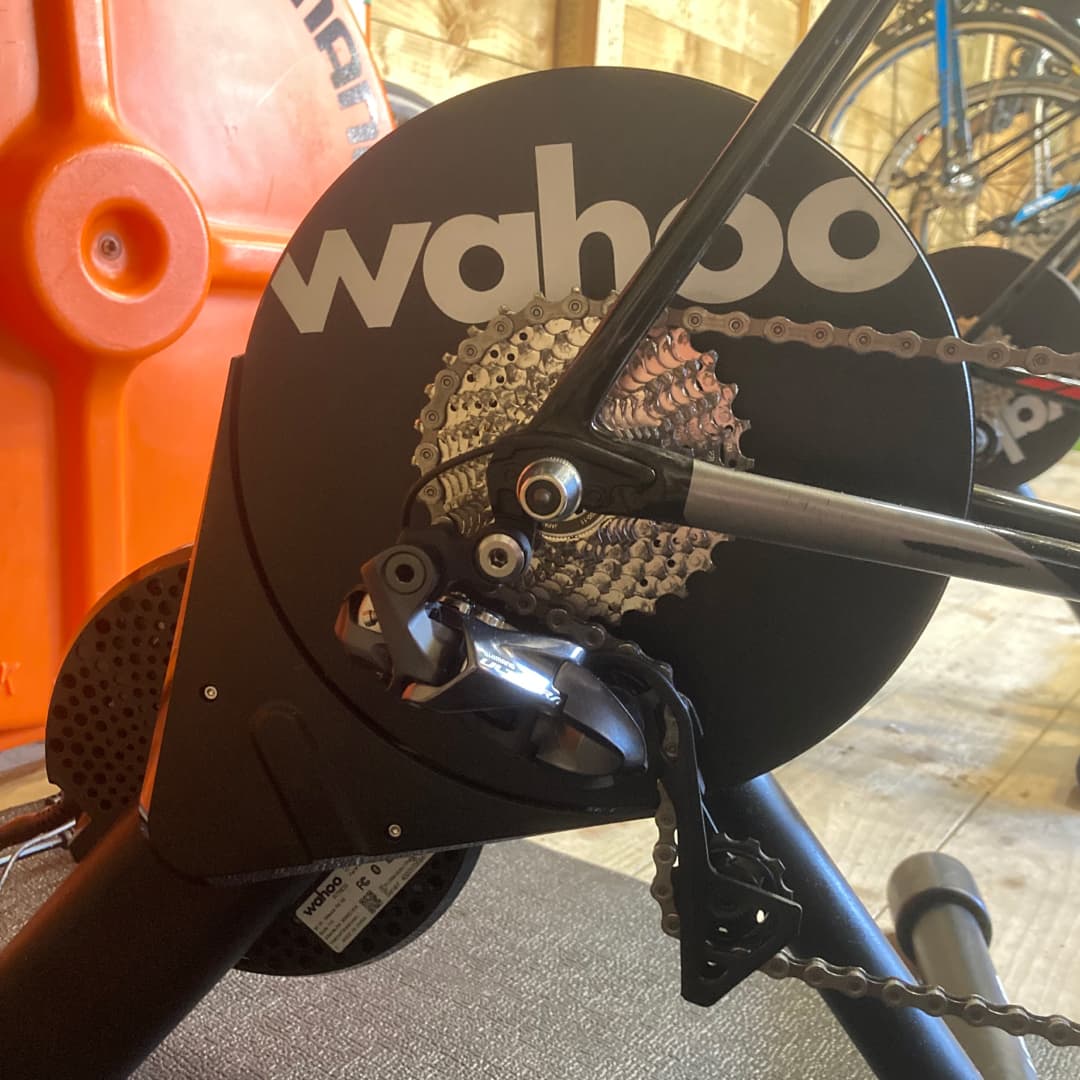 5. Clothing wear
Your clothing also takes some extra hits too. And no surprises here it's because of the sweat. Bib shorts, jerseys, and heart rate monitors can suffer from the humidity.
Some extra kit you use for turbo training can help you from wearing out your fancy stuff. Brands such as Rapha, make specific indoor training gear. So there's plenty of options if you want to take your indoor riding seriously.
Indoor Training Protection Tips
Here are 3 tools you can use to protect your kit when indoor cycling this winter:
1. Fan
Lots of the issues that arise from indoor training are because of sweat. Keeping your setup cool will prevent you from sweating in the first place.
A simple turbo training fan is a simple way to reduce the amount of sweat.
2. Specific bike
Let's face it. You don't want to be using your top-of-the-range road bike on the turbo trainer. It could end up costing you more in the long run.
If you've got a winter-specific / older bicycle hanging around you can use that as a turbo bike instead, It'll help keep your nicer bike fresher.
A stationary bike could be the best choice for you. They're designed for the added stresses of indoor riding and are well suited for the job.
There's a wealth of static options out there. With the Wahoo Kickr bike, a Wattbike, or even a Peloton, lots of us are choosing a dedicated indoor training set-up.
3. Insurance
Insurance for your bike over the winter is a no-brainer. At Laka, we cover turbo-trainer mishaps and malfunctions so you can ride inside knowing we've got your back.
We know that shit happens. So whether your bike can't handle your watts or you land in a pile in your living room, we'll get you back riding ASAP.
Cover your turbo training accessories too! Wahoo Kickr, indoor cycling kit - add it to your Laka policy for extra peace of mind.
BIKE INSURANCE BUILT FOR WINTER
From Zwift to the Sunday group ride, cover your bicycle against theft, damage, loss and more. Try our 5-star rated bicycle insurance.