Really? OK, so what about if you merged e-bikes with connected technology?
For some, cycling is all about strength, endurance, and bleeding from the eyeballs as you desperately try to keep on the wheel in front. The thought of adding battery power to one of the oldest forms of transport known to man is sacrilege to cycling pedants. However, those rumblings are now being silenced because...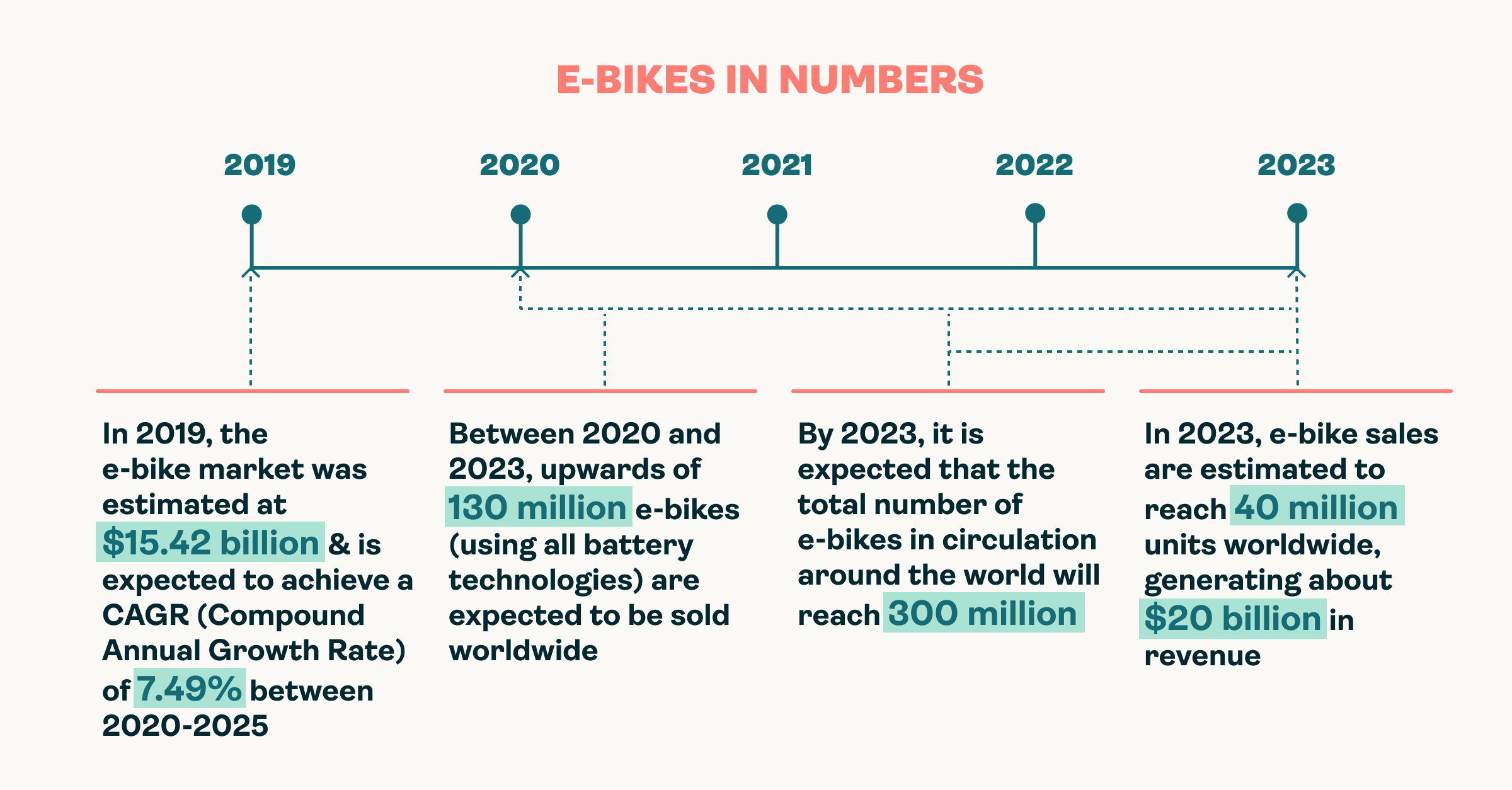 The pandemic, growing congestion, and increased environmental awareness have driven their popularity.  
Cycling is no longer the sole domain of the Tour de France wannabe. E-bikes have opened new possibilities for those who don't feel comfortable with a traditional bike. Now, they can enjoy the cycling high without getting too tired or sweaty. Plus, those steep hills that used to fill you with dread are no longer a problem.
But their most significant role is enabling people to turn their backs on cars and buses to enjoy a healthier and more enjoyable commute to work.
Now for the connected technology bit.
The new generation of e-bikes
Let's get one thing clear – e-bikes are not a new phenomenon. Their history can be traced back – wait for it – 120 years. But then along came the invention of the motor car, and they were consigned to history.
After trying to make a comeback in the 1990s, it wasn't until the early 2000s that they began to gain traction again. And, because evolution is a continuous thing, they're ready for the next step in their development, which means connectivity and the Internet of Things (IoT).
The Internet of Things (IoT) began life when, in 1990, Simon Hackett (an Australian computer scientist) and John Romkey (a US software expert) connected a toaster to the internet. Boy, have things moved on since then.
Arise the connected e-bike. Far from being the Betamax of the bike world, connectivity is here to stay. Integrating sensors and digital components mean that bikes and smartphones can exchange data.
Imagine the possibilities. With constant data collection on the condition of your e-bike, you'll always know the battery charge level, the state of your brakes, chain or motor, or tyre pressure. This valuable data will help you prevent painful accidents or annoying breakdowns and carry out timely maintenance work.
But that's just the tip of the iceberg.
The benefits of connectivity for savvy cyclists
Route planning
You can reach your destination quicker and easier through intelligent route planning that considers the battery power level of your bike – removing the threat of range anxiety.
Route tracking can save routes on-demand; plus, with the help of IoT and GPS, you can share your location at any time – ideal for the lone rider.
Security and safety
According to TfL, 20,000 bikes are reported stolen in London alone every year.
Expensive e-bikes can attract thieves like flies, so how can connectivity help? Well, GPS units allow you to see immediately if your bike is moving without permission and can track its live location.
Your connected e-bike can also transmit your position to the IoT app. So, if you share your location, everyone knows that you're on the road or – in the event of an accident – that you're not.  
Health
The 150 minutes of exercise per week recommended by the World Health Organization can be easily achieved with a connected e-bike.
What cyclist doesn't like stats? A connected e-bike will help you track your daily exercise routine. By looking at your activity and cadence, it can also tell you how much energy you've used. Over time you can see your progress, so the IoT can help you achieve personal health goals.  
Clear conscience
E-bikes bring us a step closer to sustainable mobility by placing a big fat tick in the carbon footprint box. The more of us that adopt two wheels, the lower the congestion on our streets and pollution in our air.
By adding connectivity, e-bikes become an integral part of your digital lifestyle.
Communication
The connective possibilities are endless with IoT. If your bike is stolen, you could send a theft report directly to the police station in your area. Insurance contacts could be linked to the IoT application. If you have an accident or your e-bike is damaged, you can quickly contact them.
Plus, directly transmitting your connected e-bike data to your bike mechanic means your bile's services and maintenance can be planned through remote diagnosis. OK, some of these ideas are still just a dream, but with IoT on board, anything is possible.  
Insurance
You didn't expect us to ignore the insurance angle, did you?
With all the benefits we've spoken about so far, connected e-bikes have the potential to positively impact your insurance premiums. With IoT making maintenance easier and theft harder, our risk is lower, so watch this space.
The emergence of a new generation of cyclists
What image pops into your mind when you think about cycling? Lycra-clad men and women pedalling like fury, gasping for air as they try to nab their next Strava King or Queen of the Mountains title?
The reality is that cycling is changing. With companies such as Bosh, Volt, and Greyp bringing connectivity to their e-bikes, cycling has become even more inclusive. It makes two-wheel commuting possible for more people and gives everyone the chance to get out in the fresh air without returning looking like an out of condition radish.
Although still in its infancy, the connected e-bike is set to increase durability, improve ease of use and the riding experience, and protect against thieves. What's not to like?
WE'VE GOT YOUR BACK
We've got it covered whether your bike's a fixie, road, MTB, tourer, folding, recumbent, hybrid, cross, or e-bike. Your bike, your gear, your policy. Simple.