Following on from part one, we're back with part two of the most valuable tips from the female triathlon Instagram stars around the world! Whether it's your first triathlon or your tenth, these ladies have got you covered.
Sweden: Helena Bjälkemo
We are almost a perfectly normal family with the same challenges that all families have. The everyday battles. Lack of sleep. The kitchen table mess. Work related stress. Preschool drop-offs and pick-ups. House chores. But on top of that we squeeze in roughly 20 hours of training per week. Both my husband and I compete in one of the toughest endurance sports, swimrun.
I am relatively new to swimrun, but have a background as an elite runner. My husband George, a former pro triathlete, is now one of the top athletes in the world. Aiming to win the world championship in September.
It's a challenge to carve out the time for training in the midst of family life and work. We try to include our entire family in our active lifestyle. Our kids play at the gym playground while we workout. We also usually find a way to bring them along to races and training camps no matter where. During the summer months we pack up our gear and take the whole family to the closest nature reserve, Hellasgården, for running, swimming and playing.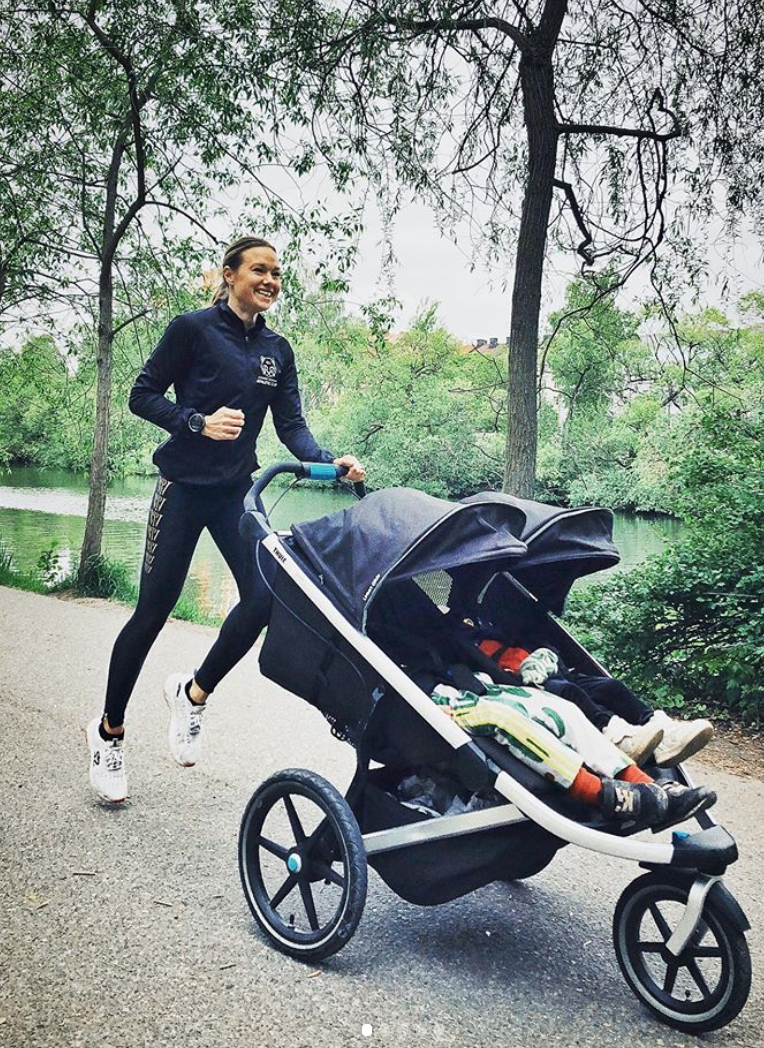 I love taking our children out with our running stroller. It makes me stronger, both physically and mentally. Although there's a bit less recovery time, as a mom of two,  I now see myself as a stronger athlete. I continued to run through both of my pregnancies and did my first race six months after my daughter was born. I love the contrast between being a parent and an athlete. Like last year when I was pushing my body to the very limit and then breastfeeding my daughter only a few seconds after crossing the finish line.
Through my personal experiences and life circumstances constantly changing, the best triathon tips I can share relate to the training period and the lead up 🏃‍♀️
Similarly to anything else you do, training is most likely to happen when you plan for it. It's a mindset. Thinking that I will train IF I find time for it is a mistake. I have to plan for it! And consistency is key. If you have goals with your training, leaving it to chance will most likely set you up for disappointment. If training is important to you, treat it as such and the people around you will probably be much more understanding and supportive
Try to be proactive to overcome obstacles that you find might keep you from training. I prepare as much as I can in advance. Pack my training gear, mix sport drinks, prepare pre and post training meals and snacks. This helps, especially if you have an early morning session
If training is important to you, prioritise it. I've learned to accept that I can't do everything and try not to beat myself up over it. Figure out what works for you. If you find it hard to get your training done after work, do it before work or during lunch. I often run my commute to and from work. Training earlier in the day also makes it less likely for something unforeseen to come in the way of my training. Be practical, cut out as much logistics as possible, e.g. start your run as soon as you get out the door, sign up with the gym closest to work or home, etc.
Focus primarily on the training that gives you the most bang for the buck. The type of training that has the most effect on your overall fitness. Get into the details later if there's time.You have to be open to training outdoors as well as indoors. You can't limit yourself by the conditions. Be creative, there is usually some way of getting the training done, e.g. running with a baby stroller!
Good luck and remember excuses will break you 💪
Further tips from around the world...
Brazil: Lara Souza Reis
At only 12 years old, Lara wants the world to know that there is no age limit when it comes to partaking in a triathlon. She has been swimming since aged 6 and loves to compete. Lara has been using her father's bike for training but last month, her grandfather surprised her with her very own bicycle. Now she feels that much closer to being competition ready!
Germany: Laura Philipp
Laura is a big fan of training camps, for her it's an opportunity to keep focused and keep surrounded by like-minded people. Everyone training together makes for a great source of motivation. Whether it's five days or two weeks, training camps help get you into the right mindset and can be a great way to kick off your training programme for that triathlon on the horizon.
Norway: Martine Hoaas
For Martine, strength and stability training is a very important part of her routine. She notes:
"It's all about finding what works for you. Some athletes lift heavy weights, others lift lighter weights or don't lift at all. Some do pilates and body weight exercises. I like to do a little bit of everything. To avoid getting sore it's all about consistency and giving the body time to adapt. Every week I do two full body strength sessions (usually heavy weights), plus core every other day. Strength training helps my body to handle more swim, bike and run. It also helps to prevent injures and even out unbalances in your body."
Whilst you are here...
... did you know that ... did you know that if you take part in races , sportives or triathlons you are covered by Laka's race cover? The only exception being if you are professionally paid to participate. So if you hit the deck on the first corner of your local crit, Laka has got you covered. Find out more - Laka