Whether you're exploring country lanes, zipping in-between traffic in the big city or popping to the shops on your cycle, it's hard to beat the feeling of freedom that comes with pedal power.
As the daily number of bicycles on the road grows, so too does the opportunity for thieves to steal them. After all, a high-end bike is a valuable asset - and a thief won't think twice before taking advantage of an opportunity, whether stealing one for their own use or taking it with the intention to sell it for profit.
But it's not only thieves that cyclists need to think about. An uptick in bicycle use creates a more significant risk of accidents - especially when you throw vehicles like cars, vans and lorries into the mix. That's why cyclists need to make sure they have the appropriate insurance for theft and damage cover.
It's essential to have insurance for your bicycle. However, at times, the world of bicycle insurance can be confusing. Which type of cover should you take? Who's covered? And exactly what is covered in your policy?
Well, worry no more! We've put together a comprehensive list of how insurance works in the world of cycling. This is bicycle insurance, explained.
Bicycle insurance options
Getting the right insurance for your bike involves more than simply making sure it's covered. Not all cyclists are the same, and some require different types of insurance. As a cyclist, you have several options when it comes to protecting your prized bike.
1. Home/contents insurance
Whether you're a homeowner or renter, the contents of your home should be covered - from furniture to personal belongings. People often believe that bicycle insurance is automatically covered with home or contents insurance. Often, this is not the case.
While bike insurance isn't covered automatically, you can add it as an optional extra. And yet some home insurance/contents providers only offer to cover you if the bike is stolen or damaged while on the premise of the home covered by the insurance.
Having insurance for your bike in case it gets stolen from your home is handy, but it somewhat defeats the primary purpose of cycling. If it's stolen or damaged while you're out and about, your home/contents insurance may not cover you.
Before you opt for cycle insurance as an extra, it's best to double-check the details of everything that is included with the cover. There isn't much point having home/insurance cover for your cycle if you're out and about on it frequently.
2. Specialist bike insurance
It's worth looking at specialist bicycle insurance if you're someone who uses their bike on a semi-regular or frequent basis. Getting specialist bike insurance used to be a tough task, as there weren't many companies offering it to cyclists.
Fortunately, things have changed, and there are now many different types of specialist insurers. However, premiums can be expensive on cyclist insurance - especially if you own a high-end bike worth £1,000-plus. 12-month contracts can also be a nuisance.
3. Laka bicycle insurance
Here at Laka, we're offering a new way to insure bicycles. We do this by using a collective-based insurance model designed especially for cyclists. Insuring your bicycle and cycling gear with Laka means there are no premiums, with claims being settled first and the costs shared with the collective at the end of the month.
Costs are split fairly and, unlike traditional companies, Laka only makes money when settling claims. This creates a fairer and more transparent business model, with the savings passed on to you, our bike-loving customers.
Our collective-based method means savings are passed onto you. This year, our members have saved 25 percent compared to regular market prices.
What's included in my bicycle insurance?
Not all cyclists are the same - some use their bikes for commutes to work; others only get them out for a weekend cycle. Some belong to cycle clubs; others partake in cross-country cycling tours. Some use their bikes to run errands; others rely on it as their primary transportation method.
For this reason, there are many different types of cover available for a broad range of cyclists in the collective. Not all bike insurances are equal. Here's a breakdown of the different types available.
1. Theft cover
Theft cover is there to protect your bike if it becomes one of the 500,000 stolen each year in the UK. Your cover is valid if the bike is at home, locked outside, in the car, or in transition areas of sportives and triathlons. Your bike will be replaced in the event of theft from home or when it's locked away from home with a gold-rated lock.
2. Damage cover
While theft is the primary concern for bike owners, accidents can happen - especially if you're in a rush-hour commute or high-speed race. Damage cover protects you during commutes, weekend rides, and sportives and races. We arrange the repair, no matter which parts are affected after an accident or vandalism.  
3. Travel cover
Having a bike means being free to explore with little add-on costs: no fuel charges, no paying for parking. It's just you and your bike. Having travel cover means that you can feel free to go exploring on your bike, no matter where you venture. Your bike is covered for up to 60 days with travel cover.
4. Race cover
If cycling is much more to you than a method to get from A to B, race cover might be just what you need. For those who love testing their skills and taking part in official races, race cover protects you up to UCI level.
5. Emergency taxi and rental bike cover
Having your bike stolen can leave you without alternative travel methods. We reserve £200 to help make your life easier with an emergency taxi and rental bike cover, which makes your life easier after an accident or theft.
Who is covered?
When insuring a bike, sometimes it's not entirely clear who is covered - or which aspects are included. Motor vehicles require  a driving licence and specific third-party insurance to cover anyone else driving your car. Hopping on a family member or friend's bike is much easier than borrowing someone's car.
When you insure your bike, you, the member of the Laka collective is covered. However, that extends to family members living in your home. Your bike is also insured for accidental damage made by any third party, giving you extra peace of mind in the process.
What do I need to insure my bike?
Insuring your bike is simple, and all you need are the details about your cycle. It's also possible to insure your cycling gear if so wish to do so. Once you've signed up, you just need to enter a few details about the make and model of your bike as well as  it's value - plus any gear that you also want to insure: helmets cycling clothes etc.
Making claims
If you find yourself in the unfortunate situation where your bike has been stolen or damaged, you want an easy method of making a claim. We've designed a platform that simplifies the claims process so that you can settle in the fastest time possible. Of course, everything can be done online and our bike gurus will guide you through every step of the journey.
If your bike or gear is stolen, accidentally damaged, vandalised or even got lost by a third-party, you can make a claim through our platform. You will need to include all the relevant details of the incident, along with evidence to settle the claim.
Photographic evidence is needed in order to process claims. We'll use photographs to confirm your ownership (if you have them uploaded already even better) of the bike and demonstrate its condition. This will help to settle the claim faster. As soon as we've received a notification of your claim, we'll be in touch to discuss how we can put you back on the saddle. In case you hurt yourself, don't forget to ask for our exclusive Recovery Kit.
But will you have to pay?
When you buy insurance, you are purchasing a promise from the insurer. That promise is to help you when things go south - and at Laka, we've taken this to the next level. Because of our collective-based insurance model, we are only paid by the collective when settling claims successfully. It's what we are there for.
This means that, while traditional insurers lose money and try to protect their margins when you claim, we look at it from a different perspective: how can we get you back on the road as fast as possible to earn our reward.
What do I get when I claim?
We don't apply excess or lower the value of the payout otherwise. Whatever you choose as your  insured value, we will honor when settling your claim. That's our promise.
While you think getting the cash in your hands to buy a new bike is already good enough, our bike gurus will go the extra mile and actually put you back on your bike - from booking in the appointment with a bike shop, picking up the bike for repair or sending you a brand new bike. We know how to speed things up and will get you cycling again faster than ever. It's why we get over 99% 5-star reviews from our members.
What you pay matters: The Laka Price
While most bicycle insurance companies charge you a high premium - paid either monthly or annually - which ties you into a long-term contract, we do things a little differently at Laka.
Every month, we charge you and the Laka collective of cyclists the cost of claims submitted for the previous month. To make sure everyone pays a fair amount, we calculate the total cost of your bike and gear - the more valuable your bike and accessories, the higher your share.
However, no matter how much the claims increase, we will never charge more than your personal cap - which is stated before you take out insurance with us. Fewer claims mean lower monthly outgoing for all members of the Laka collective.
Each month, we'll send you a monthly overview that provides a detailed explanation of how we calculate your share so that you get a transparent breakdown of costs.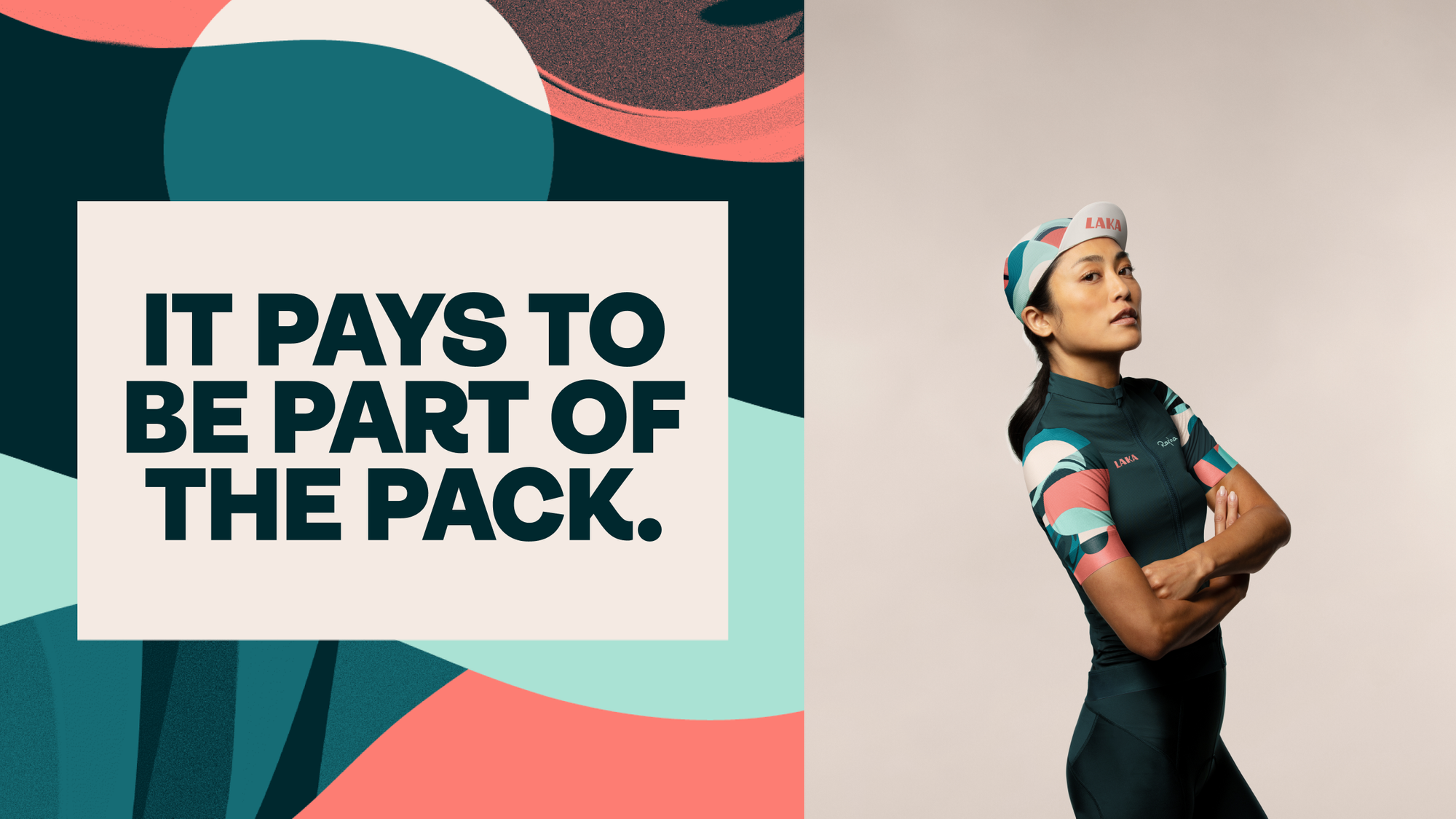 A smarter way to ride
There are few things more freeing than grabbing your bike and going wherever you desire. The obvious health benefits associated with cycling are a massive bonus, too. But having peace of mind is just as important, which is why you should cover yourself from theft and damage when using your bike.
We're putting the UK's cycling family first with our collective-based structure. The result is fairer and more affordable insurance for your bike and gear
Join us...
Get a quote today and see how much you could start saving with Laka.