Presumably you would have by now done some thinking about it, if not – don't worry, we've got you covered with a beginners guide to cargo bikes. Once you have settled on the one for you and your family, place an order as lead time can take a few weeks. And you want enough time to try it on the intended route (s) before the start of the term. It would also give the children a chance to get familiar with it and make it their own. Try to plot a few routes, it is always good to have a couple of options as throughout the school year, there may be times when an alternative route is required due to road works, you are running late, heavy traffic, etc…Start by a quieter route, even if it's a bit longer, just so you have the space to build up your confidence and endurance if necessary.  When I started, I always had to stop halfway through a hill to drink some water but gradually, within a few weeks, I could do it in one stretch.
Part of the environment
One of the great advantages of cycling the school run, is that children get involved with the environment surrounding them. They will notice what is going on around them, making a mental map of the places you go through. You soon end up with the nicknames they come up with and they will notice if you deviate from the 'normal' way. We had Karen's tree roundabout, Dog-Poo Park and Library Way among others.
You do not need anything specific in terms of clothing besides something that feels comfortable. The most important point is to do what works for you. So, if you feel you need helmets and reflective material, do that. As long as you cycle the school run and enjoy it, this is what matters. If you wear glasses, a regular cap is helpful to have handy to prevent the drops of rain turning the road ahead into a damped watercolour picture. There are some gloves that have fingers covered with a special coat to wipe glasses even more efficiently. A light compact poncho or waterproof may be helpful too and you can leave it in the cargo bike. And just like with cycling on a standard bicycle, you will need lights, a couple of locks and a bell.
In terms of what you need in the cargo bike for the school run, I would say, based on my own experience, it is not very much different from what you would take if going out with the stroller. The benefit is you don't have the extra pressure of keeping things compact and light. When my little one started Reception, I would have a packet of wipes, toilet paper, hand gel, a small sunscreen tube, a water bottle, some dry snacks, a change of clothes (for her), a light blanket, some bags for life, some ziplock bags for half-eaten food, and a plastic bag or anything to keep muddy shoes separate from the rest and for the litter. If your cargo bike is a box bike, a neck pillow might be a good idea too for the impromptu nap on the way back. And obviously, the children could take on board some books, a couple of toys/games. At one point we even had a guitar! In winter, I would also hook a camping lantern to the roof, so they could read and play under the hood.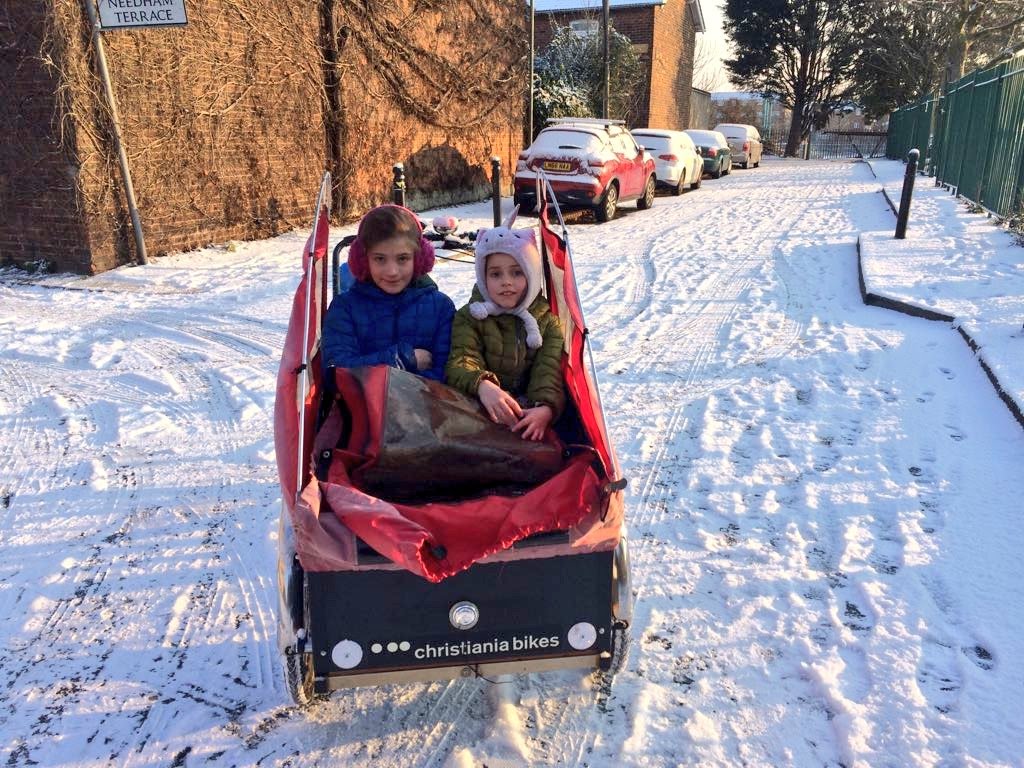 If your school run is just one segment of a chain of trips, for instance into a commute to work for which you don't need the cargo bike, do check with the school if you can leave it somewhere secure there. Some schools have small playgrounds and cycle parking. Ask if it would be okay perhaps to use the service entrance if there is one. Given how much-congested school gates get in the morning or the afternoon, schools are usually supportive of parents who try not to add to the twice-daily chaos of road danger and pollution which negatively impact everyone.
Should you continue on your way with the cargo bike after drop-off, try to find a place to park it, without obstructing the pavement and accessible from a dropped kerb. A wheel lock is usually enough for a short stop and most cargo bikes will have it as standard.
If you also have a baby on board, a maxi cot is handy if your parking spot is a bit too far away from the school gate. We were lucky that ours wasn't, so I used to leave the younger one in the box if she was asleep – perfect napping opportunity - while fetching her older sister from the school playground.
Once you've picked your child(ren) up at the end of the school day, the adventure resumes and depending on how much time you have, the way back home may involve a few stops to a playground, for an ice cream in the park or running some errands. You will find that it is suddenly very easy to be spontaneous again which is often a luxury in a life with young children. Depending on locations and whether you can still see the cargo bike, again locking the wheel with a frame lock is usually enough.  Leave the mess at it is and just remember to take your valuables with you. An after school stop on the high street to pick up some Halloween 'essentials' led us to accidentally enter an episode of Donnie Darko!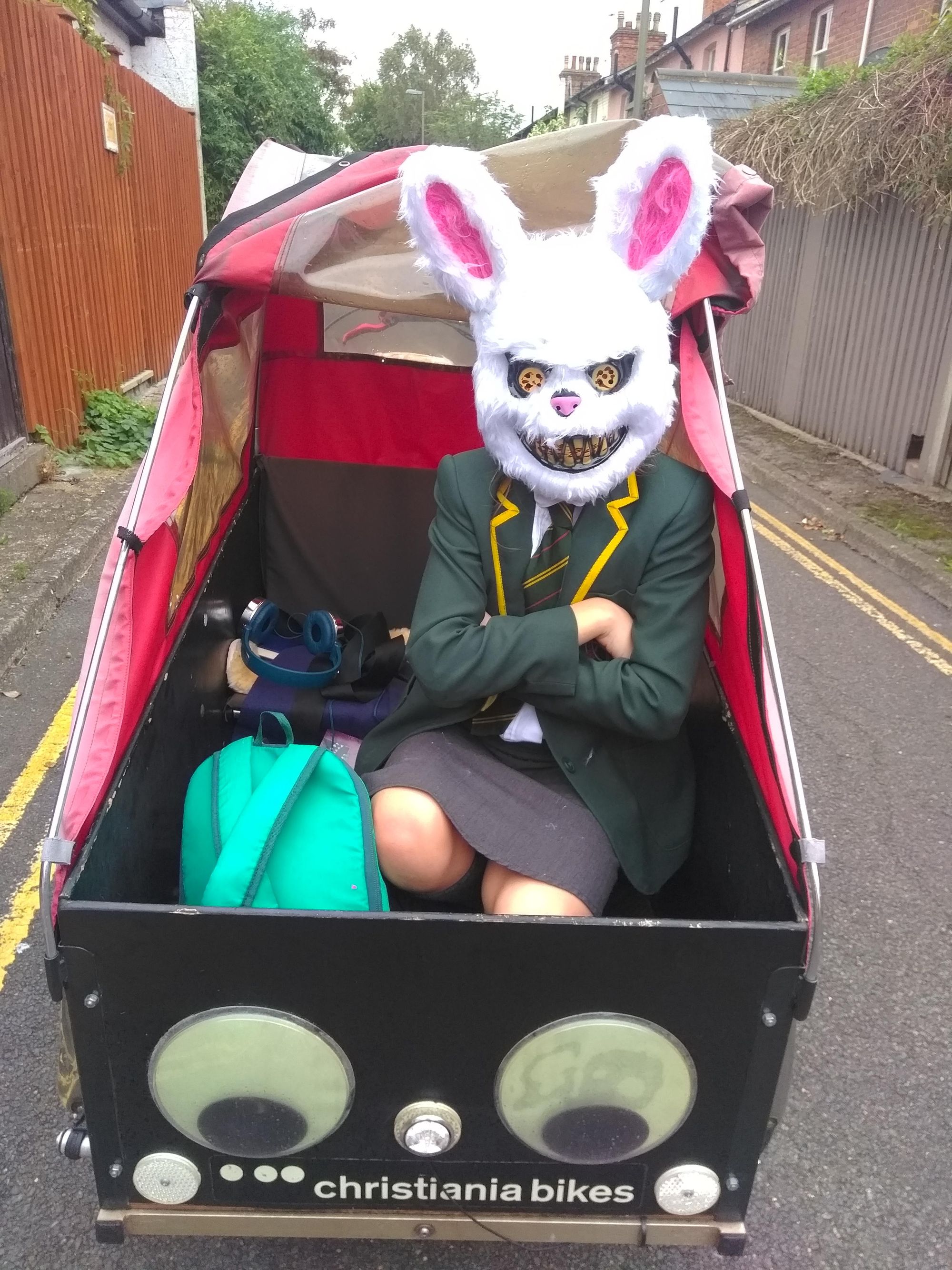 If you went for an electric cargo bike, make sure to remember to plug it in when needed. From new, it could be once a week at first, after a few years it will be every two days or so. It all depends on the use and distance. Inevitably, you will forget one day, we've all been there. This is when having taken the time to plan a couple of routes will come in handy. They may have an easier gradient or less traffic so you don't feel pressured to go faster than your body could possibly deliver. You may suffer but the kids will love it. Mine used to pretend they were in a boat, mimicking rowing while shouting Faster! Faster!
Lithium batteries are best kept inside overnight when the nights are cold. It won't terribly damage it if you forget but it may shorten its lifespan if you do it regularly.
With a cargo bike, mobility around children's timetable becomes an endless series of possibilities. Arriving on the day for the residential with extra bags, bringing stuff to the Summer Fayre, playdates, combining school run with other trips, etc...Being responsible for primary age children's school run is testing, even to the most organised parents among us. A cargo bike can really make a difference in allowing us to cut ourselves some slack and give us back a sense of freedom with our own time. Even if you include the numerous occasions when people will inevitably stop you to ask questions about your 'funny bike'.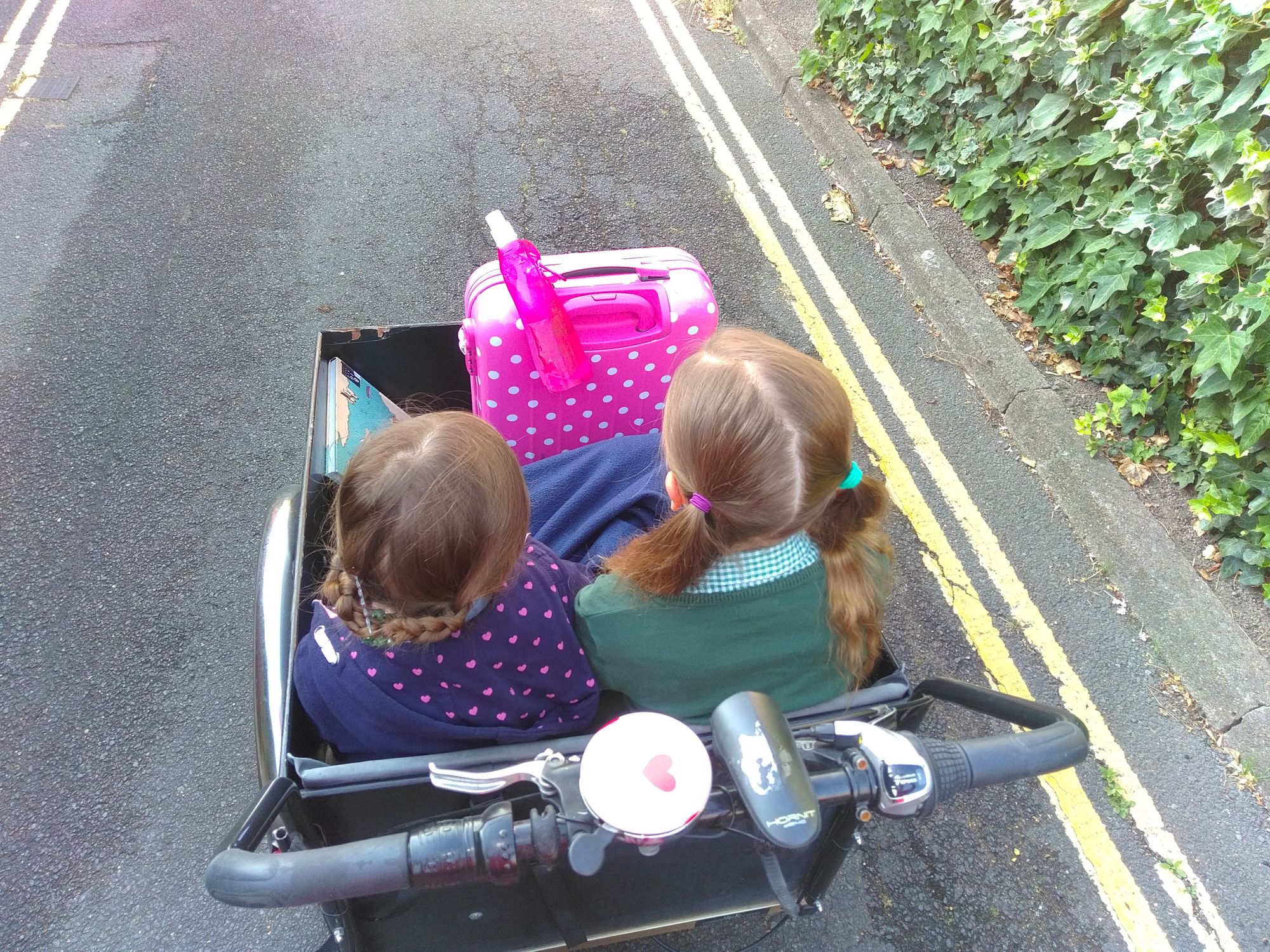 Cycling the school run in a cargo bike is fun and will have a positive impact not only on your mood and physical health but on the wider environment too. You may start as the first cargo bike family at your school but before long you will inspire others. And with the rollout of School Streets across the country, groups of cargo bikes may well be a far more familiar sight at the school gate than the chaos we all have had to endure for far too long. School Streets are a game-changer for the school run. They are council-led schemes that timed restrict access to motor traffic outside a school gate. This results in safer access and better use of the space outside school by children and families walking, scooting cycling, and wheeling to school.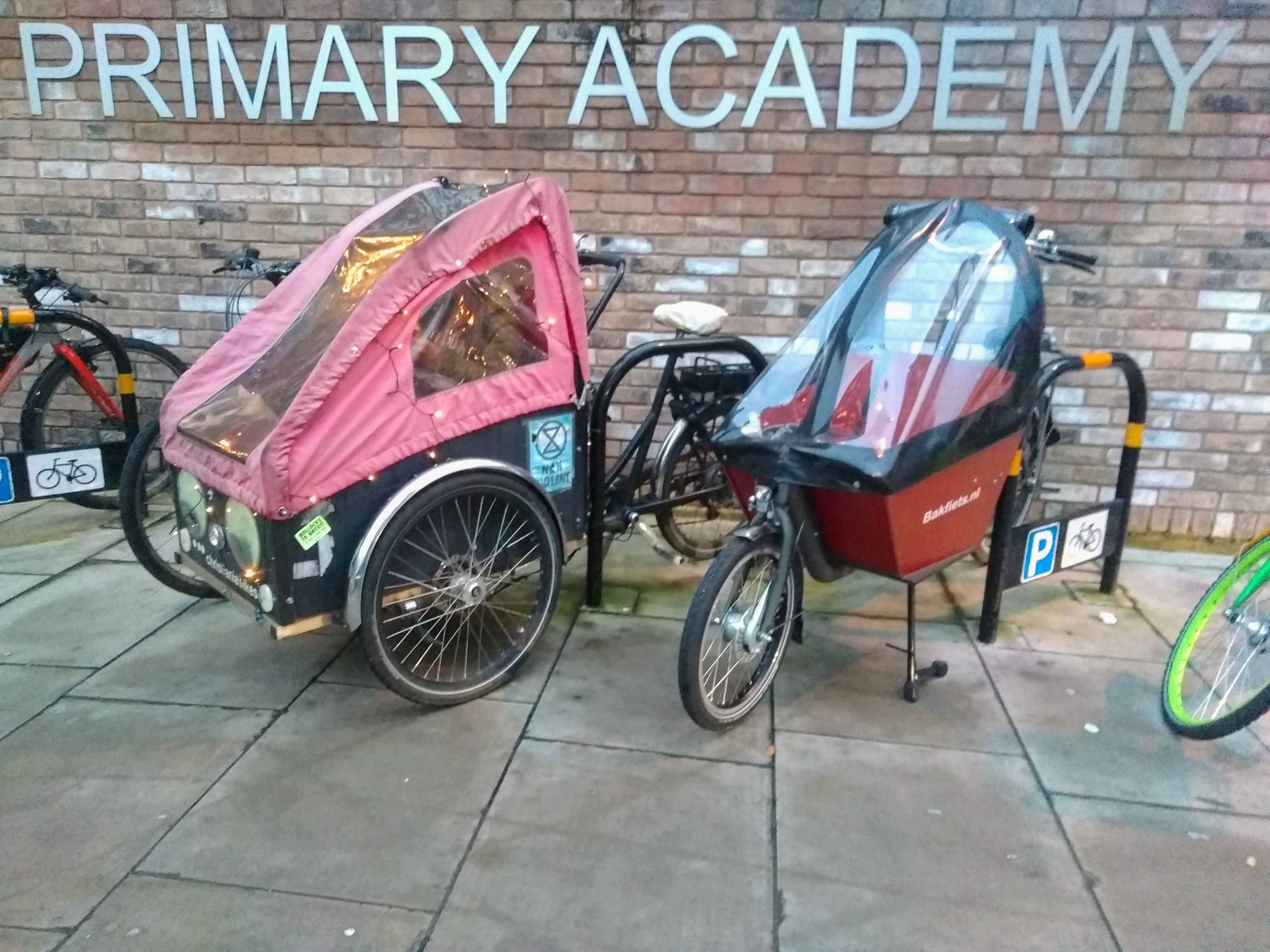 SPECIALIST CARGO BIKE INSURANCE BY LAKA
All cargo-bikes are covered against theft, damage and much more. With flexible monthly policies you can cancel anytime.
Why not give us a try?