So, using all of our knowledge on bike theft and bicycle insurance, we're sharing our knowledge on the best way to lock a bicycle.
The best way to lock a bike
The best way to lock your bike is to use two good quality locks, attached to an 'immovable object'.
An immovable object could be secure bike racks or railings. Basically any object that won't budge.
Then the golden rule of locking your bike is to secure your bike based on its value.
So the biggest priority is going to be your frame, then perhaps the rear wheel, front wheel, components etc.
Let's go through how to maximise the security of your bike locking in a few various scenarios:
How to lock your bike with one D-lock
If you have one D-lock you should secure your bike frame to an immovable object. Make sure the bike is attached through the frame so it fits into the main triangle of your bike frame.
You can use one lock to secure other parts of your bike too. By attaching the lock to the down tube and the rear triangle you can also secure the rear wheel (which is often an easy target for bike thieves).
The added benefit of squeezing the wheel into the D-lock is that you remove space from inside the lock. By reducing space inside the lock you're restricting the amount of leverage that an opportunist thief can use to pry the lock open.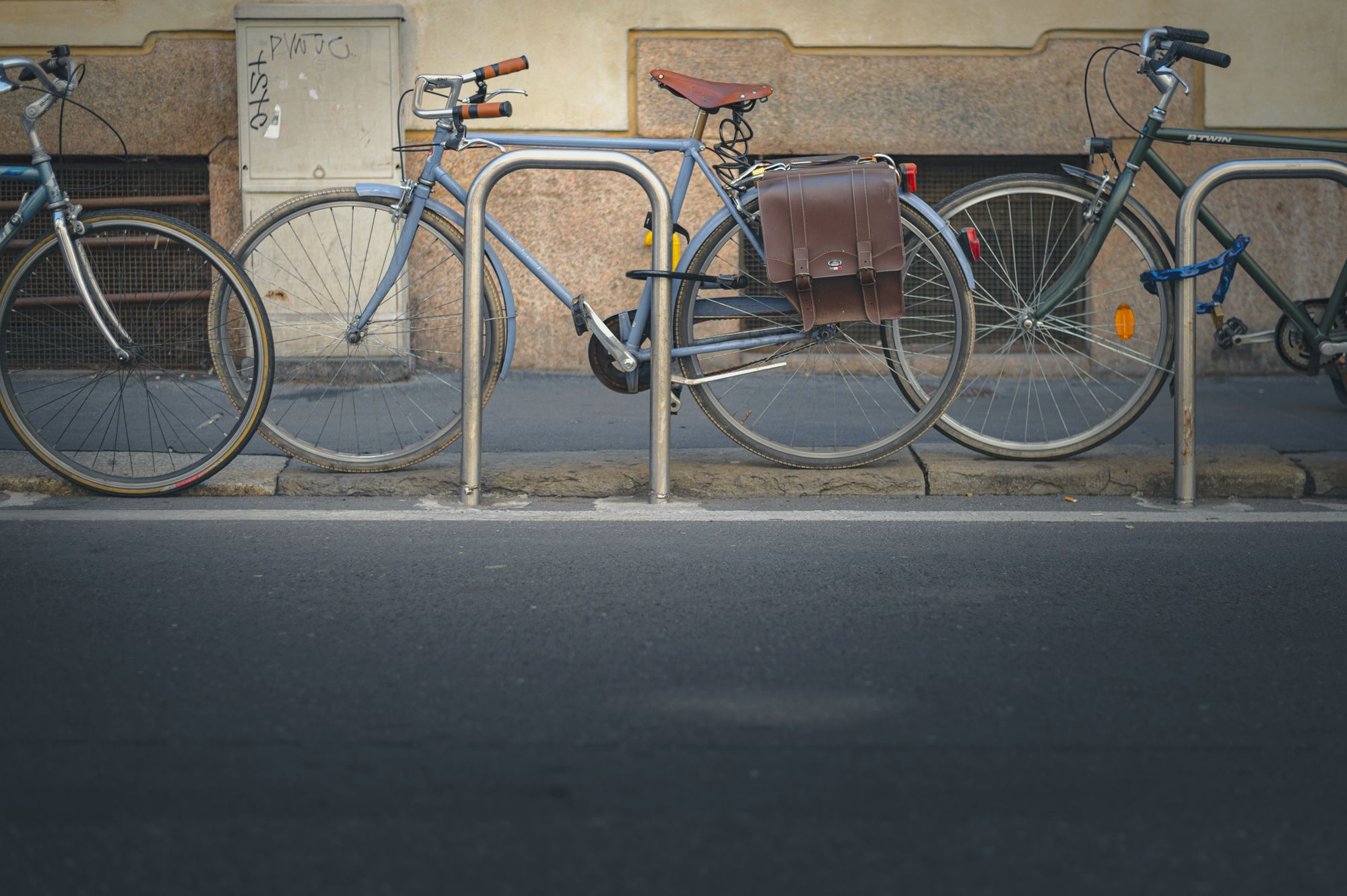 Using one D-lock and a cable
If you're quite happy with one lock, and you don't want to be carrying a second lock around, you can upgrade your D-lock with a simple cable.
A steel cable means you can secure your frame with a D lock like usual. But by adding the cable through the lock, you can secure your front and rear wheel too.
This is a great option if your bike is bigger and you need some extra length too.
Using two D-locks
Using two D-locks you're not leaving anything to chance. Kudos!
To maximise your bike security with two locks you should follow the advice for 1 lock, locking the bike frame and rear wheel to an immovable object. With the second lock you should lock the front wheel and frame to the solid object.
Using a chain lock
A chain lock is both versatile and secure. The flexibility of a chain lock makes it less awkward to carry than a D lock. But they are quite weighty, making them good for at home or leaving at your destination.
You will benefit from added manoeuvrability though. Especially if you're locking your bike in a more awkward position.
Paired with a D lock this is as good of a locking system you'll get. With two different locks your thief will need two different ways to break a lock.
Using a cable lock
Using a cable lock is a risky move. They're often not very strong and easily broken by a bike thief. The best way to lock a bike is a compact D-lock and a cable.
If you've got nothing else, a cable lock will give you a basic level of security. Again, you should aim to get as much of your bike in the lock as possible.
Also think about twisting the locking mechanism so that it's in an awkward position. In-between the rear wheel and the frame for example. This will make it much harder to break.
How to lock your bike at home
If you want to lock your bike securely at home you should look into getting a ground anchor installed.
A ground anchor is for your home or an outbuilding. It gives you an immovable object if you haven't got one. By installing one in your garage, you can lock your bike to a fixed point.
Combined with a solid lock, they're a super sturdy bit of kit, but will require some DIY skills too.
How about secure bike parking?
If you're over carrying a lock altogether, you might just decide to find some secure bike parking when you're out and about.
A quick Google search and you'll find a range of options from bike shops that will simply look after your bike for the day to purposefully built secure bike boxes.
It's a great idea, especially if you don't have a lock with you. It's also great to see more infrastructure supporting people cycling in cities. Winner winner.
What bike lock should I use?
There are tons of bike locks on the market. It's difficult to know where to start.
From thin wire cable locks, to heavy duty motorcycle style chain locks. As a general rule, the more expensive the bike lock, the more security you will benefit from.
Smaller, compact locks, also known as cafe locks, are a popular choice amongst road cyclists. They give you quick peace of mind if you're popping into a shop or a cafe. But they're not going to stop an opportunist bike thief with some pliers.
Another popular choice is the cable lock. They come with either a padlock or a code, and are usually light and easy to carry. If you're looking for top security though, this is not it. In fact, you won't get much more protection than a cafe lock. The plastic shell makes it easy to cut without much force.
Next up is the trusty D-lock (or U-lock, which ever you prefer). They come in all shapes and sizes. You can find D-locks with tech, locks that can be mounted to the bike, and big D-locks designed for larger frames. However smaller D-locks are often more secure, because they have less space to pry open. For a top D-lock check out our specialist lock page with deals on Sold Secure Gold rated locks from around the web.
A chain lock is also an option and they can be as strong as a D-lock. Whether you choose a chain lock or a D-lock is personal preference. Chain locks tend to come a little heavier, making them ideal for using at home. However some, like the Hiplok Gold, are designed with wearability in mind.
With e-bikes and city bikes soaring in popularity in the UK, the frame or wheel-lock is also becoming popular. Lot's of bikes are now being fitted with a lock for the rear wheel. This prevents your wheel from turning and therefore stops anyone from riding away on the bike. It's not the best for security, but it means you won't forget to take a lock with you. You can also get these locks retrofitted to your frame.
All of these locks will help you protect your frame. But what about components and wheels? It's much trickier to prevent, but Hexlox have created a unique solution to lock your components to the bike. It used a unique bolt to secure components like bars, your seat, or your wheels to the bike. Only you can undo the bolts. Genius.
If you're locking your bike in the city, it's definitely advised to swap out quick release skewers for Allen bolt skewers. It just might repel the opportunist bike thief.
Where to lock your bike
Locking your bike is one thing. But where to park your bike is a whole other topic. If you're looking for the best way to lock a bike, you'll need to make sure you're parking it in the right place. Let's take a look at a few bike parking options:
How to lock your bike on the street
When locking a bike on the street, always lock to a solid, immovable object which can't be cut or removed.
Try to vary where you lock your bike. For example don't leave it outside your office every single day. It will get noticed that it's regularly left for a few hours daily.
You will also want to choose an area that's well-lit and with a high footfall so it's watched by CCTV. However bike thieves are getting more brazen in popular areas so it's not always effective.
Probably the most effective tip is to lock your bike around bikes that are more valuable. A bike thief will likely go for a higher value or nicer bike making your bike less likely to be targeted.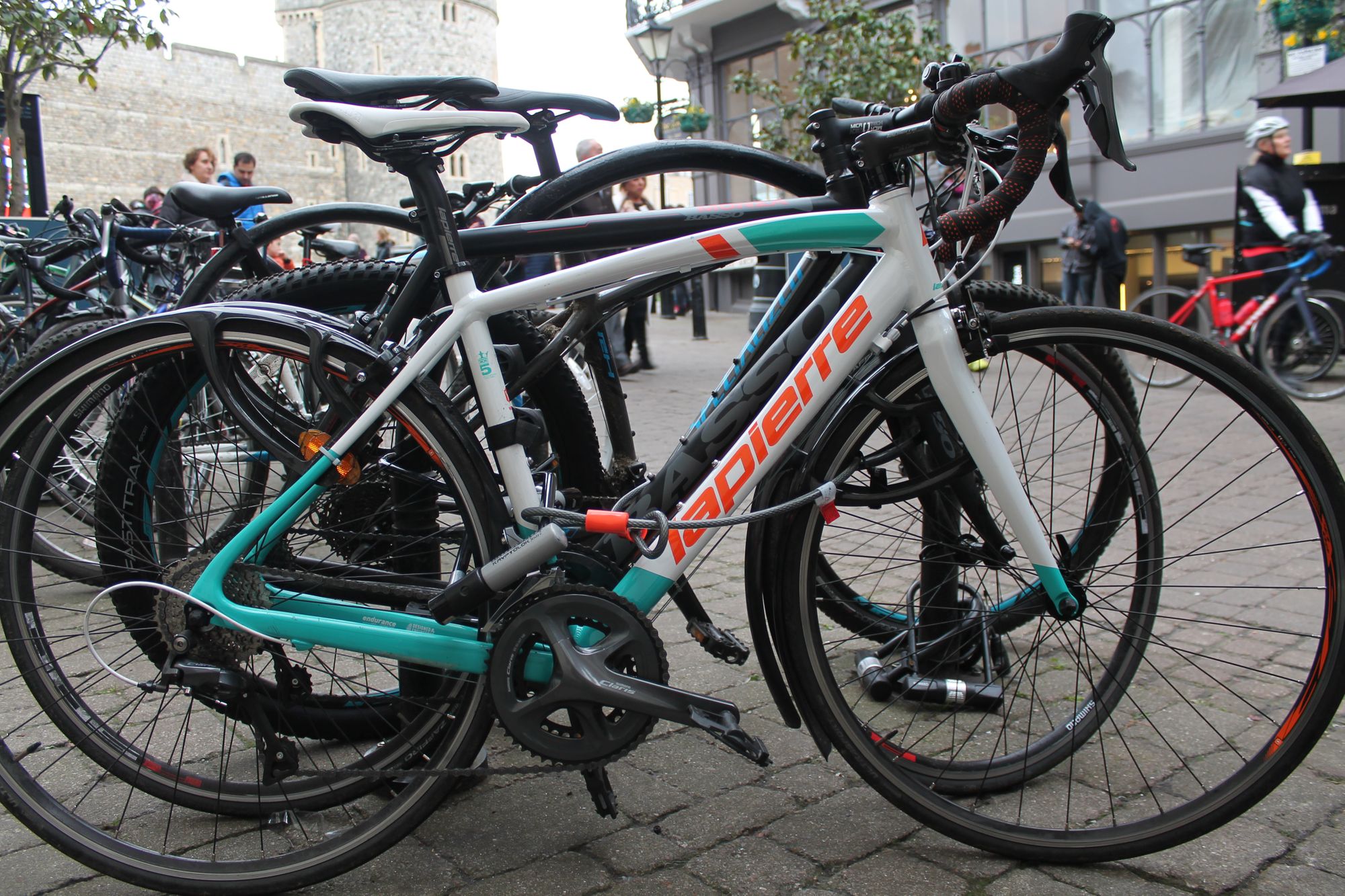 How to lock your bike at home
Your bike spends the majority of its time at home. And whilst the thought of someone breaking in to steal your bike is super scary, a report from The Guardian found that up to two thirds of bikes are stolen in or around our homes.
It found that 60% of these were in the immediate vicinity to the home, like garden sheds, garages, and hallways.
Our top tip for keeping your bike at home is to keep it hidden if possible. Whether you cover it with a sheet or a special bike cover is your choice, but doing so will keep it out of view from thieves.
Another tip is to use a bike lock at home. Locks like this are designed so that your bike can be attached to the wall. They also look pretty neat too.
Home security is a huge topic on its own. So we created a full guide on the best ways to keep your bike safe at home. Including tips on CCTV, hiding online data and more.
Storing your bike in a garden shed or garage
Keeping your bike in a shed, garage or outbuilding is also very similar to keeping a bike in your home.
The same process follows, keep it hidden and preferably locked. You might find you need to put in a ground anchor. But if you have more than one bike, you can lock them together to make lives difficult for any prospective bike thief.
If you have a garage, you can improve security by reinforcing the door and making sure it has a good lock too.
If you're keeping your bike in a shed, you'll also want to make sure it's sturdy enough to worry any bike thief.
You might even consider some purposeful built bike storage sheds. They come in a range of prices and levels, but are a good option if you're looking for something bespoke for your bikes. They're also have in-built locks that are usually reinforced to a high standard.
How to lock your bike at work
How you store your bike at work will depend hugely on the types of facilities you have.
It's always good practice to use a lock, even if the bike racks are partially secured.
If it's just your colleagues using the bike racks, you might be comfortable not using a lock at all.
If you're in London you can check out the best cycle parking on the TFL network. Options range from super secure to somewhat secure, with a huge range of parking options.
Of course we couldn't wait to mention bike insurance here. Insurance cover for bicycle theft is a huge part of what we do.
For extra peace of mind, when locking your bike in a busy street, or storing your bike in your garden shed, check out our specialist bicycle insurance.
Our claims team are used to dealing with theft claims every day. Our only requirement is that you use a Sold Secure Gold rated lock or better when out of the home.