Bicycle storage isn't the most exciting part of bike ownership, but it's vital if you want to continue enjoying your bike. With 50% of thefts taking place from the owners' property (that includes gardens and sheds), we wanted to find out how you can best secure your bike and scupper the attempts of even the most persistent bike-napper.
Stay with us to learn how to choose the right bike shed, improve your bike shed's security, and why it pays to have specialist bicycle insurance.
To start with, we'll run you through some security basics.
Getting the basics right
Social media
There is nothing more exciting than getting a new bike. Whether it's delivered to your door or you pick it up from your local bike shop, the temptation to show off your pride and joy on social media is overwhelming.
But think before you post.
Even if your online security is tight (or you think it is), is it really a good idea to let everyone know you're now the proud owner of an expensive bike? Probably not. By all means, send pictures to your closest cycling buddies, but resist the urge to splurge your bike pictures across the internet.
If it's not on Strava, it doesn't exist
If you don't set your profile to private or at least set up an exclusion zone around your property, there's a fair chance your bike won't exist either because it's been nicked by a Strava-stalking bike thief.
Location, location, location
If you can't keep your bike in your house or garage, where will you put your cycle shed?
Ideally, it will be somewhere tricky for would-be thieves to reach but not so tucked out of sight (from you) that criminals can do their thing without being seen.
Find somewhere that can't be seen from the road but can be seen by neighbours and by you from your house. So, should anyone go snooping, there's a fair chance they'll be spotted. Oh, and make sure access to your garden is also secure.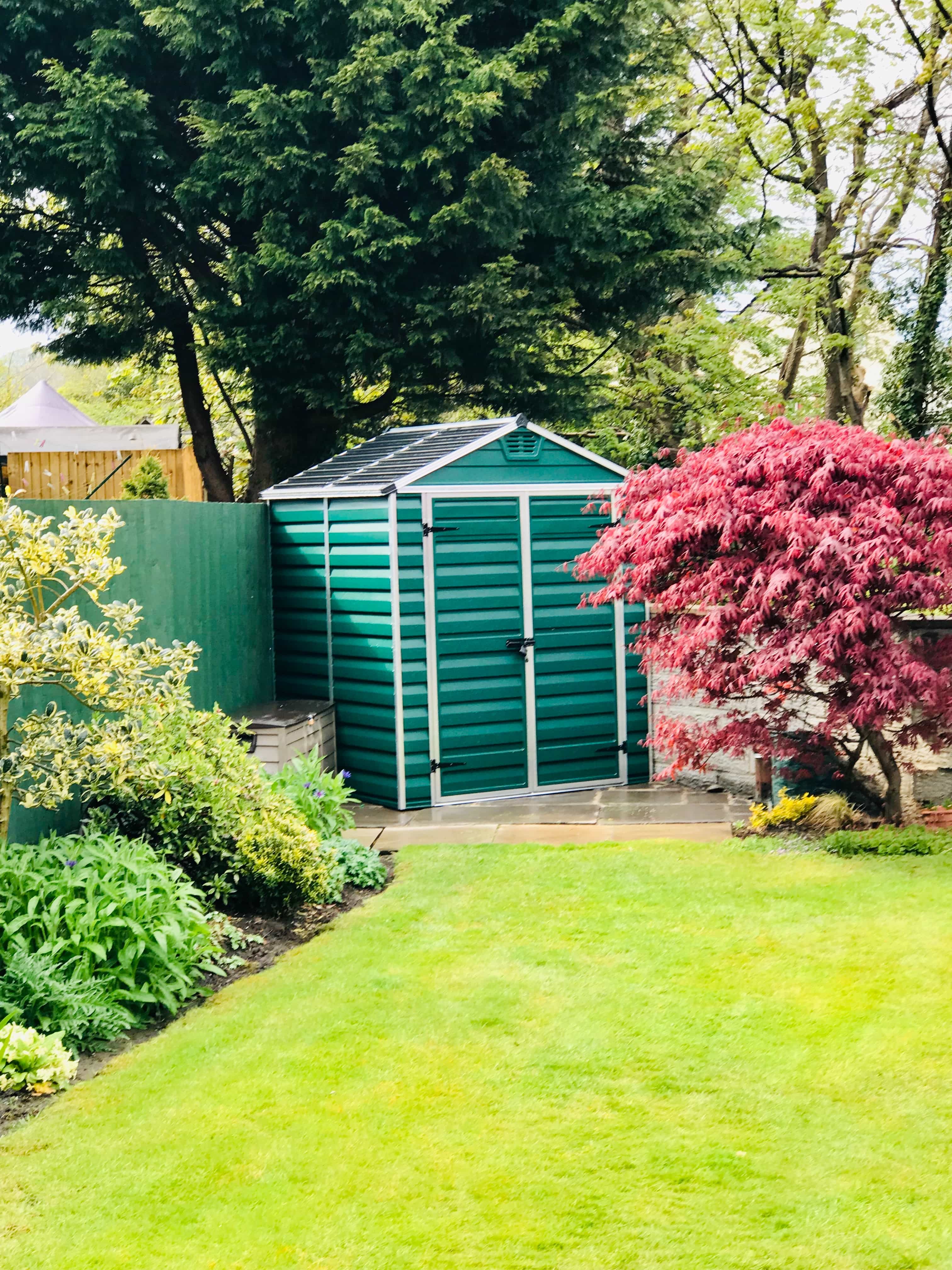 How to choose your bike shed
If you are unable to store your bike in your house (ideal), ga3rage (pretty good), or outbuilding (such as a brick shed), your only alternative is a bike shed. The trick is finding the right one that suits your circumstances.
We've written a complete guide to choosing a bike shed that will keep your bicycles safe so definitely check that out. But for now here's a quick rundown of the essentials.
There are three main types of bike sheds – wooden, plastic, or metal and then there's also a bike box/locker.
Wooden shed
By far the most aesthetically pleasing option and can easily be modified (in shape and appearance). Plus, wooden sheds are environmentally friendly and can be built cheaply.
The downside is that they are less secure than other bike shed options. And, of course, there's the maintenance element to consider, as wood tends to rot if not cared for correctly.
Plastic shed
On the plus side, plastic sheds are easy to build, light, so they can easily be moved (ideal if you're unsure where to place it), and low maintenance.
On the downside, they are far from attractive and not as sturdy as wooden or metal bike sheds.
Metal shed
Metal bike sheds are the most secure, as they have practically no weak spots. They are also weather-resistant and maintenance-free.
But, as with plastic sheds, they are hardly the most attractive garden feature. They also tend to be more expensive and are more difficult to assemble.
Bike box/locker
If you're a bit pushed for space and don't want to hassle of a concrete base then you could always consider a dedicated external storage product like the Asgard, Lockerpod, Bike Vault or Protect-a-Cycle.
All these offer weather protection and built-in security. Your very own bike safe.
Improve your bike shed's security
Once you have your bike shed set up, you can do a few other things to beef up its security.
Starting with your bike, it's not enough to just put it in your shed and lock the door. Your bike needs to be locked down too. Use a Sold Secure Gold standard D-lock and anchor your bike to the ground or at least something immovable. Using more than one bike lock will improve security further too. See the excellent video below on how you can fit a ground anchor in a shed of your own.
Next, it's time to think about the shed itself.
The hinges on the door are one of its weakest points (especially with wooden sheds). Toughen these up by replacing the screws with carriage bolts that can't be unscrewed from the outside.
Also, use a heavy-duty padlock and, if your shed has windows, obscure them so no one can see in and spot your pride and joy.
Sheds are, by nature, light structures (especially if they are made of wood or plastic), so the next thing to think about is preventing a determined thief from exploiting this weakness. Anchor your shed to the ground to make sure it won't go anywhere. You should also reinforce the roof.
Finally, think about the bigger picture. If possible, consider installing an alarm or at least a security light that will put a spotlight on your thief if they go anywhere near your bike shed.
Don't forget about insurance
Regardless of how secure (you think) your shed is, it always pays to insure your bike.
You insure all your other valuable things (your home, contents, car, life), so it makes sense to ensure your bike has the same protection. It's tempting to think, "it's fine; my bike is covered under my home insurance", – but is it? Especially if stored outside your property.
Specific bike insurance offers tailored cover provided your bike is kept behind a locked door. Of course, all insurance providers will have different stipulations, so always read the small print to make sure you comply with them, preventing any nasty surprises should the worse happen.
Before we sign off, it's also worth taking the time to register your bike for free with Bike Register, the police-approved cycle database. That way, if your bike is stolen, it will help the police trace it.
Oh, and when you do insure your bike, take photos of it along with details of its make, model and serial number and keep it with your insurance documents.
1 https://www.asgardsss.co.uk/asgard-bike-theft-statistics
100%! Our claims handlers move mountains to get you back in the saddle. Whether it's for accidental damage, a bike theft, or even if you've lost your gear.
Our service has even won us the Treating Customers Fairly award at the Insurance Choice Awards. Check out our Google reviews too!
Why not give us a try?