So we've put together a list of top tips for keeping your bike safe, of locks we recommend for extra security, and a few further bike security hacks below.
A short history of bike locks
Bike locks have existed for as long as bikes have. And they haven't changed much either!
The lock below was used over 100 years ago to lock your penny farthing up on the street. Of course a penny farthing is a near immovable object anyway. So this lock mounted over the top of the wheel and locked the wheel in place. Job done.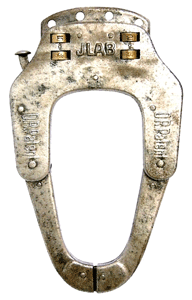 As bikes became lighter, people began chaining them, with a design that's still in-use today.
A hexagonal chain with a padlock was the popular choice, until an outbreak of thefts in the United States in the 1970's.
Michael Zane came up of the revolutionary idea of a D shape with a removable bar, and then the Kryptonite D lock was born.
As a publicity stunt by Kryptonite, they left a bike out on the streets of New York. Whilst thieves stole every other part of the bike, the lock and the frame remained. Guess it worked then?
So what makes a D lock so great?
A D lock is relatively light, stiff, and easy to use, making it a perfect choice for getting around town. Chain locks tend to be heavier and more difficult secure.
Note: Both chain locks and D locks are still penetrable by an angle grinder. However there's an argument that suggests it's more difficult to get purchase on a chain with an angle grinder.
So why use a lock at all?
If almost any lock can be broken through, you may be thinking "why should I lock it up at all?"
But by using a quality lock you're deterring thieves from attempting to steal your bike and buying extra time that it may take to break.
How can I tell a good quality lock?
Sold Secure is an independent, not for profit, organisation that test locks according to their strength, reliability and sophistication and ranks them either Gold, Silver or Bronze. Gold rated locks "offer the highest level of security".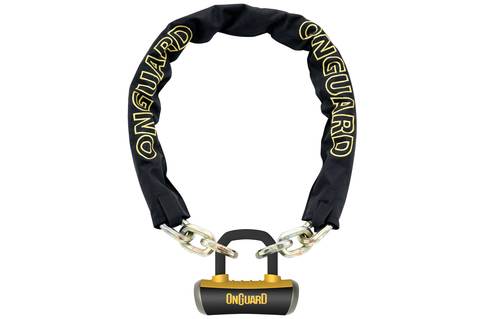 Laka Tip: We require evidence that you used a Sold Secure Gold rated lock or better when making a theft claim. The easiest way to do that is by providing clear photographs so that it can be identified on the Laka platform in My Gear > Accessories.
To make things easier we've curated a webpage where you can find the best deals on Sold Secure Gold Locks. It's regularly updated, so we'll always find you the best offers!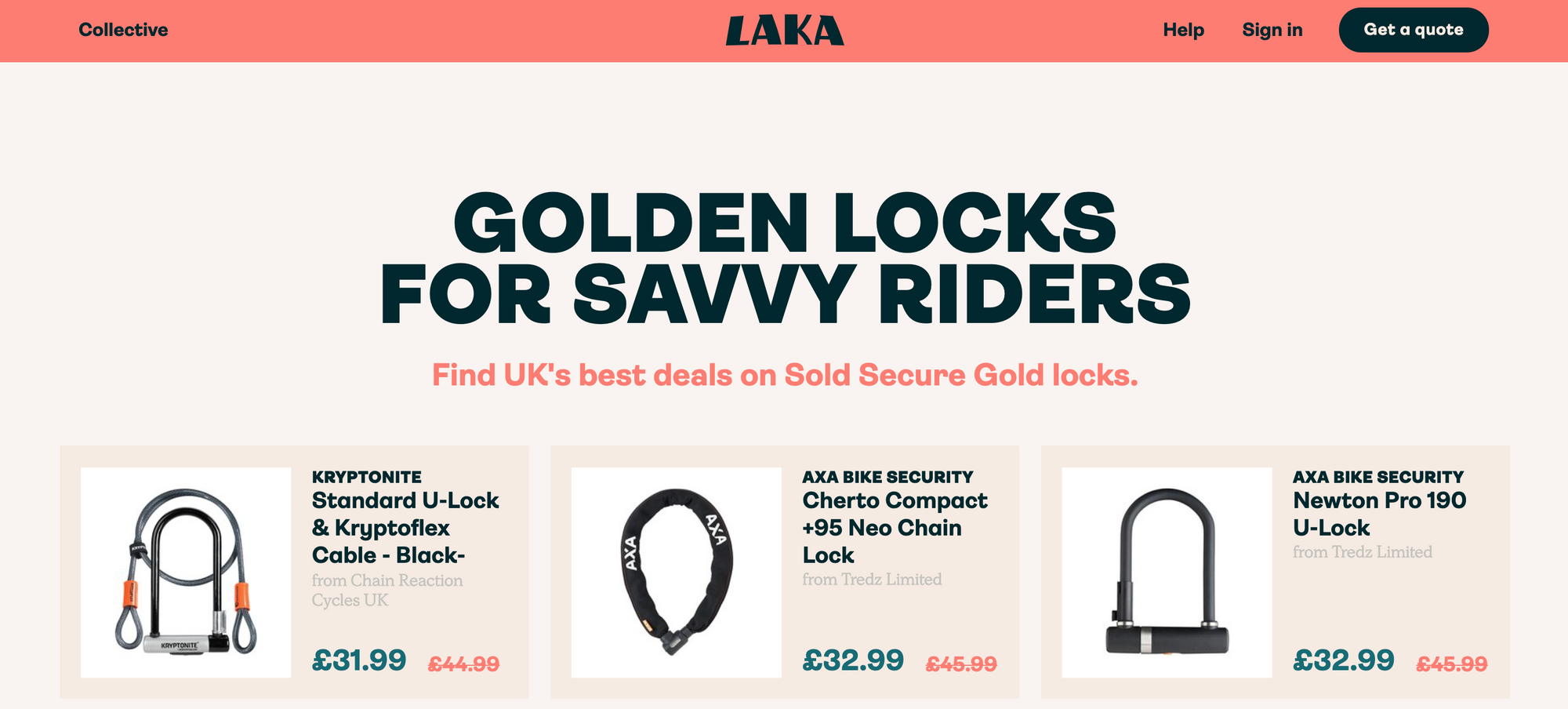 Sold Secure Gold Rated locks or better can start from as little as £20. You can view a list of the latest best offers or why not check out the latest products from our partner HipLok.
Lock it correctly
A good lock is only good when used properly. Follow these steps to secure your bike as best as possible!
Always lock your bike according to its value:
 1. Frame
 2. Rear Wheel
 3. Front Wheel
Try and capture your bike frame and rear wheel together within your Sold Secure Gold Rated lock or better, whilst making sure you take up as much usable space of the lock as possible. This is so that thieves aren't able to fit tools around the lock in order to cut or break it.
One of the main criticisms of the D-lock is that with the right leverage inside the D, it can be forced open. That's why some of the best locks are smaller, making it harder to get leverage inside.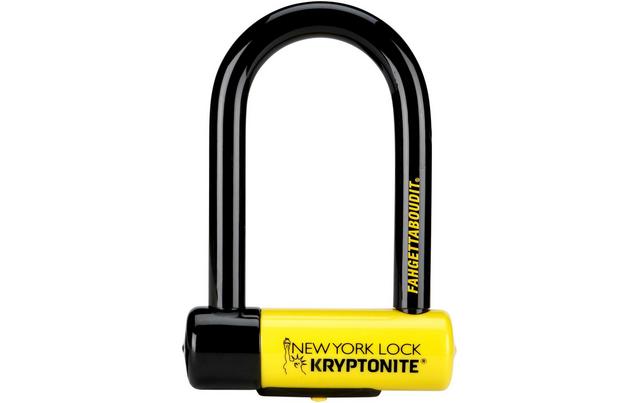 Keep your lock high and away from the ground. If the key is facing downwards it makes it extra difficult to access.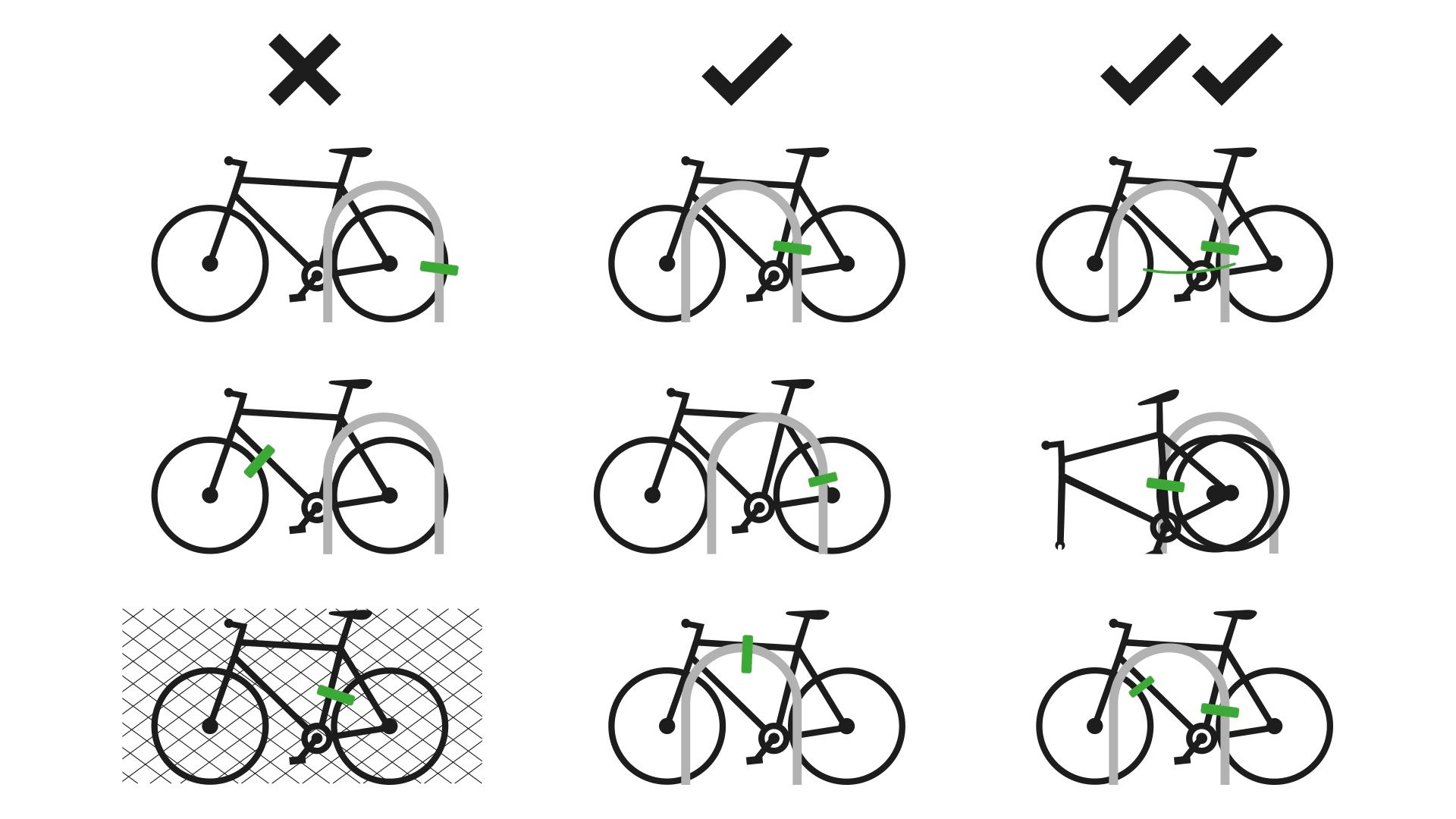 Make it a Double (Lock)
Use a double loop cable, run this around your front wheel and secure it to your Sold Secure Gold lock of choice. Just ensure that your lock is what is connected to the immovable object you've chosen and not the cable.
Alternatively, use two Sold Secure Gold locks - one for the rear wheel and frame, and the other for the front wheel and frame.
Where should you keep your ride?
Always lock your bike to a solid and secure fixture which cannot be cut and where the bike is immovable.
If revisiting the same locations, try and vary up your parking spots to keep it inconsistent. Choose well-lit, public areas where CCTV might be watching.
It can be a good idea to lock your bike a couple of streets away from where you are visiting. Thieves can pray on bike racks outside train stations, cinemas, gyms, because they know people will be away from their bikes for a good few hours.
Do not park your bike in semi-public areas such as back-yards, cul-de-sacs, etc. Choose public spaces where CCTV may be available, where people are walking by (even during the evening), and which are well-lit.
As reported by the Evening Standard here, cyclists should be wary when securing bikes to cycle racks. Thieves have been known to cut through the metal racks and then cover them with gaffer tape to appear temporarily repaired.
Wherever possible, keep your bike locked inside (for instance, when at home)
Laka Tip: Try and lock your bike next to other more valuable bikes which are less securely locked 😉
Level Up
You can never be too secure! We've seen an ever-increasing amount of claims for stolen handlebars where thieves have either sawn through the stem, or used a screwdriver.
For that extra security and peace of mind, we recommend Hexlox to secure the individual parts of your bike. It's an innovative product which secures your seat, wheels and any other parts of your bike that are attached with a hex (allen) key.
Where possible and necessary, remove the theft-attractive elements of your bike when parking, such as wheels, lights, bicycle computers etc.
Hide your location on fitness tracking apps such as Strava. Set your privacy zones and keep your personal data secure. Read how in our privacy revisited post here.
Elsewhere - The Netherlands and Denmark
Whilst the D-lock has become the standard in the United Kingdom and the United States, bike focussed cities in the Netherlands and Denmark have found other solutions to combat bicycle theft.
In The Netherlands bicycle theft is the most popular crime in the country according to Dutch police. In a country with more bicycles than people (1.3 per person), it's hardly surprising that theft is a major problem. That's one of the reasons why lots of traditional Dutch city bikes are unattractive, heavy and all look a bit tired!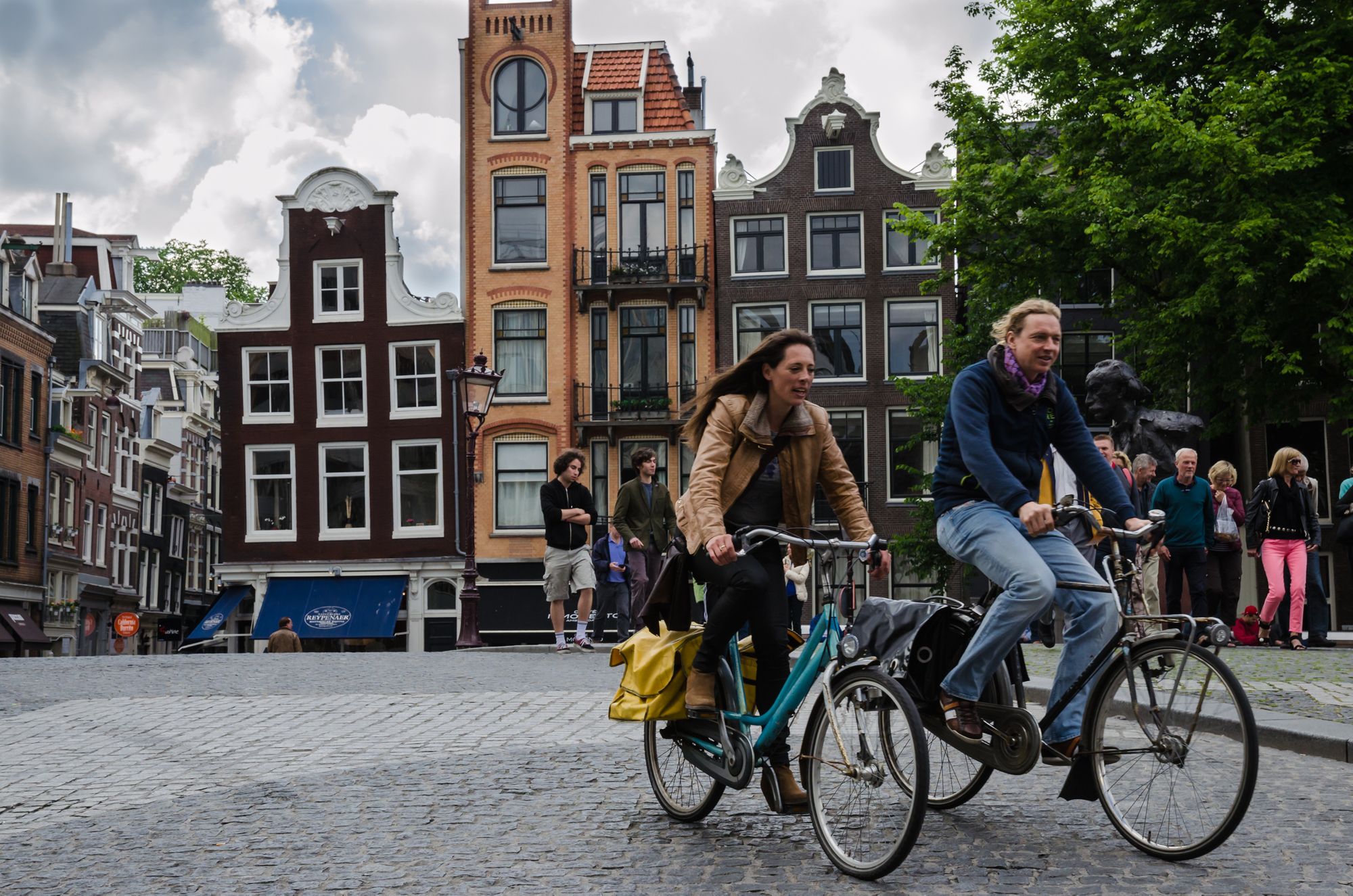 Dutch police have also heavily cracked down on tagging bikes, making it very difficult for a stolen bike to be sold on.
For those wishing to ride more expensive bikes around the city, there are guarded bike parks in many cities, which can be used for free or for a small charge.
These excellent facilities mean you can leave your bike for longer periods of time, worry-free. These facilities have allowed residents to upgrade their old bikes for a faster and more reliable machine!
There are 16 bike parks in Amsterdam alone whilst Utrecht has the world's largest guarded bike park that will eventually be able to hold 12,500 bicycles!
The only city where more journeys are made by bike than in Amsterdam is Copenhagen, where they've taken similar steps towards locking their bikes on the street.
Most city bikes use a frame mounted lock that secure the wheel in place so that it cannot roll, making it much more difficult for a thief to ride or carry it away. This is the same concept as the penny-farthing lock which was used over 100 years ago!
Of course, this is much more effective with a heavier bike, like an e-bike. Lighter bikes would mean you could simply put it on your shoulder and walk away.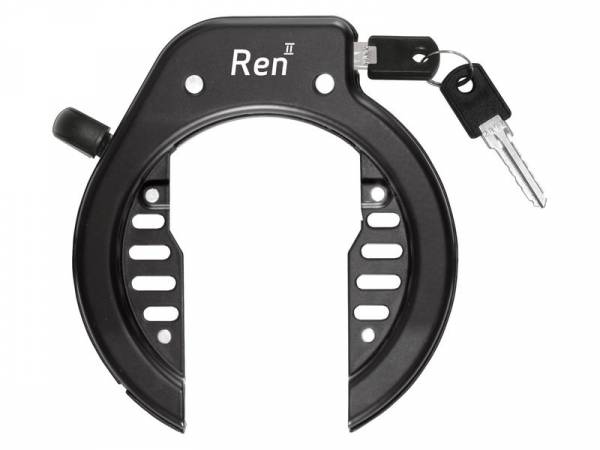 The lock is drilled into the frame with a metal bar, so any attempts to break the lock would damage the frame as well. Perhaps the main benefit is that you don't have to carry a lock around, leaving you free to just park up wherever you like and pop in a shop.
Whilst this style of lock wouldn't work as well on its own in British cities like London, Manchester, Bristol, Edinburgh, Birmingham and Leeds, that are not as bike friendly, this is a great option if used in conjunction with a D lock or Cable Lock.
Award-winning bicycle insurance - the ultimate protection
Avoid the emotional and financial stress if a theft should take place. Look after your bike by covering it with Laka.
Simply:
Register here
Send us some photos and details of your bike
Add any accessories you'd like to include
Get your money's worth and enjoy monthly flexibility
Reach us with real-time chat instantly whenever you need us
COVERED AT HOME AND WHEN OUT & ABOUT
Protect your bike for much less with Laka - the UK's best cycle insurance provider.