Commuting to work by bike is on the up. When Grant Shapps was Secretary for Transport, he announced that, since pre-Covid levels, "we've seen around 100% increase in weekday cycling and at weekends that increase has been up to 200%."
Times are certainly changing. Greater awareness of environmental issues and the rising cost of living is causing many of us to rethink our regular daily routines. For some, that means adopting a healthier and cheaper way to get to work – commuter cycling.
Whether you're already a two-wheel convert or still toying with the idea, we've put together this complete guide to cycling to work, which looks at the following:
How to get into cycling to work – the cycle to work scheme
The benefits of commuting by bike
Tips on how to cycle to work with confidence
The kit you'll need when commuting to work by bike
How to commute by bike safely
How to get into cycling to work – the cycle to work scheme
Finding the right bike is essential if you're a newbie to the cycling commute.
Your first step is to check to see if your employer offers a cycle-to-work scheme.
The scheme is designed to help you afford a new bike without splashing the cash in one go. It enables you to spread the cost over several months' salary. The best bit about that is that it makes buying your new two-wheeled best buddy (and associated accessories) cheaper because each monthly instalment is taken before tax.
When you reach the end of the scheme, HMRC asks you to pay a 'fair market value' to keep the bike. Buying your bike this way saves you a lot of tax, so you'll still have spent less than buying the bike outright.
There are three packages to choose from: just a bike, a bike and accessories, or just accessories. The even better news is that the cycle scheme has a no-limit element called  Freedom to Ride. This means you can get the bike you want (e.g., an e-bike, specialist bike that suits your body type and any disabilities you have etc.), but it's worth noting that not all employers are offering this, so it's best to check first.
The benefits of commuting by bike
Riding your bike to work instead of driving has many benefits – health, environmental and societal.  
Great for the economy
We found out that a Greater London study looking at the economic benefits of local cycling investment discovered that: "Combined with the wider benefits of improved health, reduced congestion, reduced absenteeism (and increased productivity), and reductions in greenhouse gas and pollution emissions, the economic benefits of cycling in London at 2020 levels are conservatively estimated at over £1.3-£1.4 billion."
Physical health benefits
One of the great things about cycling is that it's a low-impact exercise and burns calories. According to CyclingUK, if you do a 15-minute each-way commute, Monday to Friday, you'd reach your government-recommended exercise for the week just by getting to and from work.
Plus, a study of 264,337 people found that "cycling to work is linked with a 45% lower risk of developing cancer and a 46% lower risk of cardiovascular disease compared to commuting by car or public transport."
Mental health benefits
Riding to work is a great way to clear your head, get fresh air, and boost your mental health. This is illustrated by the following stats collated by cyclescheme.co.uk:
Save money
Yes, we know you'll incur expenses when you start cycling to work, but that's where the cycle-to-work scheme can help. You also have to factor in the cost of maintaining your bike, but that's significantly lower than the equivalent car running costs.
In fact, Cyclescheme reckons you'll save around £3000 a year if you cycle to work every day. Of course, there's also the bonus of being faster (in cities) on two wheels. Studies have shown that the average speed of a cyclist in London traffic is faster than a car: in the City of London, a vehicle averages 7.6mph, while a cyclist averages 14mph.
Lower road congestion
Switching to a daily cycle commute will mean no more sitting in traffic on congested roads while helping the planet by reducing the number of cars on the road. What's not to like about that?  
Better sleep
A study of over 8000 people from the University of Georgia discovered a strong correlation between cardio-respiratory fitness and sleep patterns. The lower your fitness levels, the more likely you are to have the inability to fall asleep and poor sleep quality.
Perform better at work
We've already talked about how cycling makes you fitter and healthier. But research shows that if you exercise regularly, you're more likely to outperform colleagues who don't – good for you, your career, and your boss.
Tips on how to cycle to work with confidence
Now that you have your bike and understand the benefits of cycling to work let's look at how to make your commute as easy as possible.
Here are our top tips:
Grab your ride: the do-it-all cycle to work machine?
You'll want to have a bike that can easily manage your commute. Our partners over at Cyklaer have just the bike for the job, their latest electric gravel bike.
Your route could feature bike paths, trails, or steep hills, obstacles that the Cyklaer can easily overcome.
While cycling to work in the morning the Cyklær can get used as a e-bike (handy if you're in a rush!) While cycling back in the evening it can be used purely for exercise thanks to the low weight and the integrated Fazua Energy unit.
Above 25 km/h, the drive has no mechanical resistance when riding, which significantly increases the fun factor when riding fast. The special feature, however, is that the Fazua Energy Ride System makes it possible to completely remove not only the battery but also the motor unit. Ideal for commuting where you might be in and out of buildings.
When the drive unit is removed, the Cyklær is transformed into a lightweight bio-gravel bike, perfect for sportive and performance oriented rides.
The bike comes in €6.999... But if you want to look stylish and commute in comfort look no further.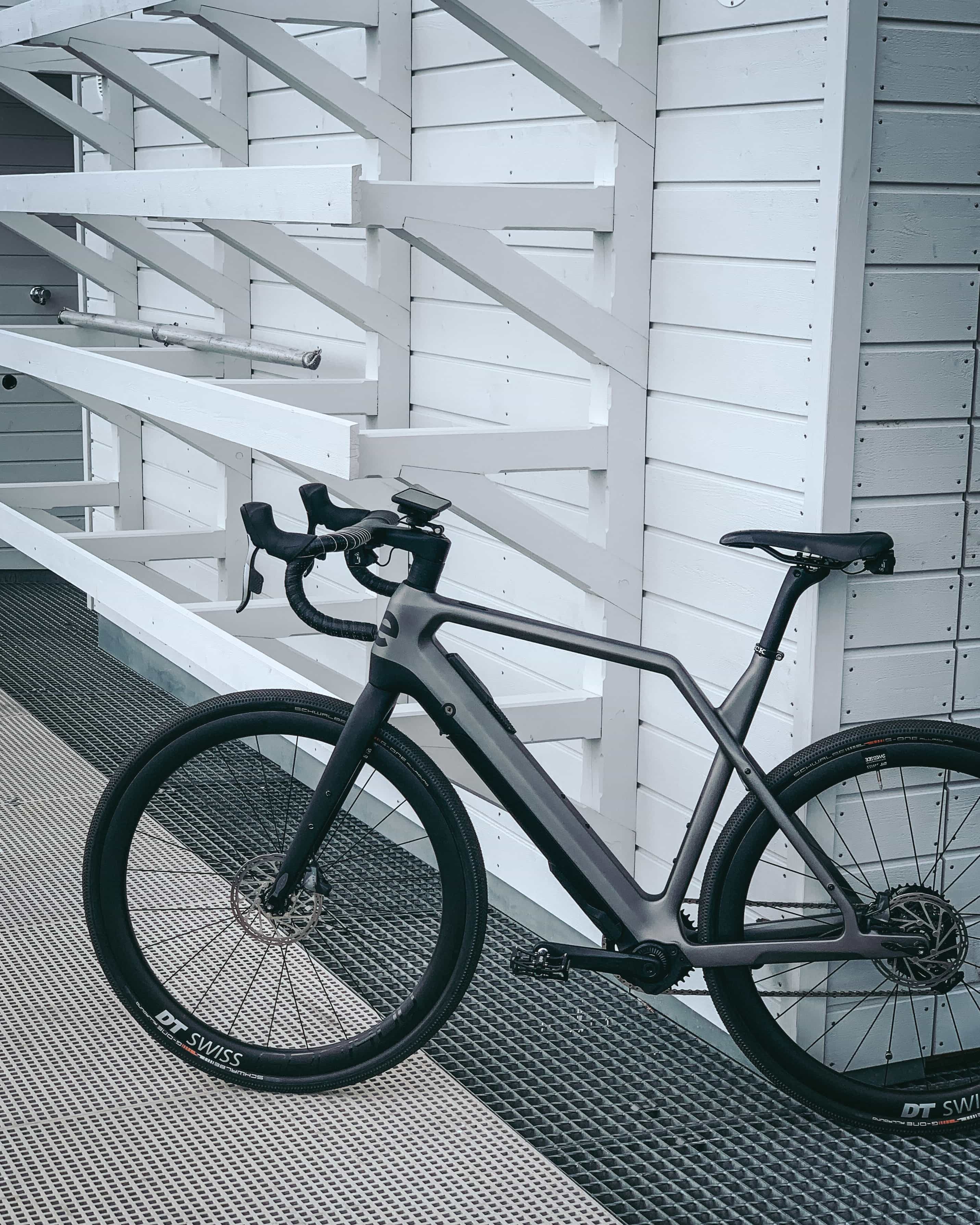 Plan your route wisely
Don't plan your route with your car driving head. Find out if there are any National Cycle Network routes, local cycle paths, or quieter roads you can take that will make your journey more pleasant.
Get to know your journey
Once your route's planned, do a practice run at the weekend. The roads will be quieter, allowing you to check it out without the pressure of other vehicles or having to get to work on time.  
Where can you lock up?
If your place of work offers a bike park, great. If it doesn't, use your practice run to find a safe place to leave your bike while at work.
Get your clothing right
If your commute is relatively short, you'll probably be OK to ride in your work clothes (depending on what they are – it won't be very practical if that's a pencil skirt and heels!). If your commute is lengthy, it's worth getting kitted out in some decent cycling gear.
Stay smelling delightful
If your commute is long, you'll probably want to change when you get to work. If your company has a shower, happy days (just make sure you remember to keep a bag with a towel, shower gel and other essentials at work). You'll need clothes that won't crease easily when packed away in your pannier or backpack.
Not all companies offer shower facilities, so if yours doesn't, you'll have to rely on cleansing wipes, a towel and deodorant to freshen up.
Keep your blinkers on
We're talking metaphorical blinkers. When you start to commute, don't get sucked into racing 'seasoned pros.' Commute at your own pace, give yourself plenty of time to complete your journey and enjoy it.
Be road confident
Even if you can use cycle paths, the likelihood is that you'll have to be on the road at some point during your commute, so make sure you understand the rules of the road.
The kit you'll need when commuting to work by bike
Making sure you have the right kit when commuting by bike is essential.
Starting with the most obvious, you're going to need a bike. We've already talked about the Cycle to Work scheme, so all you have to do is decide whether you want a road bike, hybrid, e-bike, mountain bike etc.
Next up is clothing. You'll need something for all weathers, including High Viz, waterproofs, Lycra (if you're going full cyclist mode), and cycle shoes. If you're not thinking about becoming a Lycra-lovely, make sure your clothing will be comfortable when on a bike.
Lights (front and back) are essential. Make sure they are always working and that you use them. You must be seen to stay safe on your commute, especially on those dark mornings and evenings.
Keep your head safe by wearing a helmet. Although they are not yet compulsory in the UK, you'd be mad not to wear them because they could save your life. You could also consider investing in a helmet camera.
Finally, insurance. Commuter insurance is essential. Knowing you're covered whether your bike is stolen or vandalised, you hit a pothole and buckle your wheel or damage your bike, or God forbid, you need legal assistance after an accident will give you peace of mind.
How to commute by bike safely
Your complete guide to cycling to work is almost complete. The final word is about staying safe.
Signal clearly
Give clear and timely signals before making any manoeuvres, so other road users are warned before you make any sudden moves.
Be confident, not arrogant
Staying safe is all about having confidence. If you're comfortable being on the road with other vehicles, know what you're doing, and remain vigilant, you'll be fine. Just don't cross the fine line between confidence and arrogance. The road is not your racetrack.
Be road smart
Understanding your Highway Code is essential. Make sure you position yourself correctly at traffic lights and junctions. Last-minute lane switches are annoying to other road users and potentially dangerous.
Obey the rules of the road
Yes, you do have to stop at red traffic lights. Yes, you do have to give priority to pedestrians using zebra crossings. And no, you are not permitted to overtake on the left because you can't be seen.
Read the road
Take note of the road conditions. There could be potholes, wet leaves, diesel spills, broken glass and other obstacles that could damage your bike (and you if they cause you to crash). It's also essential to respect the weather conditions; cycling on a dry, still, day is very different from cycling in the wet with high winds.
Get commuting by bike
Well done. You stuck with us and are now fully tooled up when it comes to commuting by bike. Just remember, as a cyclist, you're a vulnerable road user, but provided you follow the rules of the road and ride sensibly, commuting to work by bike will help you lead a healthier lifestyle.
100%! Our claims handlers move mountains to get you back in the saddle. Whether it's for accidental damage, a bike theft, or even if you've lost your gear.
Our service has even won us the Treating Customers Fairly award at the Insurance Choice Awards. Check out our Google reviews too!
Why not give us a try?