Most of us are quickly familiar with the concept of a sportive when starting cycling, but there's something about the not-dissimilar world of audax (pronounced 'or-dacks') which makes it a little impenetrable to newbies.
Here we explain what you can expect, and how to get involved!
What is an Audax?
Much like a sportive, an audax is an organised cycling event, with a set route, which riders challenge themselves to complete. The set route passes through "controls" – checkpoints where time stamps of some form validate your passage. Events run across the country and throughout the year, offering set distances for riders to attempt. They range from introductory audaxes of 50km or 100km up to 200km, 300km, 400km and 600km rides.
Events like Paris-Brest-Paris (1200km) and London-Edinburgh-London (1500km) are the pinnacle of the audax world. They have an impressive history too – providing riders with a chance to ride "ultra" distances long before the advent of modern classics like the Transcontinental Race.
An important distinction, however, is that these are rides – not races.  The ethos is one of self-challenge with the word "audax" having roots in the Latin for 'bold' and sharing etymology with the English 'audacious'. Rides come with a speed limit (more on that later), and no order of results is published. Yet, at the pointy end, there is certainly prestige associated with being the first rider to pass through a control or finish an event.
Less commercial than its cousin the sportive, audax rides are organised by volunteers – often from stalwart clubs of the long-distance cycling world. Start locations include unassuming village or church halls, and start times tend to be early in the morning. Entry fees are cheap – you can expect to pay £7.00-10.00 for 200km events, and up to £15.00-40.00 for longer 400-600km events where space to sleep (potentially on a village hall floor) may be included.
Drafting is allowed, and you can bring friends to ride with, ride alone, or meet other cyclists along the way.
How do I find events and sign up?
Audax UK is the group behind this all, and their website has everything you need to find your first Audax and get signed up. You'll need to register online before you can enter, but this is free and you will then get an account allowing you to enter future events and see a record of those you've ridden.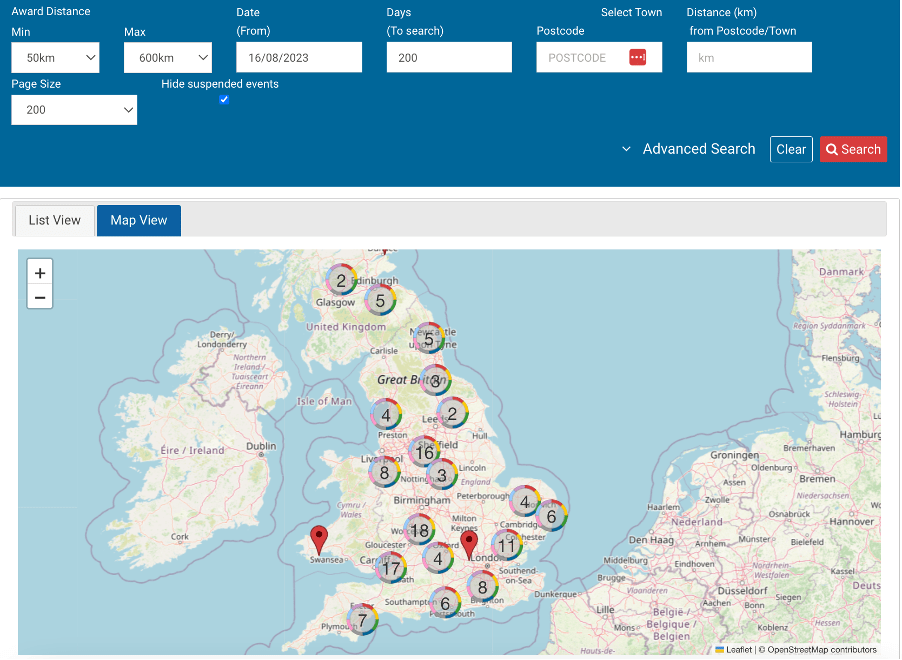 The calendar page details the events for the year. Search by distance, date, or by proximity from a location. Event listings give information about the route and the facilities provided, and on signing up you'll get a gpx file (or similar) to follow on the day.
For those who are still fans of paper maps I believe many still come with cue lists so that, if you really want to, you can trace the route using an OS map.
It's worth noting that E-bikes may be ridden in some audax events (indicated by 'EAPC' for Electronically Assisted Pedal Cycle - catchy), but they wouldn't be eligible for validation – being awarded the distance that's been ridden.
How does the ride work?
At the start of the event, you'll receive a soon-to-be-cherished "Brevet card". Brevet means certificate and this card is your proof of passage for the controls (checkpoints) en route – giving evidence for completion. Many are manned by volunteers who will stamp your card, but others are "free controls" where a receipt with a time stamp can be acquired in a named place instead.
Alternatively, an event may feature "information controls" – these list a question in your Brevet card, to which the answer can only be found as you pass through a specific place. An example might be finding distances on a signpost or the time a specific post box is collected! Think of it somewhere between a treasure hunt and a stamp-collecting mission. And don't forget to pack a biro.
New to the scene in recent years is E-brevet – the Audax Brevet card app. This is being accepted for some events in lieu of a physical card. It saves you the job of trying to keep your card dry but lacks the same charm.
At the end of the ride, you hand in your physical or electronic brevet card to the organiser, who checks it and posts it back to you. You're then able to order cloth patches for the distances achieved via the audax website to be displayed proudly on your saddlebag, jersey, office chair, or child's school bag - let your creativity flow.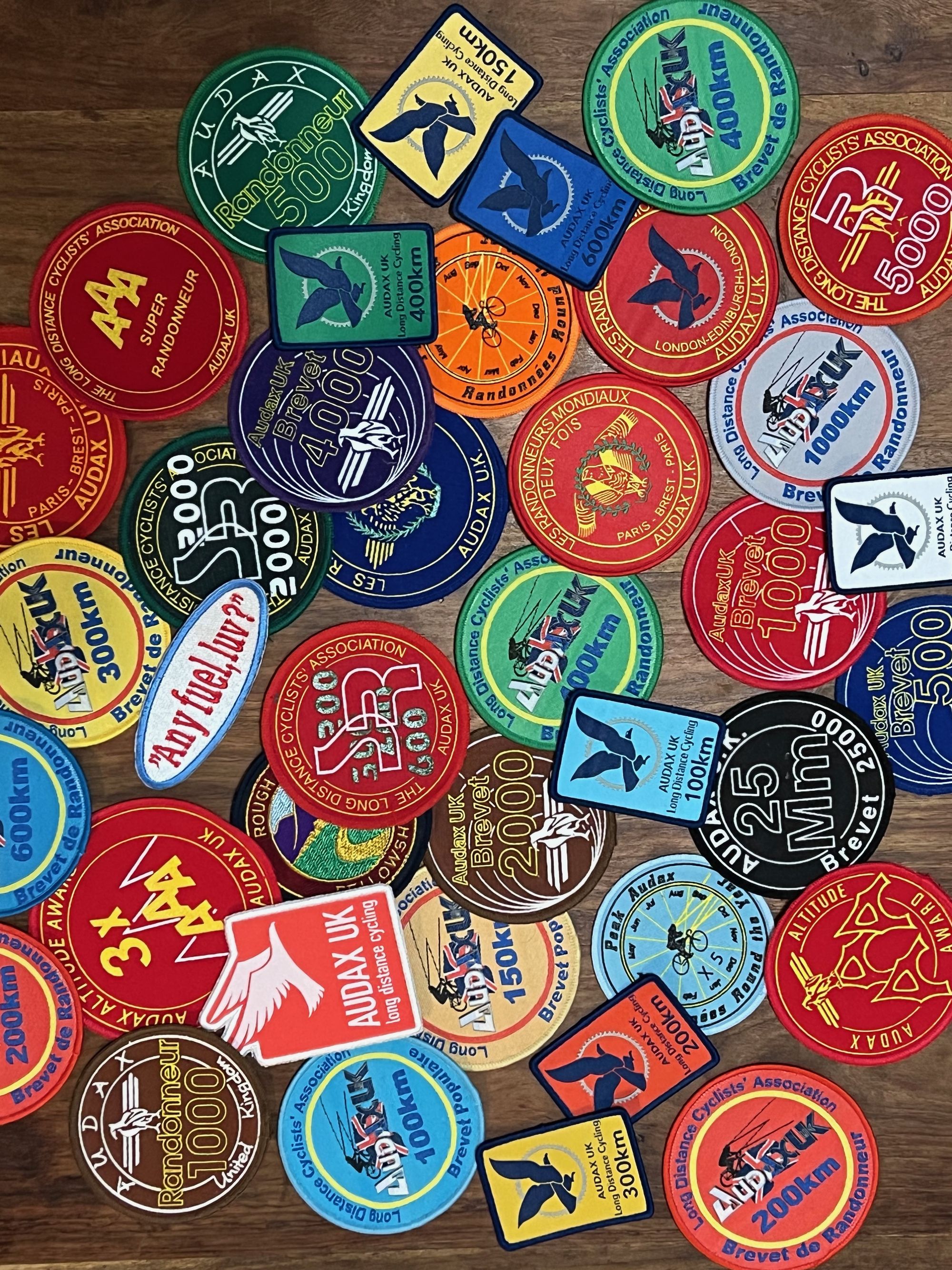 The food stops
At some events, one or multiple food stops are provided. These stops are one of the best things about audax events.
It is a joy to sit in a cosy village hall with a baked potato and a cup of tea and share tales with fellow riders whilst you refuel. Riding the same route leads to bunny-hopping the same cyclists throughout the day, and finding friends on the road is almost inevitable.
Some events even gain a reputation for the food at their controls – near me, there's an audax which has (deservedly) become famous for the cake provided by a local women's institute.
[Image 5: Control at Hill]
At events where stops aren't provided, they'll often recommend cafes or other local amenities that are used to tending to hungry cyclists!
The routes
Beautifully refined routes are built on the knowledge of experienced local cyclists and used year after year with minor adjustments. Aiming to share the best lanes, climbs, or views a region has to offer, the routes tend to prioritise quieter roads. Almost all are circular or out and back, starting from the same location as finishing. One word of warning, routes can come in slightly longer than the advertised distance, so don't be surprised by a bonus ten kilometres at the end of a 200km audax.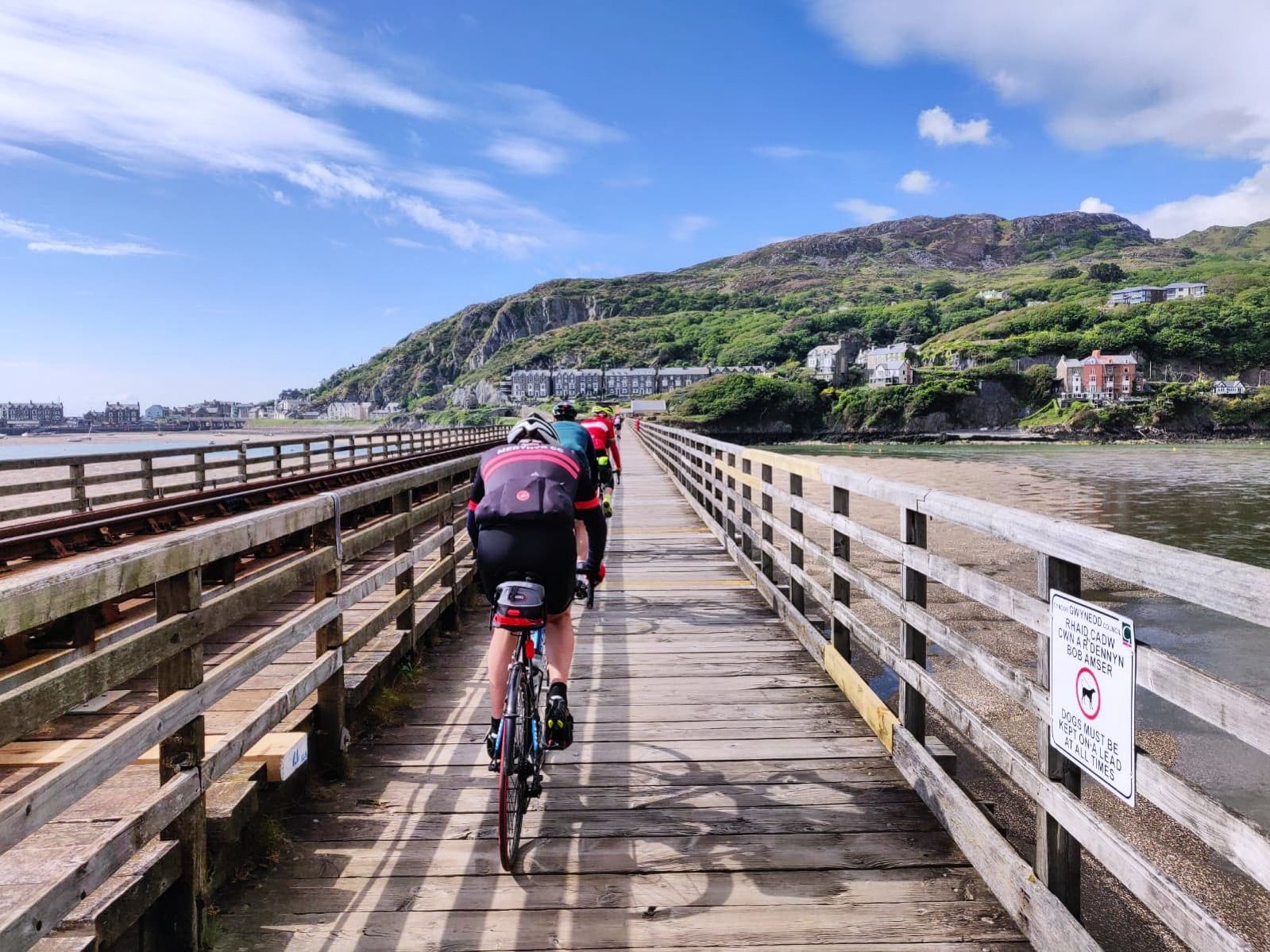 Why is there a speed limit?
Audax events all come with an upper and lower speed limit; normally 15-30kph, and this includes stopped time. This explains the time windows which each control is 'open' for – as listed in the Brevet card. The lower limit dictates the overall time limit for the event – which will require some commitment to forward progress! The upper limit aims to prevent the events from turning into races.
The lower limit may be reduced to 10km/h in some of the 'Brevet Populaires' - events aimed at audax newbies.
The finish line
Audaxes are about getting out there, experiencing new places and pushing yourself to ride longer distances. Don't expect to find an official photographer, support vehicles or chip timing. Instead, you're likely to find many a Brooks saddle, hardcore souls on fixed-wheel bikes, canvas bike bags, and an incredibly friendly atmosphere.
The only warning I'd give is it's easy to get hooked, and you may soon find your weekends filled with calorie-intensive stamp-collecting missions.
For extra peace of mind, when hitting the roads, at home or abroad, check out our specialist bicycle insurance.