The leaves have already started to fall and some have even fitted mudguards. Winter and browsing for flights to warmer climates is quickly becoming a reality. Alicante's Mediterranean coastline, the Costa Blanca, is home to two cycling holiday and training camp destinations: Calpe and Denia.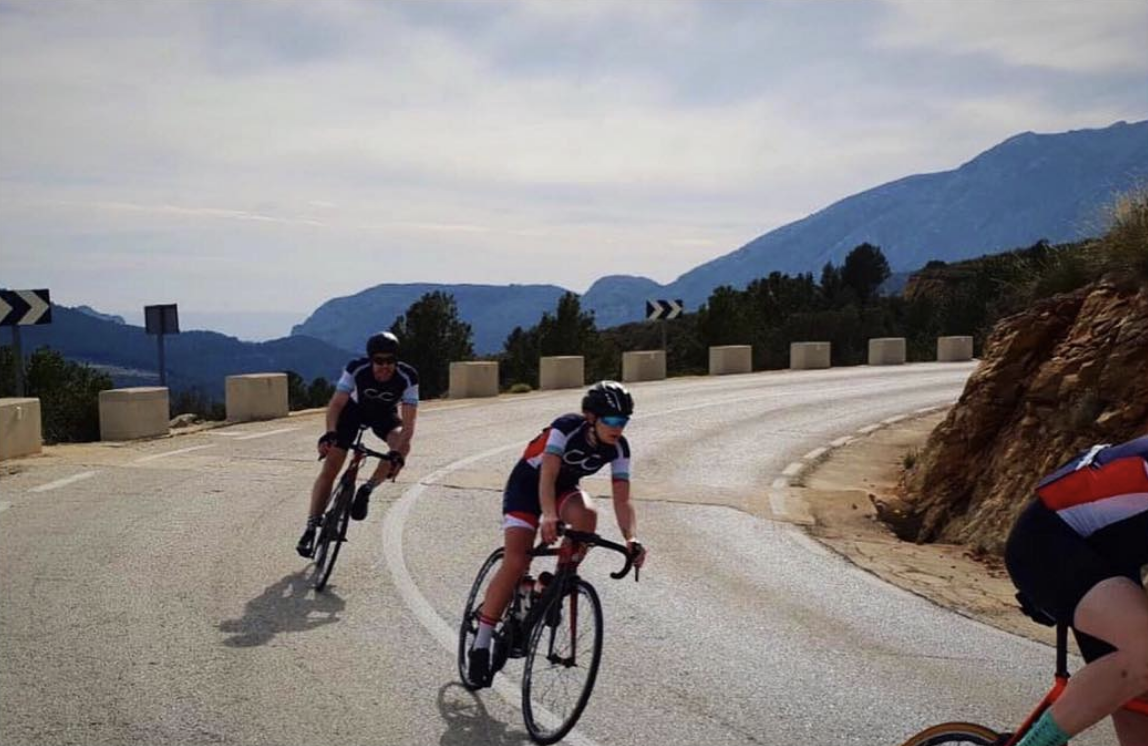 With help from Team LDN rider Francesca Cutts, we've created the ultimate guide to planning your trip to the Costa Blanca, along with a sample training diary to see what a trip might look like!
Why the Costa Blanca?
Known for its huge limestone rock, Calpe is a popular holiday destination on Spain's Mediterranean coast. With sandy beaches and a bustling town, it is the perfect base for an off-season training camp. Whilst 30-kilometres up the road, Denia is a quieter town that sits below an 11th century castle, great for those who want a quieter stay.
The pro-peloton has long been visiting the Costa Blanca, with teams choosing the region for its perfect climate and varied terrain. The World Health Organisation in fact suggested that the Costa Blanca was "one of the most equitable in the world", praising it for being neither too hot nor too cold. Cyclists have taken advantage of this, visiting between September and May when max temperatures are around 17-25 degrees.
As well as the perfect climate, the Costa Blanca offers a complete range of terrain. There are plenty of long flat lanes, which are perfectly suited to riding at speed on a smooth surface.
Then there are the famous climbs, which are many at steady gradients of around 5-6%. Most notably the Col de Rates, which is on every rider's bucket list when they come to the Costa Blanca. These relatively gentle climbs, that are between 6 and 15 kilometres are great for training at FTP to test out your off-season fitness.
The region is also famous for the World Tour, demonstrating the quality of the terrain, with the Vuelta a Espanã using the Marina Alta mountains regularly. Most recently, the Vuelta visited Calpe on the 2nd stage of the 2019 tour. The stage was fast and aggressive with Nairo Quintana jumping off the front to take the win.

How to get to Calpe?
Perhaps the best thing about the Costa Blanca is its accessibility, with Alicante airport being easily reachable from both Calpe and Deia. Flights from the UK to Alicante are frequent and can also be very reasonable if booked in advance.
The town of Denia is 90-kilometres from Alicante airport, whereas Calpe is just over 60-kilometres away. You can hire a car or there are also many companies offering transfers for cyclists with bike boxes and luggage.
If you're new to flying with a bike it's quite straightforward. Just remember to prepare in advance and pack your bike correctly. Some bicycle insurance will make things easier too!
Where to stay in Calpe?
No matter which town you decide to base yourself in, there will be a wealth of accommodation options for cyclists. It is also worth checking sites like AirBnB, where you might find the ideal place to stay for your needs, although be prepared to be situated further inland than Calpe or Denia.
A popular hotel option in Calpe is the Gran Hotel Sol Y Mar, which is based in a prominent location, close to bike rental shops and restaurants. The hotel also boasts stunning views of the coastline, an outdoor pool and spa facilities. Perfect to enjoy on a rest day!
This hotel is located 10-kilometres from the marina, with 5 star views over L'Estanyó. It has its own restaurant with a covered terrace and beach views, meaning you can peacefully enjoy the evenings off of the bike. The hotel is also very bike friendly with a locked bike storage room or they allow you to keep your bike in your room. They also have a few spare tools and a pump should you have any maintenance problems.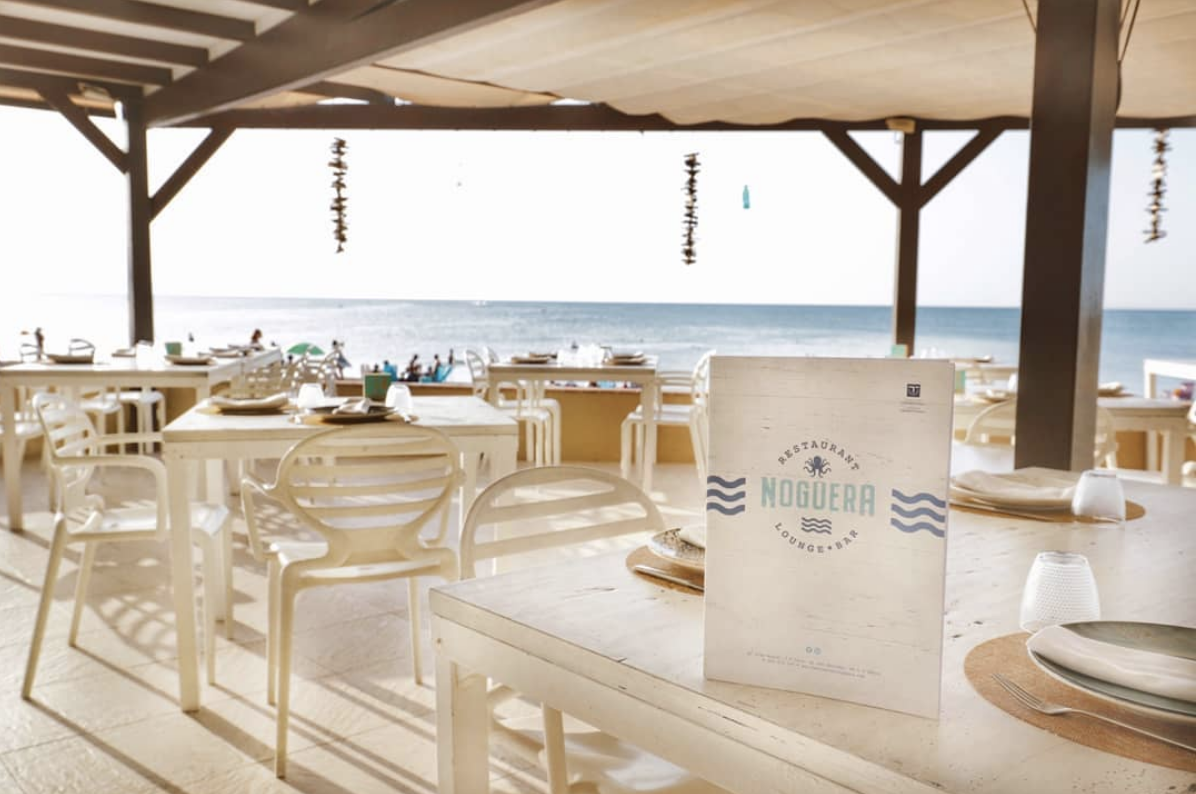 Climbs in the Costa Blanca
This climb is the one that everyone comes to ride when visiting the Costa Blanca. Ascending from Parcent, the climb provides rugged mountain views and wide ocean vistas on a road that is cut into the mountainside.
The gentle gradients, averaging just 5%, make it a fast climb with the Strava KOM being ridden at 30.1 kph! Jacob Hindsgaul took the 6.52 kilometre segment in a time of 13 minutes, averaging a staggering 429 watts! DROPS rider and former national hill climb champion Jossy Lowden averaged over 24 kph to take the women's KOM, whilst on a 185-kilometre ride in the mountains!
To get a feel for the climb, check out cycling youtubers Biker Lawrence and Cameron Jeffers racing up the Col de Rates in 'Race of the Rates', it's a must-watch!
There are 5 routes to the summit of this climb, with each one being relentlessly steep. Known for its inclusion in the Vuelta a Espanã in 2015 and 2018, where Chris Froome and Tom Dumoulin each won the day.
The route that featured in the Vuelta was 4.1km long, averaging out at 9.1 per cent – with gradients of over 20 per cent in the hairpins. Situated on the coast, the location makes for stunning views over the Mediterranean Coast at the summit of the climb.
This is a great climb for testing fitness, being 7.8 kilometers in length at an average gradient of 6%. The gradient is constant, with no steep ramps that will disrupt your rhythm, meaning you can keep a constant speed the whole way up.
The numerous switchbacks allow you to count your way up the climb or monitor your progress against your mates down below!
Routes to ride in the Costa Blanca?
This loop is great as it gives you the flexibility to cut it short if you are not feeling up to the full 120-kilometres. The route contains two main climbs, the first being the climb of Port de Bèrnia, which is 15-kilometres of steady climbing with steeper sections at the top. A fast 12.5-kilometre descent into Jalón (aka Xaló) where the Velo Sol Cycling Bar is a good place to stop and refuel.
The second part of this ride is the Col de Rates which is tackled after 50-kilometres of riding. There is a restaurant at the top of the climb which provides a good place to stop before heading back towards Calpe.
The roads around Cumbre de Sol are steep, yet the views at the top are phenomenal and are well worth the pain. This ride takes you north towards Denia, where you'll see the shadow of Montgó Mountain looming ahead. The second climb of the day is fun to ride, being a shallow gradient right to the top, before you descend the other side back towards Calpe. A solid ride, that will make you stronger than ever.
For an easy ride down the coast this loop is our top pick. 48-kilometres with 600 meters of climbing, this ride is perfect for an easy day by the sea. You can also choose to add on the climb up Serra Gelada which will offer great views across Benidorm and the sea.
The road may be busy, but it is worth it for Serra Gelada and D'Origin Coffee Shop. If you like good coffee then D'Origin is the place for you. They take their coffee seriously, having their own coffee plantation in Panama and they are one of Spain's first micro-roasters. Their cakes and pastries are also great for extra rest-day fuel.
Sample Training Diary from Team LDN Rider Francesca Cutts
If you want to know what a week of training in Calpe might look like, check out Francesca Cutts day by day training diary for an inside perspective on riding in the Costa Blanca.
Day 1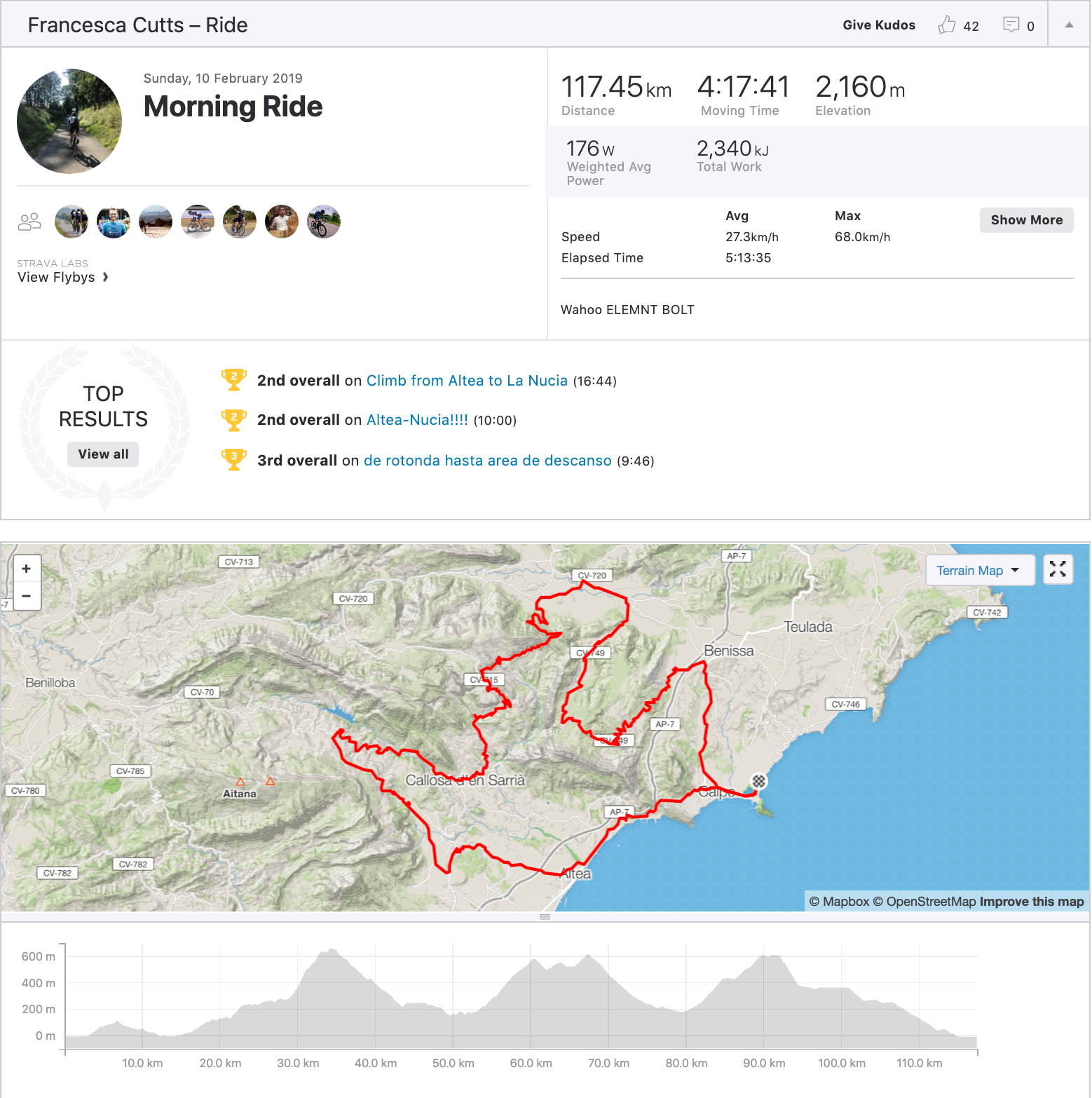 The first climb of the day is the CV-70: Steep category 2 Climb, 3miles at 8% average gradient. Smooth main-ish road, flat section 3/4's of the way up, good for a quick rest to then power up to the finish.
Tarbena over to rates: Gentle cat 3 climb, 3-miles at 6%. Reverse of the more famous Col de rates.
Bernia: Very long category 2 climb, 7-miles at 4%. Rough road, very fast steep decent down the other side.
Day 2
Day 3
Riding the Col de rates: Perfect for an FTP effort - 20 mins. Category 2 climb, 4miles at 5%. First half winds up through some trees, then the second half is pretty much a straight line to put the power down!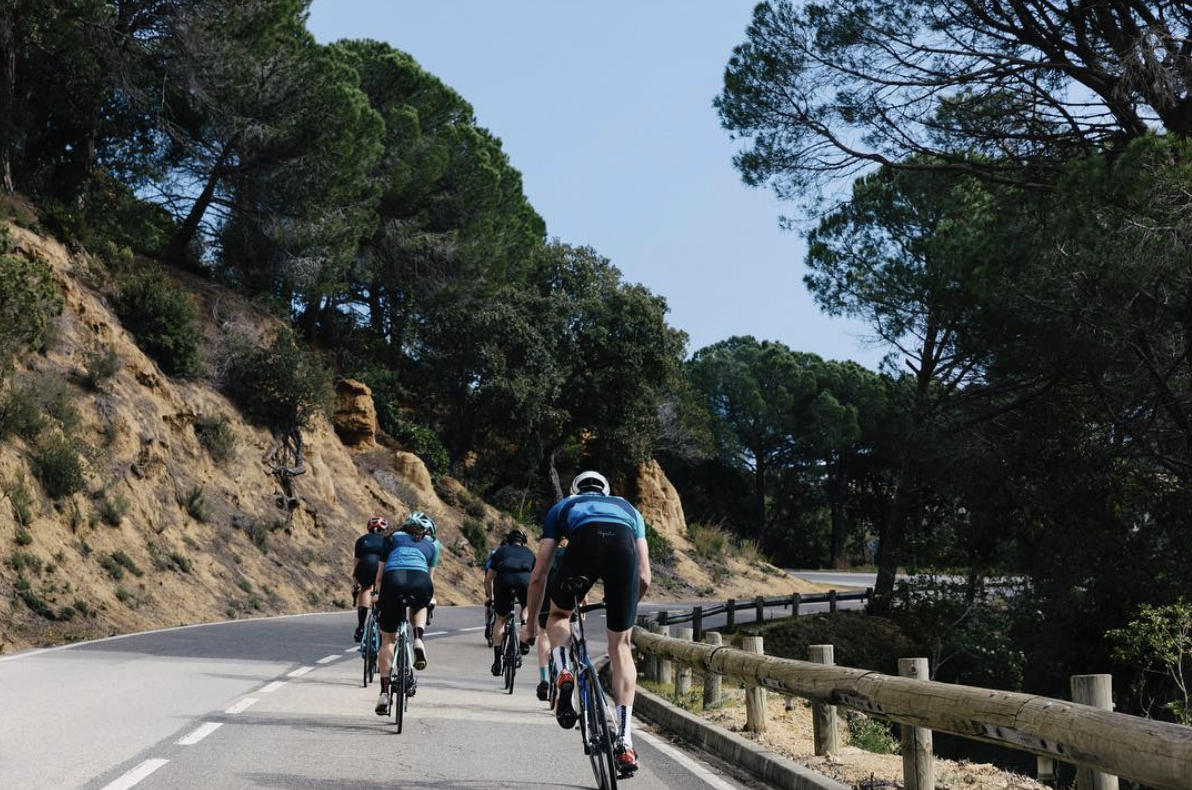 Day 4
Cumbre del Sol: Absolutely mad climb, definitely want all the gears for this one! Famously included in the Vuelta many times, gradients in excess of 20%! Category 2 climb, 2miles 10%.  
Be careful not to miss the last left-hand turn that takes you to the top instead of heading straight down too early, made that mistake!
Day 5
Cafe ride to Velosol. Great cycle themed cafe, great coffee and loads of cycling memorabilia.
Port du Tudons, yet to do this again this year, but is a beautiful gentle long climb that goes through lots of wooded areas. Category 1 climb, 10miles at 5%. Mega fun descent afterwards!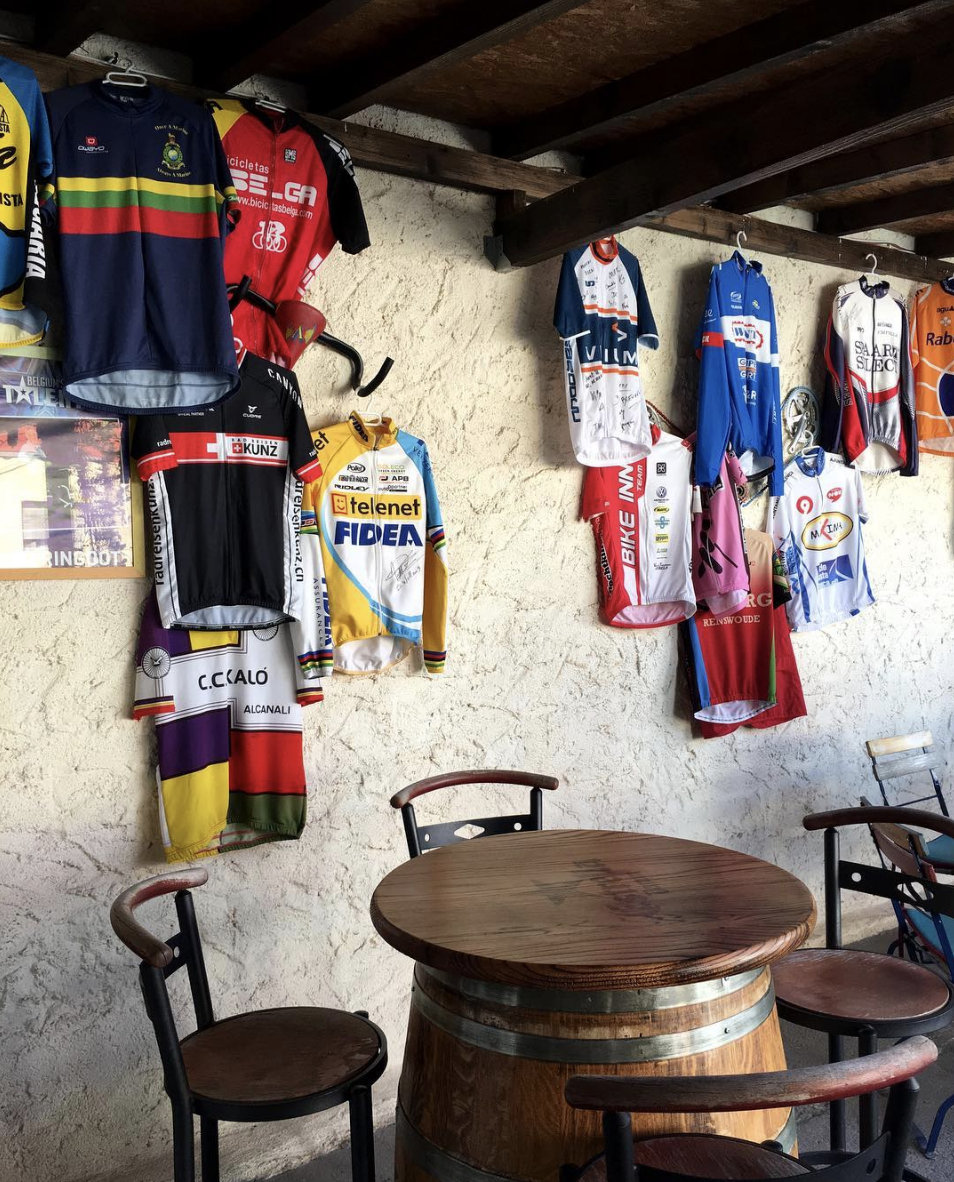 Main Benefits
Sun and hills! Being able to get in some quality training hours, when the weather is uncertain back home.
Challenges
Going steady in between climbs to get the full benefit of being fresh to hit them hard!
For extra peace of mind, when hitting the roads, at home or abroad, check out our specialist bicycle insurance. Cover for theft, damage, racing and more.