However e-doping (so it's called) has created a genuine storm in recent weeks with cyclist and Youtuber Cameron Jeffers being stripped of his title and deprived of his virtual stripy jumper.
Inquests into rules about e-racing and British Cycling's control of the sport are still on-going, so in the meantime, we've created a lazy cyclist's guide to winning on Zwift.
What is Zwift? And what on Earth is e-racing?
If you're unfamiliar with Zwift or have been toughing it up with mud-guards and rain jackets until now, it is a virtual training platform, that gives a more realistic riding experience than the old method of staring at your Garmin in a cold garage.
Your turbo trainer connects to the screen and gives the impression of riding outdoors, with your turbo being able to automatically adjust to suit different gradients. As a training platform it is perhaps the greatest invention in the past decade, however for many, the racing aspect is a grey area.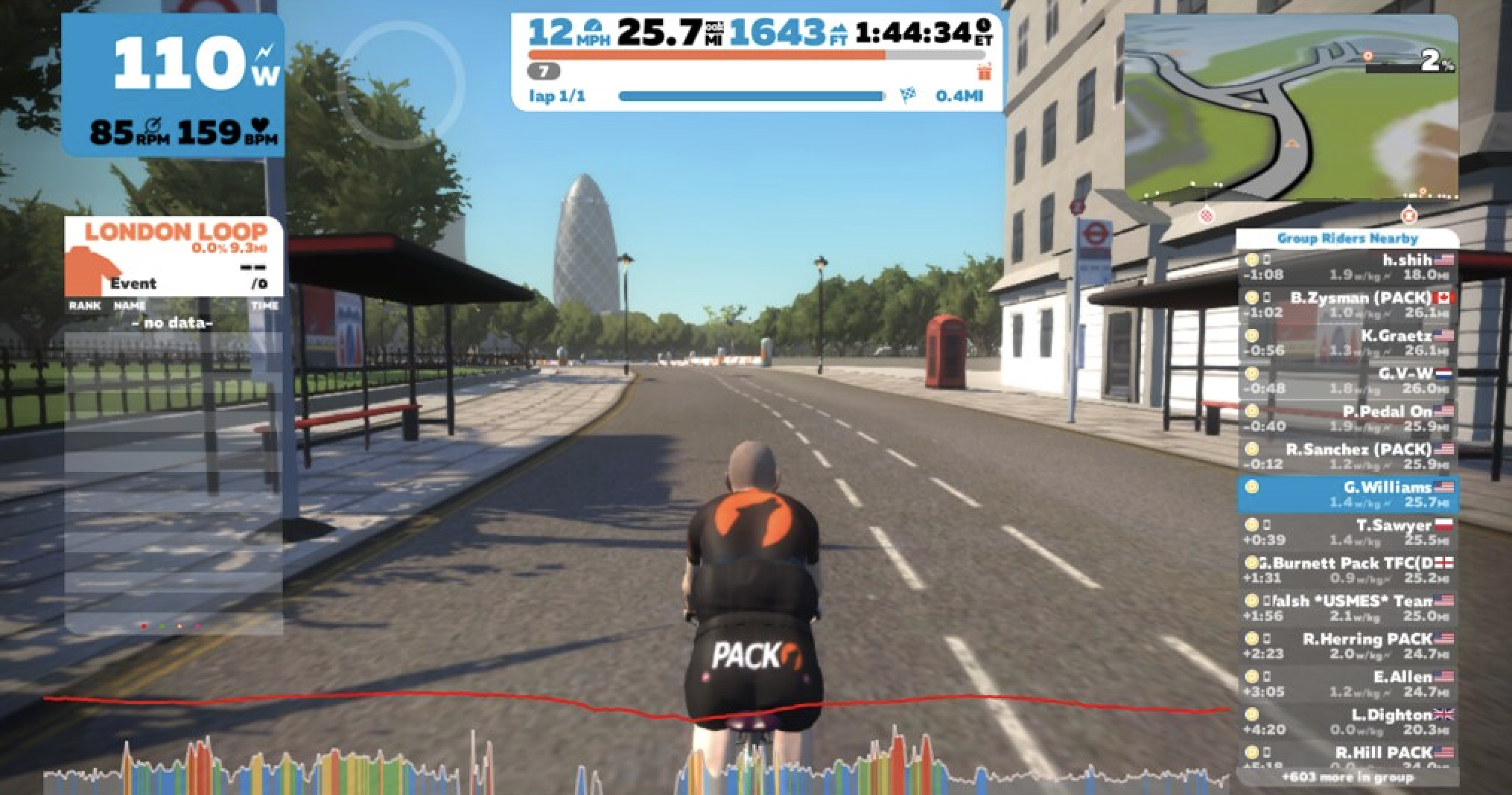 You can enter races on the platform every day of the week if you please, with races varying in distance, elevation and ability category. You can race against other Zwifters from all over the world and you'll always be racing against those of a similar level.
This means no trekking to a winter criterium series that's an hour away, costs £20 to enter and will lead to a handful of crashes on the slippery first bend. Instead, you can race in the comfort of your own home, for just a £12.99 monthly membership.
The world's governing bodies have started to take notice. With a Zwift National Championships launched last year, a World Championships scheduled for this year and even rumours of a virtual stage of the Giro being considered.
It seems that as real and virtual worlds collide, it has created a lot of teething issues, through being able to cheat the game by manipulating or hacking the platform to gain an advantage.
However whilst we leave the boring stuff to the rule makers, here are some ingenious ways to up your Zwift game!
1) The Tried and Tested
To start you could try the trick that Jeffers used. Find a friend who knows how to run a Zwift simulator so that you can attain the Concept Z1 bike, the fastest and most aerodynamic bike in the game. It's more commonly known as the Tron bike due to its snazzy illuminated wheels.
To get this bike you have to complete an Everesting challenge, clocking 50,000 meters of virtual elevation game. However you can pretend to ride this challenge by running a simulator which sets your weight at around 45kg and your power at 2,000 watts - simple.
2) The Cheeky Kitchen Aid
An ingenious way to rack up those points whilst you sit back with a coffee and watch your virtual self get a sweat on. An Ant+ sensor and a kitchen aid placed carefully at 400 watts is simple yet effective, although that's sadly still 19 watts below Chris Froome's FTP...
Appliance Doping. from r/Zwift
3) Bring in the Pros
We're not all lucky enough to have pros names in our phone diaries, but if you do, try this little trick. Get them round to pretend they're you! No glasses and moustache needed either as no-one knows what you actually look like in Watopia!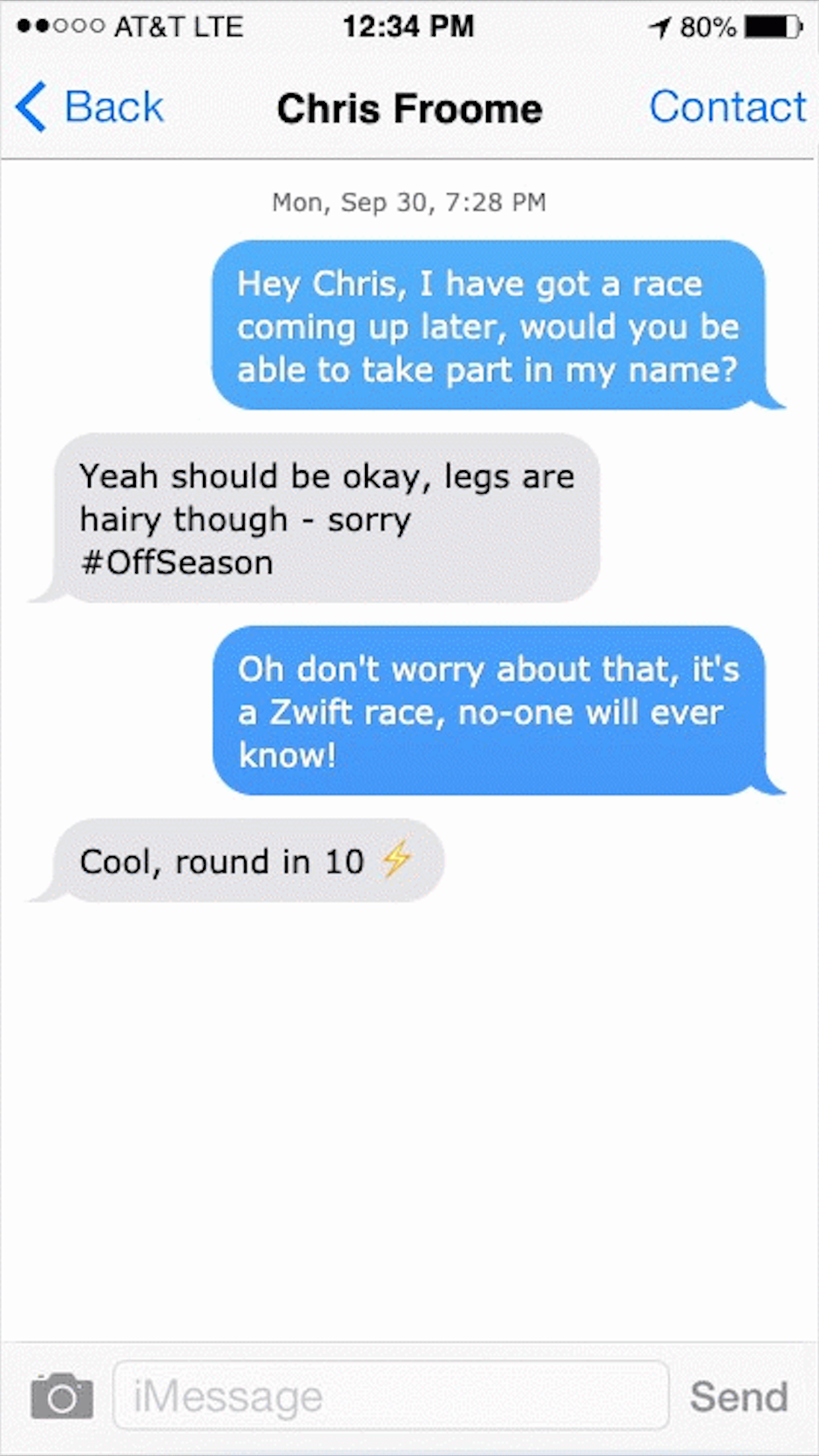 4) Play with The Scales
If you're still trying this trick you must try harder! Adjusting weight on Zwift has been a well-reported problem ever since the game began. Lowering your weight will therefore increase your power to weight ratio, making your virtual self leaner and quicker on the climbs.
This simple trick is such an obvious cheat that at the Zwift National Championships riders had to weigh themselves in to prove they weighed the suggested amount. There were even rumours of riders missing breakfast so they were lighter for the weigh-in 🤦‍️
5) Codes!
If style equals speed, then these cheat codes will up your wattage in Watopia. Part of Zwift's attraction is the fully customizeable avatar that you can kit out using Zwift's in-game currency, 'Drops'. Or you can use these codes which have been wonderfully compiled by Zwift Insider. To unlock a kit, just hit "P" in game and enter the unlock code. The kit codes are listed below:
ATOC2015 / BICYCLINGMAG / BIKEANDBEER / BIKERADAR / CANBERRACCKIT / CRCANYC / DOCOMO / GEARPATROL / GEELONGCCKIT / GOALIENWARE / GOAMGENTOC / GOBATTENKILL / GOCIS / GOCYCLEOPS / GOELITE / GOFREESPEED / GOGCN / GOINGAMBA / GOLDCOAST / GOLONGRIDERS / GOPEARSON / GOSKRYE / GOTACX / GOTRAINSHARP / GOUSMES / GOVISION / GOWBR / GOWSR / HIKKIT32616 / JENSIE / LAFUGA.CC / LAVA / MDCCKIT / MGCCKIT / MTSKIT / NCCMAKIT / PCGKIT32516 / RADAVIST / RIDEAUSTRAILIA / RIDEPOWERTAP / RIDEQUARQ / ROAD.CC /SIGMASPORT / SLOWTWITCH / SOIGNEURDK / STKILDA2015KIT / SYDNEYCCKIT / TDP2015 / TRIATHLETEMAG / TSBIKES / VCGHKIT / WAHOOFITNESS / ZTHKIT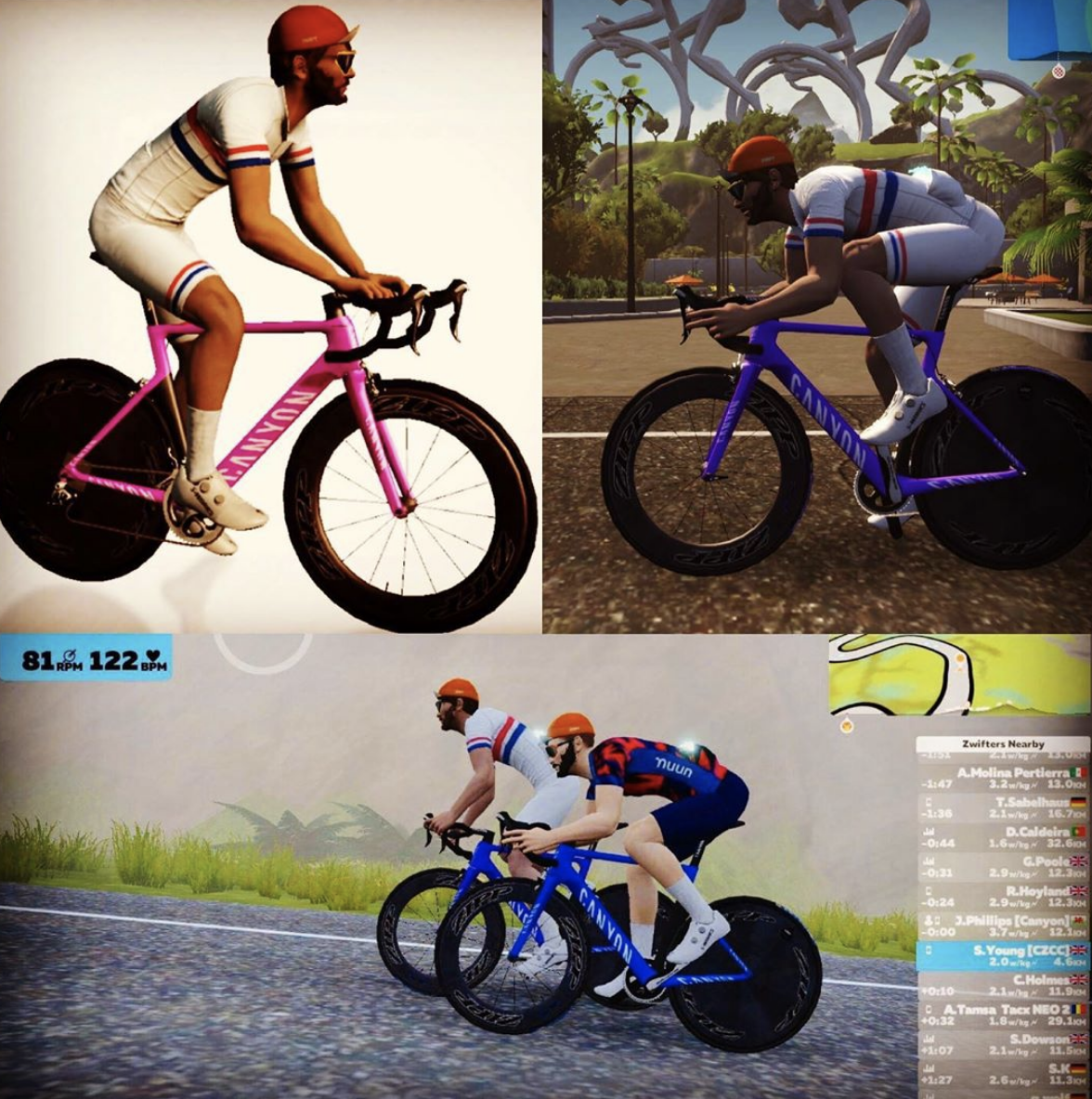 Other kits can also be attained through linking your Strava or Training Peaks account to Zwift!
Have a Wahoo Kickr? Read our guide to setting up your turbo in our 2020 guide to turbo training!
Join the collective...
Benefit from fairer policies with no excess, flexible monthly contracts and instant contact with our bike gurus. Get a quote and connect with our growing community of cyclists across the globe. Click here to get an instant quote.