The rain has begun to fall. You've been commuting to work, riding on the weekends, getting caught out in storms for weeks, so you've decided to bite the bullet and buy a serious rain jacket. The only problem is, which one do you buy?!
Well things have come a long way since the 'bin bag' days, where waterproofs offered no breathability or comfort. Now, a jacket can be both water tight and pleasant to wear, even when putting the hammer down. If you're looking to buy a new jacket, make sure it has as many of the things below as possible!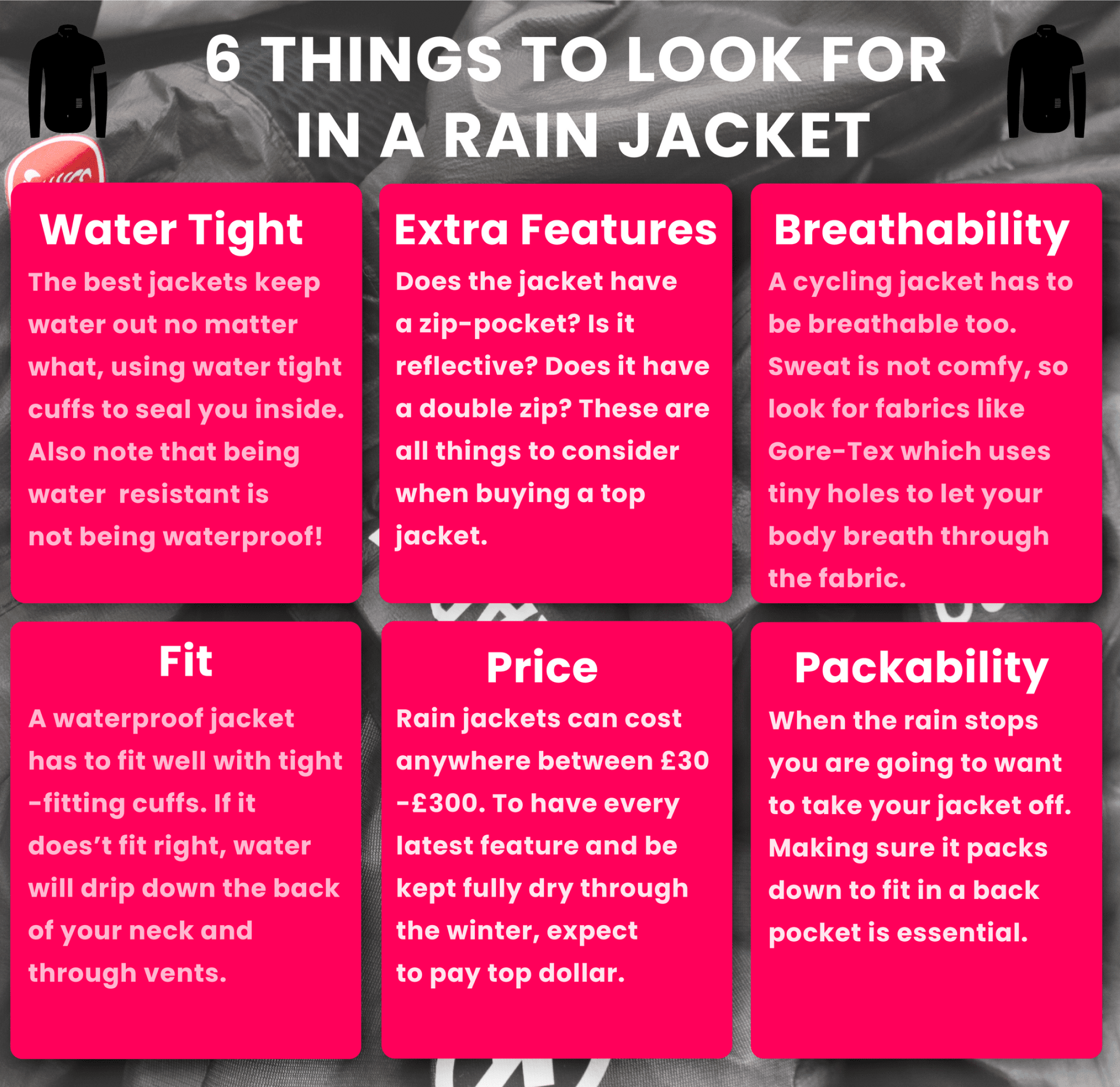 I absolutely LOVE Cycling in the rain. Said no one ever. But let's face it rain, rain and more rain has been dominating the weather forecast for the start of Autumn here in the UK. If you are a serious cyclist into green-cycling, rain is just another challenge to overcome. After all not much beats the thrill of conquering the elements by getting on your bike despite what the weather has to throw at you this weekend.
In this post we've tapped into our community of Cyclists to get you all the tips, etiquettes and advance lingo you need to master this wet season like a Pro.
Laka is an insurance company that takes care of the whole cycling collective, whether you're on the winter club run or sheltering from the rain on the turbo. Our blog covers all things cycling, to keep our collective in the loop. Click here to get an instant quote.
Which is best?
With each brand offering their own take on the 'best rain jacket', we thought we'd take an in-depth look at each one, to see which really comes out on top. With options from Castelli, Rapha, Assos and Gore, we left no stone unturned in finding the best of the best.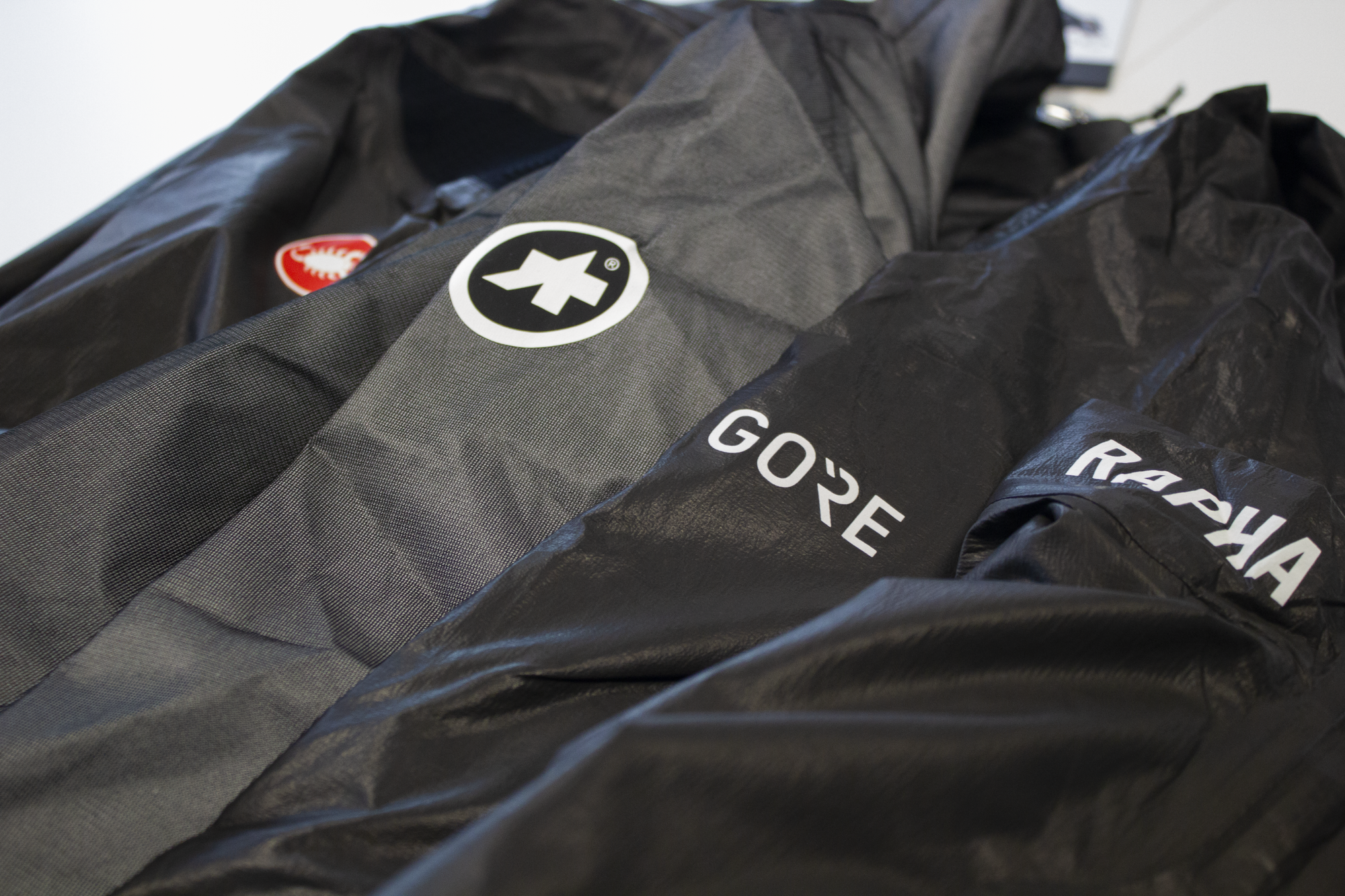 £265
Weighs: 180g
Pit to pit: 51.5cm
⭐️⭐️⭐️
The Assos Equipe looks super sleek when worn and just touching the jacket you can tell it's made of high quality material. Probably the best looking jacket on test, the Equipe comes in a reflective silver, with some gothic graphics down the arm. This may not be to everyone's taste, however I think it moves away from the old 'just another plain waterproof' impression.
The fit around the cuffs was brilliant, helped by the sticky grippers which really kept the jacket firm in place. It's clear to see that water isn't going to get into the jacket through the zips and seams.
However the jacket did come up in a larger fit with the zip also being more awkward to use, especially on the move. This probably comes down to Assos designing a jacket that's designed to be worn for longer periods than just a 10 minute shower.
This can also be seen through how bulky the jacket is when rolled up, making this a perfect option for when you know you're going on a 2 hour+ ride in the rain. However if you're just looking for protection from a shower, there is better kit out there.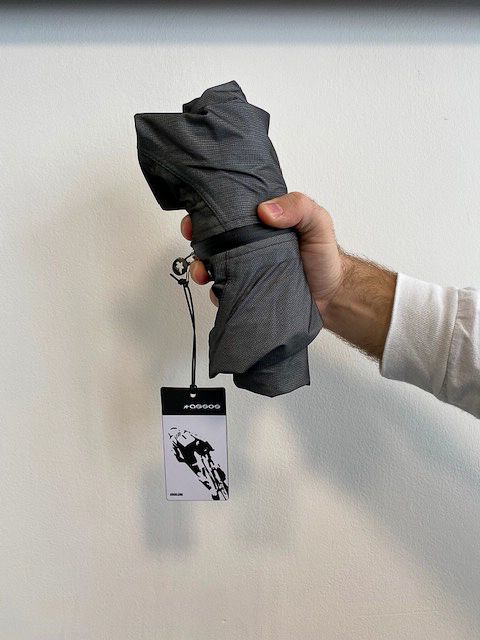 £279
Weighs: 149g
Pit to pit: 47cm
⭐️⭐️⭐️⭐️⭐️
The best jacket on test. The Gore C7 jacket hit the balance between great fit, packable and breathable. With breathable panels, the Gore jacket was lightweight and comfortable. Its fit was superb, with a tight neck (although not intruding), and smooth arm seams that provide efficiency and comfort on the bike.
Whilst not as light as the Rapha jacket, the Gore C7 felt great and could easily be stuffed in a back pocket. It was the perfect fabric in terms of feeling light yet providing protection from the elements.
It has a long fit over the back, with elastic grippers that secure the jacket around your jersey pockets to stop spray coming up through. The fabric used is also non-stretch, keeping the fit nice and snug.
The jacket also comes with a neat pocket that would easily take a smartphone or some change. There is also a strap for wrapping up the jacket once it's stored so you can roll it neatly into the back pocket.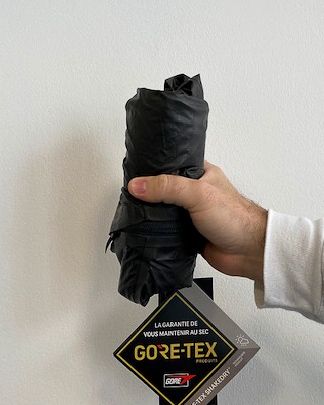 £220
Weighs: 118g
Pit to pit: 44.5cm
⭐️⭐️⭐️⭐️
Rapha made waves when releasing their 2020 Gore-Tex jacket, claiming that it's the "most protective, superlight layer for wet weather". Rapha's jacket combines lightweight, hydrophobic SHAKEDRY™ fabric with a streamlined fit to create a jacket that certainly looks smart on the bike.
Its cuffs were super impressive. They are seamless and have a snug fit that allows water to run off efficiently. The snug fit also feels great, however the arms were a little baggier around the shoulders. For a self declared race-fit jacket, it did come up a little larger than I expected.
Nonetheless this is a superb jacket that packs well and feels great. With the added two-way zip, it allows easy access to pockets through loosening the fit. Being the cheapest on test, this truly is a remarkable shower jacket that can be taken on and off at ease.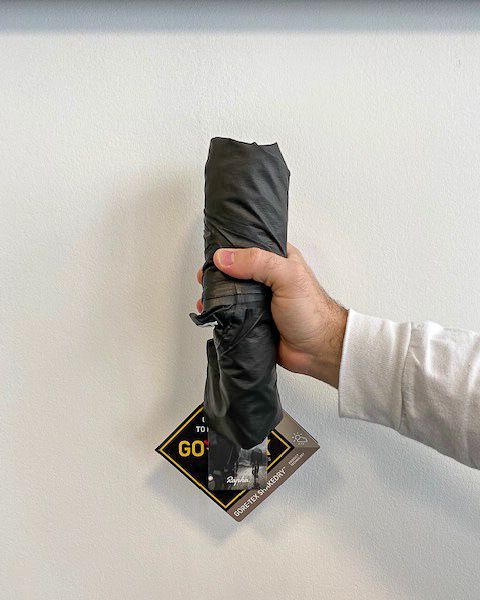 £340
Weighs: 175g
Pit to pit: 40cm
⭐️⭐️⭐️⭐️
Castelli's jacket was the most expensive on test, begging the question, what do you get when you spend £340 on a rain cape? It's a very good question and I'm not sure that £340 should be spent on a coat however the Castelli Idro takes luxury and performance to the next level.
As usual with the Italian brand, the fit was snug and tight, perfect for a waterproof jacket. This could easily be used in a race or sportive, with it being super aero for a waterproof. It also has a heavier feel than the Gore or Rapha jackets, making it a great waterproof for wearing for an extended period of time.
Castelli's jacket also combines stretchier fabrics on the arms that are more breathable, with GORE-TEX on the front and back. This will keep your core dry and warm whilst giving you flexibility in the arms and shoulders. Castelli is correct in stating that this jacket is "made for the rider who leaves his house for an all-day ride in the rain, for the rider whose jacket is a necessity and not a piece that stays in a pocket until it's needed". Serious cyclists take note.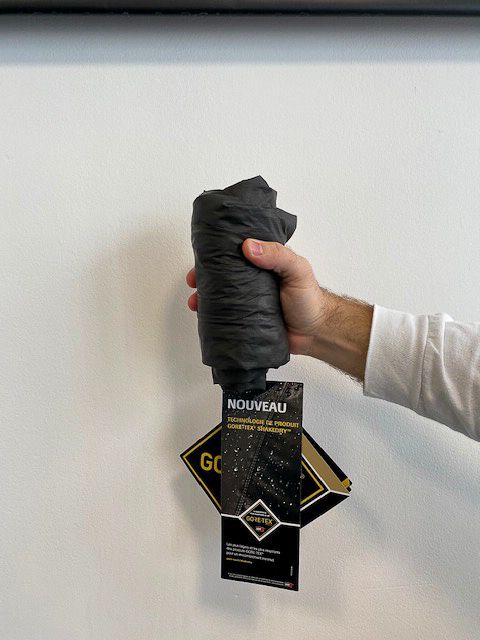 Colour?
You may be thinking, all these waterproof jackets are black, of course they look like bin-bags? Well recently Gore have collaborated with Romance Cycling to release a special edition color way of the Gore Wear c7 Shakedry Jacket! We caught up with the guys from Gore at the Rouleur Classic, who shed some light on the jacket.
Gore: Only 200 were made due to the labour intensive process of making a colored waterproof jacket. To create the jacket, we had to use a new digital printing technology that hasn't been used before.
Laka: Any plans to make any more?
Gore: There are no plans at the moment. To make the jackets weren't very cost effective either. It's such a difficult process that would be tricky to produce on a bigger scale.
We think the jacket really is an awesome piece that has made cool, sleek rain jackets even slicker. Whoever managed to get one is super lucky!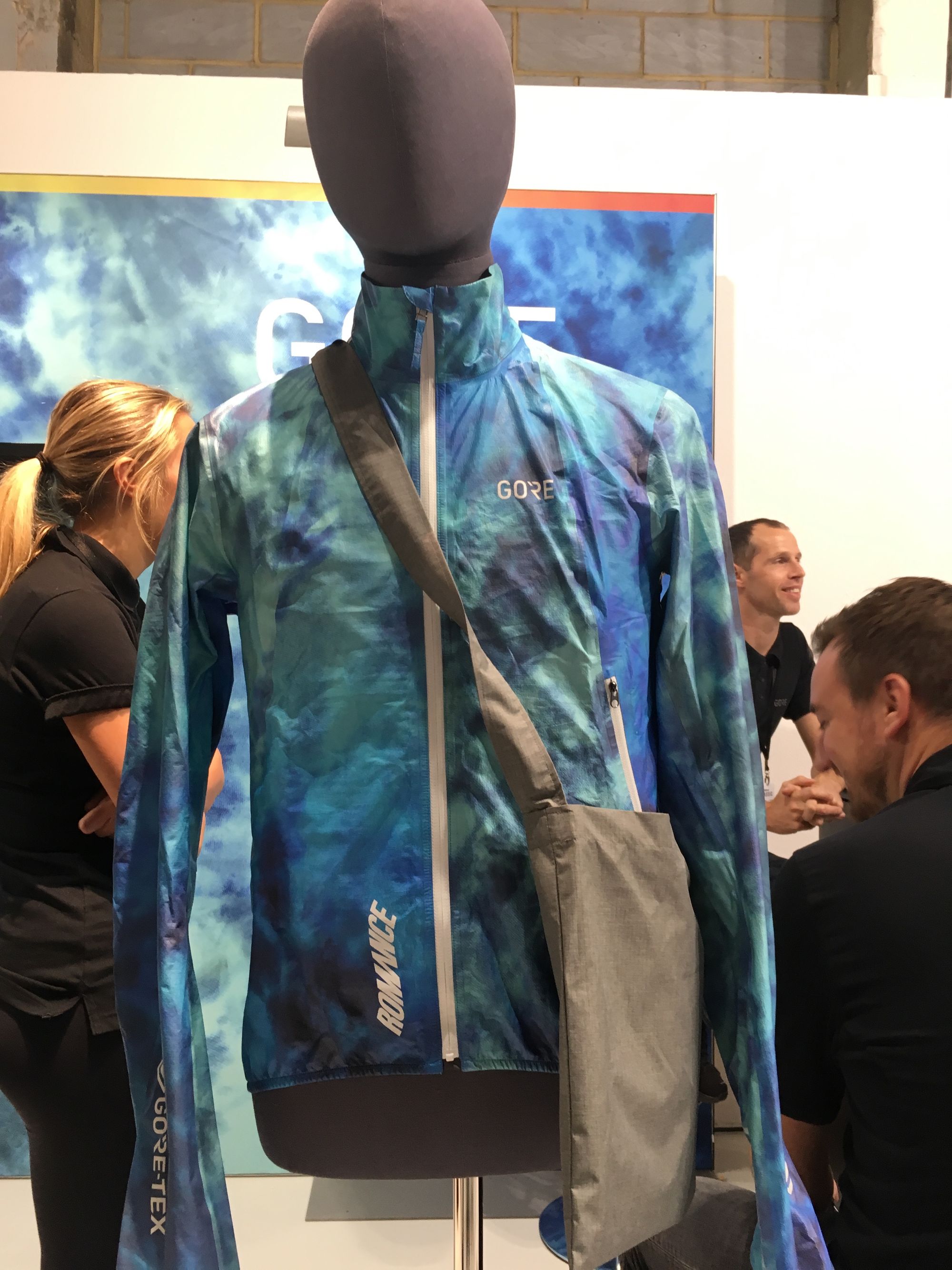 Prefer to stay inside during the wet weather...
read our Lazy Persons Guide to Winning Races on Zwift
Whilst you are here...
... did you know that wherever you are on this planet your bike is covered with Laka's Travel Cover ? Join our collective of cyclists where you can benefit from 60 days of continuous cover abroad, leaving you free to get out and explore. Find out more - Laka