Ever fancied Girona? In this piece we uncover the best roads, rental & hire shops and how to have the best holiday possible! So here's why Girona is your next cycling destination, with insider help from Andy Thornley.
Why Girona?
It's easy to see why Spain is the holiday destination of choice for British cyclists as the weather gets colder. Nothing beats an off-season break in the sun, whilst having the opportunity to maintain fitness through the winter. Girona has been the on-trend destination in recent years, made famous by professional cyclists making the town their own training base.
Andy: The best thing about Girona is the fact it is almost the antithesis of what other cycle-tourist destinations are. It's a small, fairly sleepy city to the northeast of Barcelona and situated close to the Pyrenees. Pro cyclists have based themselves there for many years now as they get to live their almost monastic existence out in a quiet place, with gorgeous roads just 15 minutes from the front door.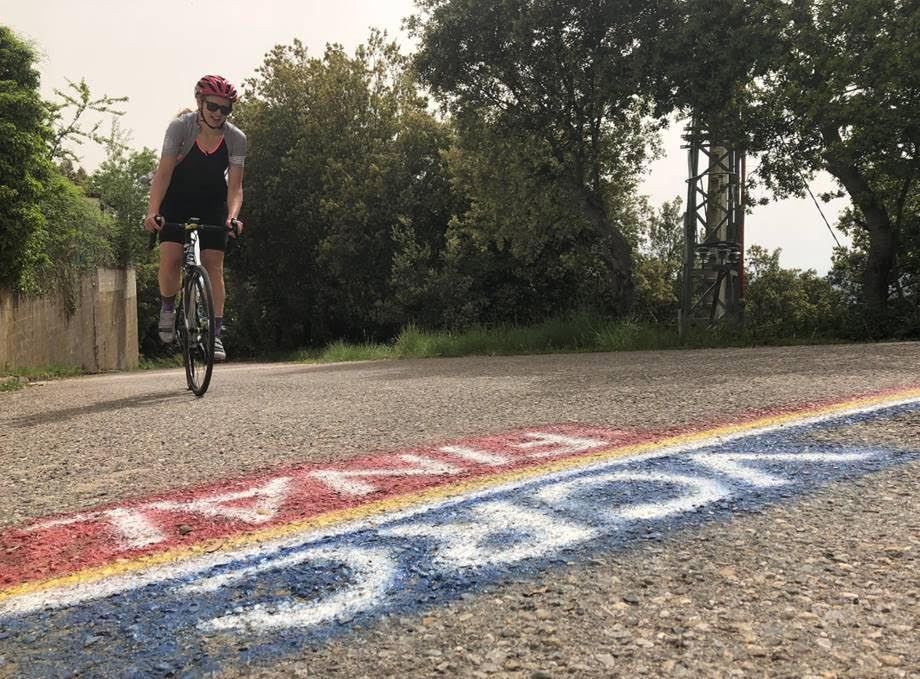 I was there most recently a few weeks ago and bumped into non-other than polka dot jersey winner Julian Alaphilippe tucking into his morning croissant in La Fabrica, a café set up by former Orica Green Edge rider Christian Meier. Christian has also two other premises in Girona; a small coffee shop called Espresso Mafia and a bike shop called Service Course.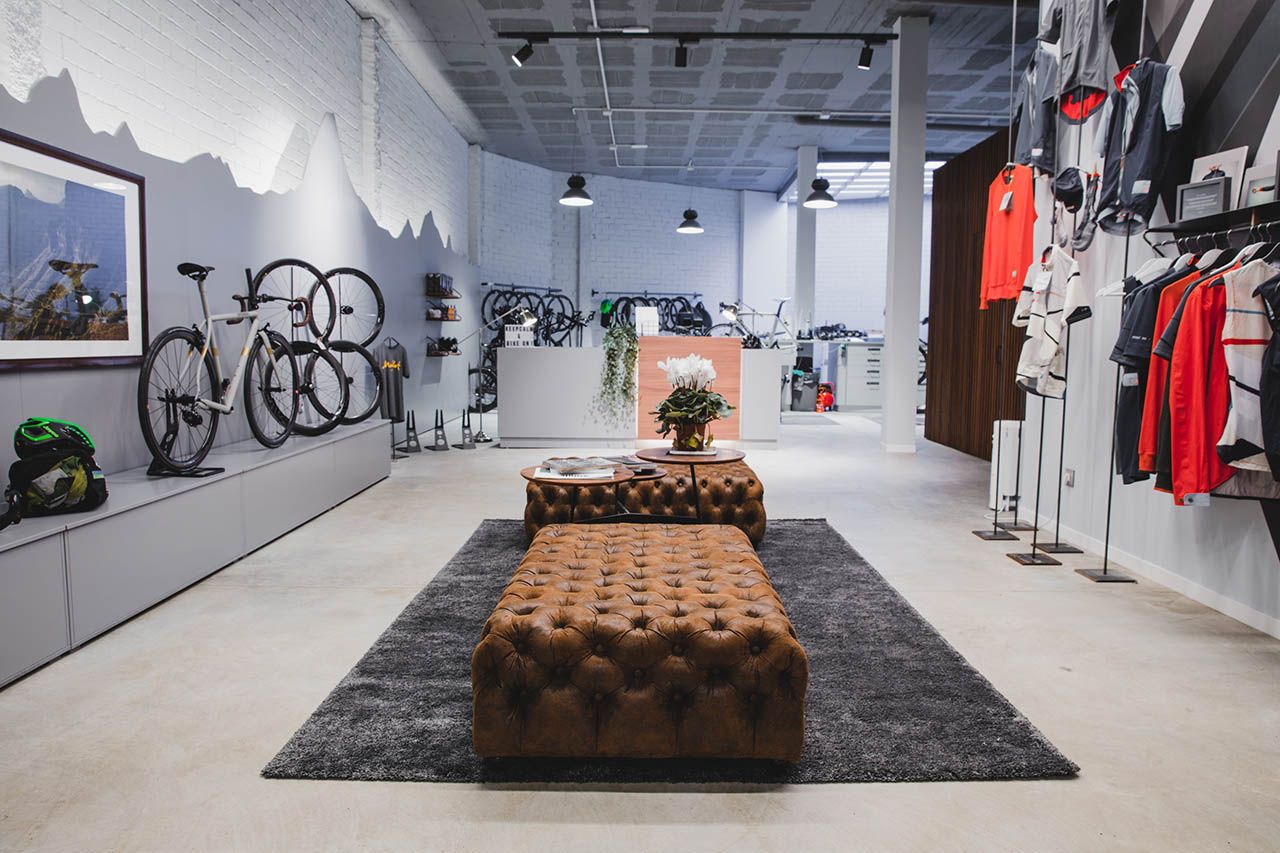 Brit and former pro-David Millar is also based there and has used inspiration from the city in his Chpt3 clothing range, underlining its charm and understated role as home of the pro-peloton. Namibian Olympian and all-around nice guy, Dan Craven, recently responded to an Instagram story I posted with restaurant recommendations for the evening. It's the type of place where the pros can feel part of a community and as long as you're not a douche-bag, you can, for a few days at least, be a part of that same community. If you're looking for somewhere understated where you just get on your bike and ride without a fuss, this is the place for you.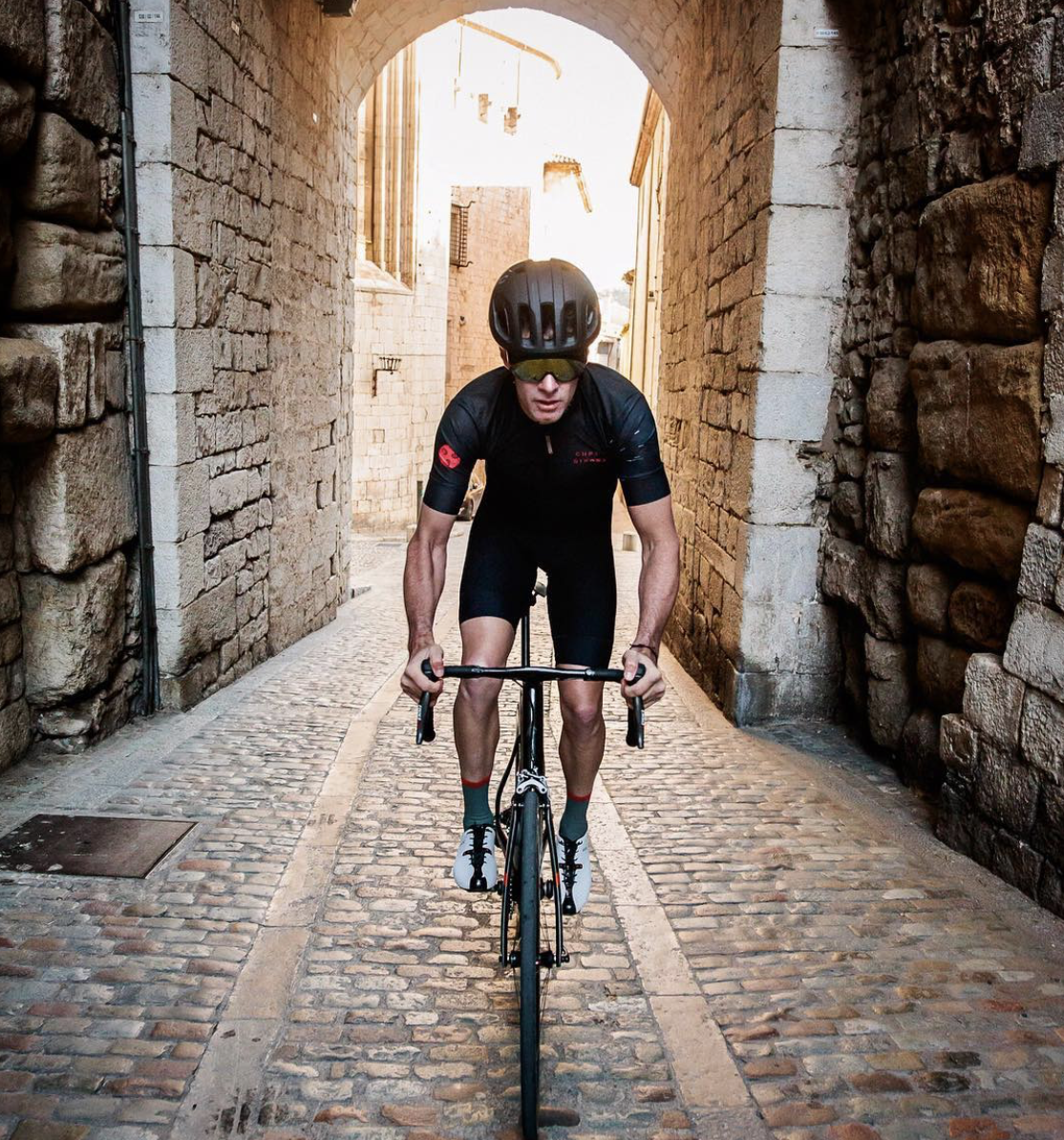 When to go?
The best time to visit Girona would be spring and autumn. The summer is really hot and isn't favorable for lots of riding. After November the tempreture plummets and can be quite cold during the winter months.
Max temperatures sit at 18ºc to 26ºc between April and June, and 26ºc to 21ºc in September and October. It would be recommended to take arm and leg warmers during the off-season for those early starts.
How to get there?
Most people travel to Girona by plane. You can fly to Girona's airport which is around 10-kilometers from the city centre. It's a small airport, but you can travel there from most major UK cities throughout the year.
Alternatively, you can travel to Barcelona which is easily reachable and served by plenty of airlines. This however means you'll need to either hire a car, or catch the train for the 100k journey north to Girona. This can be tricky with a bike-box, however there is plenty of places to rent bikes in Girona, should you wish to leave your pride and joy at home!
Where to stay?
Whilst not as popular as destinations like Mallorca or Calpe, Girona has plenty of accommodation and places to stay for cyclists. Staying in the old town gives you immediate access to a wide range of restaurants and anything you may need.
If you're looking to indulge in the local cycling scene, Hotel Nord 1901 is ideally situated opposite the Service Course Bike Shop, giving you the opportunity to window shop to your heart's content before each ride.
Routes to ride from Girona

1: Els Angels
This rolling route contains everything great about Girona in approximately 2 hours. The brutal Els Angels climb is tackled before descending the other side towards Madremanya.  Els Angels is a steady climb, averaging just 3.5%, but is a great warm-up for your stay in Girona. After descending the other side, take a right and ascend up through the valley via the Santa Pellaia climb. This is another steady climb at 6 kilometres long at an average of 6%, with a fast flowing descent the other side. The descent will roll you back into town with a smile on your face. This classic loop encompasses everything wonderful about Girona. Great climbs, swooping descents, along with views of the ocean and the surrounding hills. A perfect introductory loop and a ride that you'll want to do again and again!
2: Rocacorba
The Rocacorba climb is a must-do when visiting Girona. It's a tiny road, with great views at the summit. The climb begins shallow, then kicks up to a gradient that kills the legs and burns the lungs. It's a climb that is difficult to spin up easily, much like Sa Calobra in Mallorca. Also like Sa Calobra, the Rocacorba is a road to nowhere and was only paved in 2006. The Strava KOM is held by none other than British World Tour pro James Knox, who rode up it in 27 minutes! With an average heart rate of 191 beats per minute demonstrating how savage the climb is.
Andy: There's an urban legend that Lance Armstrong discovered it when he was training for the Tour and convinced the local authorities to tarmac it, but that has since been rubbished. It is, however, known for being one of the places riders preparing for the Tour de France head to in order to test their legs before the racing starts.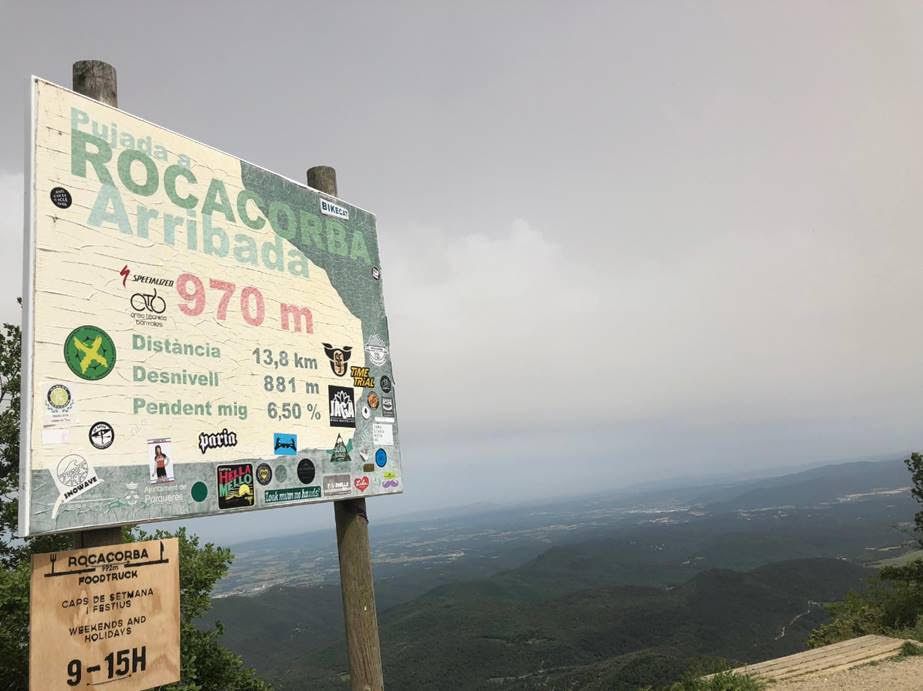 In terms of tarmac; it's not as pleasant as other roads. In fact, you should take care when descending it as there are crack, lumps and bumps. What it does give you though is 10.7km on the road at an average of 6.9%– ramping up to 12% by the end. The finish is next to two radio towers and is marked by a line with the initials VCRC – Velo Club Rocacorba, an invention of aforementioned David Millar. Don't be fooled though, Strava has the finish ever so slightly further up so to make sure you bag the best time you can for the segment, carry on for a little further.
3: Banyoles
There are somedays when you just have to take it easy. That's the beauty of Girona, you can ride all sorts of terrain. If you want to do 3 hours in the hills, 3 hours on the flat or 3 hours of rolling hills you can. For a rolling ride without any big ascents then look no further than Banyoles. Perfect for an easy day on flowing roads with the opportunity to make it a longer or shorter ride.
Banyoles is also a vibrant town with an array of cafes and bars should you need a mid-ride rest. This 60-kilometre ride will give you the best ratio of fun and recovery, being able to make the most of your holiday!
4: The Coast
Coastal loops are another jewel in the crown of Girona. Dan Craven made this coastal loop legendary, riding it throughout his pro careers. 120-kilometers with 1800 meters of climbing, and stunning views of the Mediterranean Coast. This one is a Girona epic.

Where to stop?
A staple for pre and post-ride coffee, La Fabrica started as a pro-cyclist hangout owned by Amber and Christian Meier. Opened in 2015, their establishment quickly became the hub of the cycling community in Girona, with good coffee at its heart. Be sure to also try their healthy and nutritious brunch options, you will not regret it!
Part of the Barcelona based franchise, Federal Cafe offers good coffee and a rich breakfast menu. They are also open all day, a rarity in Spain when finding food between the hours of 3pm and 9pm can be impossible!
After midday, the later menu comes out which offers delicious fresh salads, burgers, sandwiches, and other simple dishes like a curry and a slow-cooked stew. Perfect for a post-ride meal.
If you like speciality coffee then Espresso Mafia will be your second home. The 2nd business venture from Amber and Christian Meier focuses on quality coffee and is the best place in town to buy roasted beans. Espresso Mafia is perfect for a quick pre or post-ride coffee and make sure you try their cold brew if it's a hot day!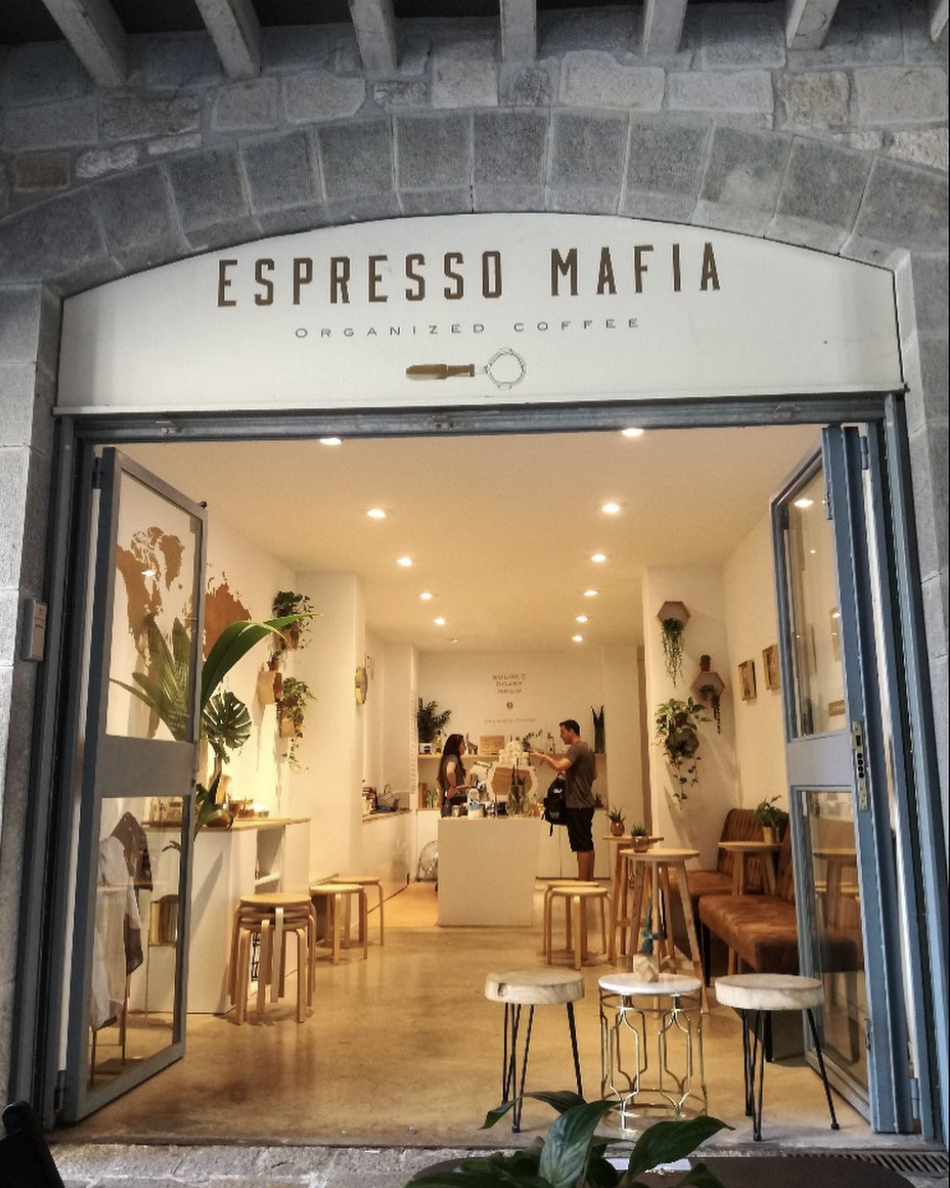 Andy: Be sure to visit Banyoles, which is aside from a lake on the near Rocacorba. Here you'll find plenty of water-side cafes and it's a nice place for a stop either before or after the climb. You also have the Rocacorba food truck located on the slopes not far from the summit.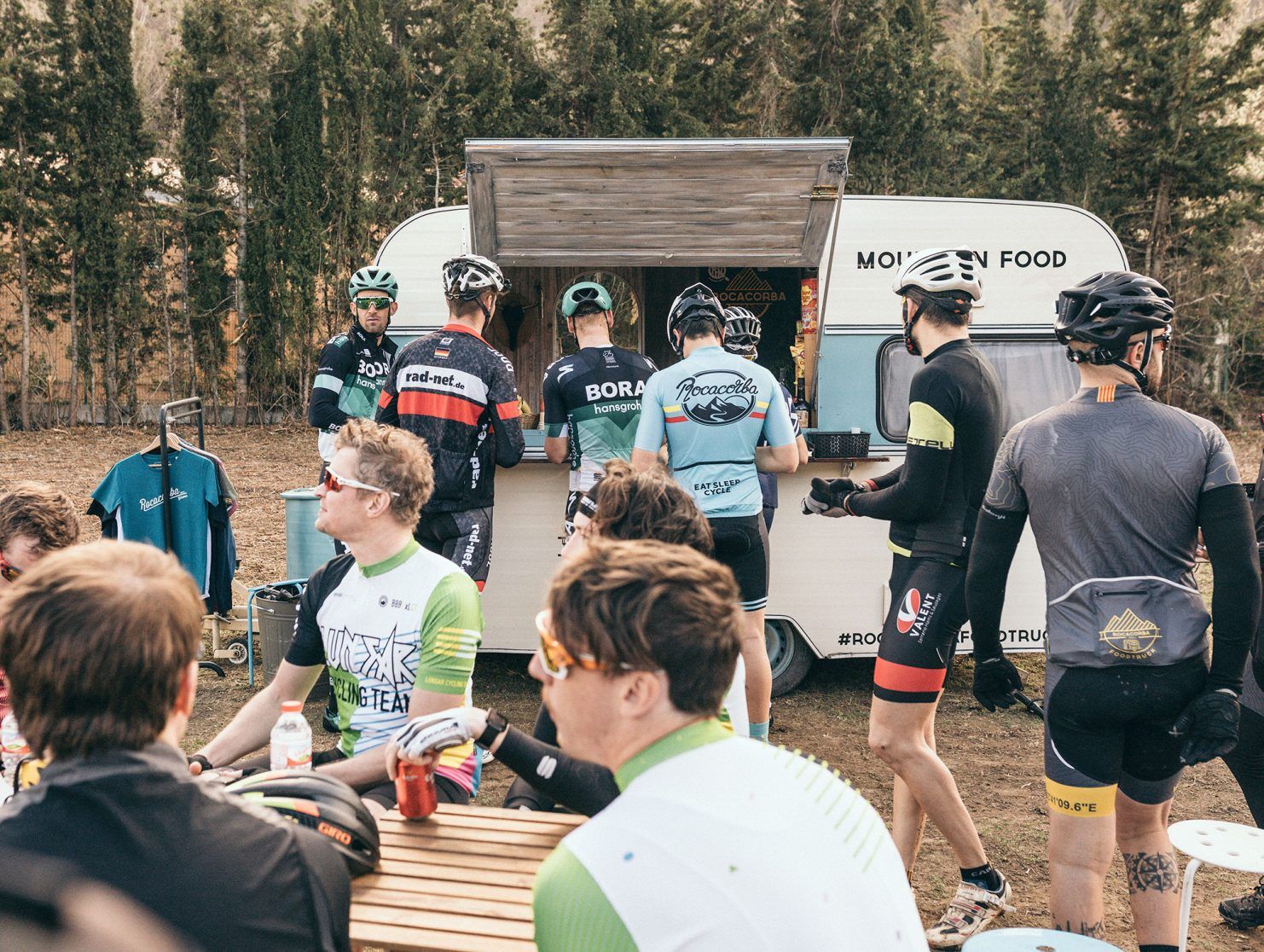 Where to shop?
More than a bike shop, The Service Course is a cycling lifestyle brand that specialises in high-end bike rentals in central Girona. The shop also contains a range of kit including The Service Course souvenir kit and David Millar's CHPT3 Girona range.
Apart from the top of the range rentals, The Service Course also offers massage services, lodging and fully-serviced cycling holidays & camps for groups. The workshop will also be happy to help you out should you need a pump, set of tyre levers or any other tool that you're missing.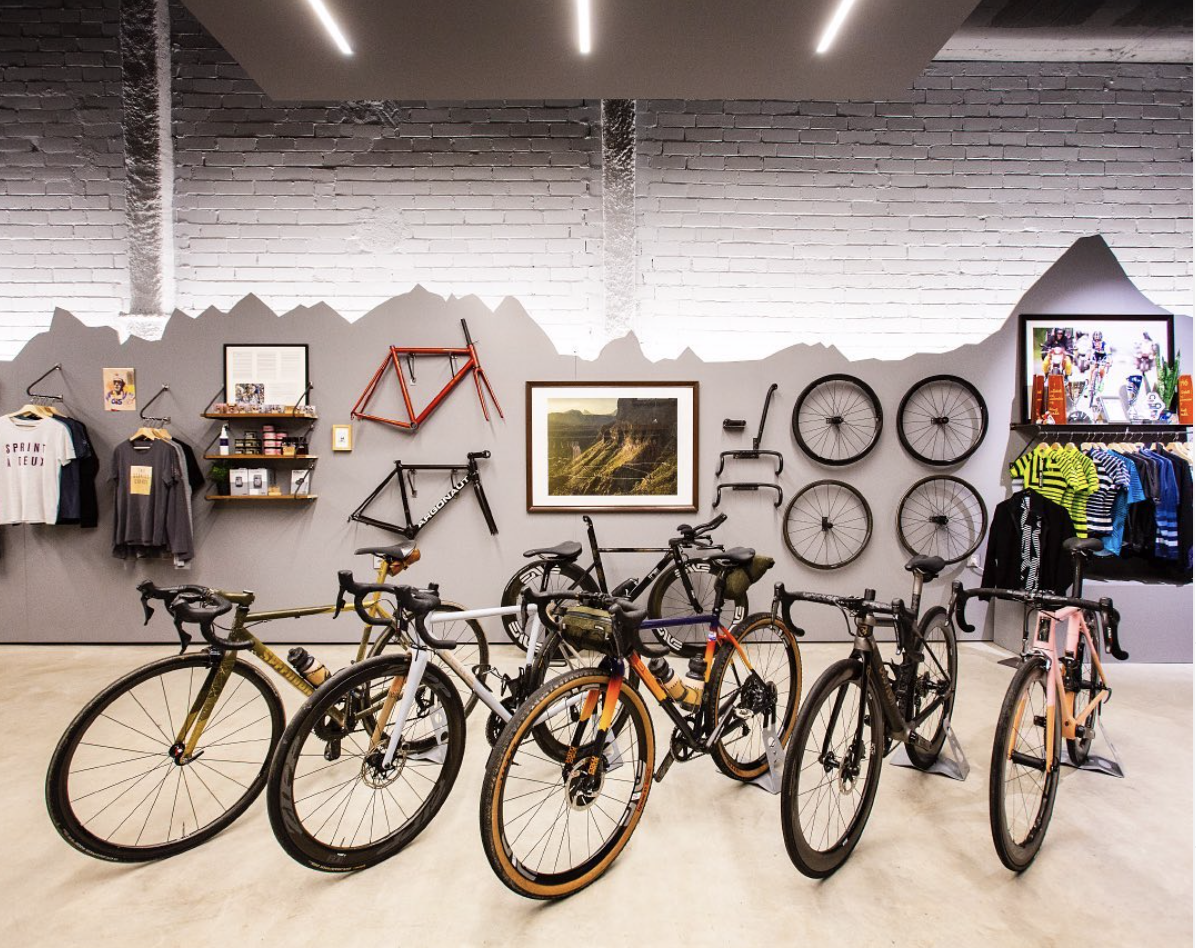 Also known as the Girona Cycle Centre, Bike Breaks is owned by ex-British downhill pro Dave Walsh and his wife Saskia. The shop mainly focusses on rentals, however they also offer servicing, guiding, maps, transfer services, GPS/Garmin rentals, and help with hotel bookings in town, should you need it.
They also have a dedicated kit shop just across from the main base. They sell collectable pro-kit, souvenirs and other Girona cycling memorability. If you're a pro cycling fan you won't want to miss out on Bike Breaks!
Andy: After travelling to some of the best cycling destinations in Europe, including Tenerife, Mallorca and Tuscany, Girona wins my vote every time!
Like this story? Share your story with us here: joe@laka.co.uk
Wherever you are on this planet, your bike is covered for up to 60 consecutive days with our Global Travel cover.  Join our community of cyclists today, go explore!
GET A QUOTE