But first What is third-party liability insurance?
3rd party liability? Third-party cover? Liability cover? Liability? All of these terms mean the same thing. This policy helps protect other people, vehicles, and property when an accident is deemed to be your fault. Your third-party policy would cover the cost of the other person's property and medical expenses, meaning you wouldn't have to pay up some hefty costs.
So when would I need third-party cycle insurance?
If you ride your bike regularly, especially in towns and cities, there's a chance that you've perhaps witnessed near misses, cars jumping up the inside, or pedestrians stepping out into the road. A third-party liability insurance policy can protect you on your bike, 24/7. Here are some common situations where a third-party policy can help you:
Clipping a wing mirror or scratching a car
Even the most minor or incidents can end up with cyclists being sued. If you were cycling along a residential street and scratch or damage the side of the car, then the motorist could ask you to cover the costs of any damages. This could be as minor as a scratch to the paintwork, or a major dent to the side door.
Failing to do so could result in criminal proceedings and perhaps the chance of being taken to court.
Laka's third-party liability cover is designed to cover these cases so that you know you can ride safely without being forced to pay up property, court or medical expenses.
Injuring a pedestrian
Unfortunately this is one that comes up quite often, especially in busy places with lots of crossings and packed pavements. If a pedestrian was to step out into the road and collide with a cyclist, the cyclist could be asked to pay medical and or/ court costs if the pedestrian puts in a claim.
Covered with Laka
The Laka liability cover suits all cyclists, from the cruising cargo-biker to the zippy e-biker.  No matter what you ride, you'll get up to £2,000,000 that you are liable to pay including legal costs if you injure someone, or damage their property whilst using your bike.
The amount you can be asked to pay takes into account:
The claimant's medical costs
The claimant's loss of earnings
The cost of replacing or fixing what's damaged
replacing or fixing what's damaged
Our claims team are always available for help if you're worried after being involved in an accident or are being sued. They're experienced in helping cyclists every day.
How does Laka compare with British Cycling and Cycling UK?
If you're on the hunt for top third-party cycling insurance there are a few options out there. However in terms of bang for your buck Laka comes out on topThis policy won't lock you in for 12 months either. If you want to cancel, you can, anytime.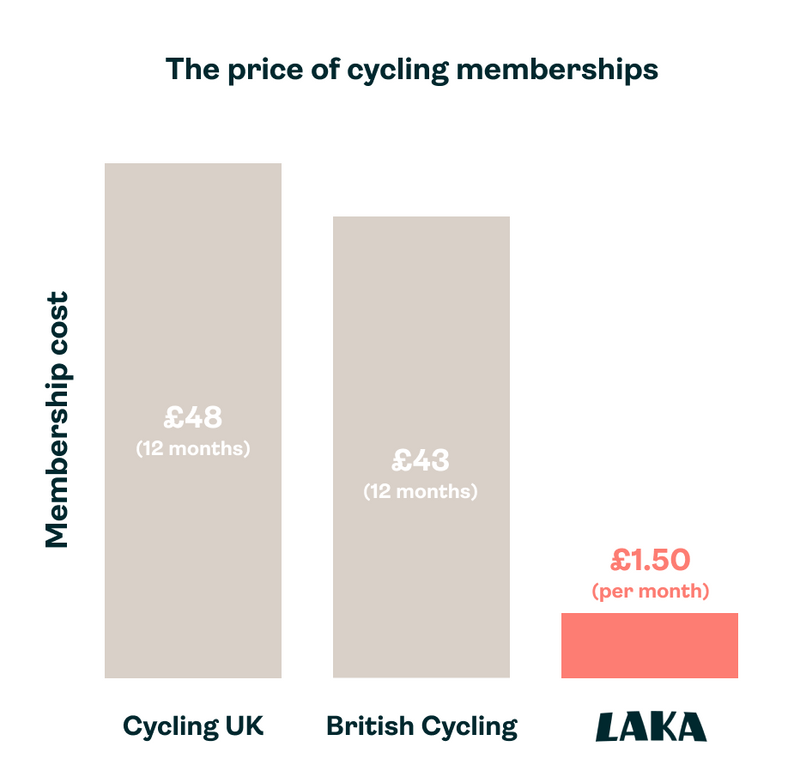 Get covered for just £1.50 per month...
With comprehensive third-party liability insurance and access to stacks of awesome cycling perks, there's no reason not to join the Laka Club! So, what are you waiting for?