There's been an uptake of people cycling to work during the coronavirus outbreak. The lockdown has made British roads quieter than ever, creating a safe haven for cyclists. Moreover, commuting by bike offers key workers an opportunity to avoid public transport all while staying active. However for many commuting can also be a daunting experience. So we decided to write a handy guide with 8 tips for conquering your first commute!
1. Plan your route
Before you start commuting it's a good idea to know the exact route you're going to take to work. Keep in mind which roads you're going to take and any bike paths you can use where possible. You can use a route planner like Strava or Komoot to plan the distance and work out an estimate of how long it will take.
2. Get hold of your bicycle
Once you know how long your commute will take, you can get hold of a bicycle that will be capable of the journey. If your commute is shorter (less than 30 minutes), any type of bicycle should be fine, including a road bike, city bike, e-bike or mountain bike. If you have a longer commute (over 30 minutes), then you might want to ride a road bike or more efficient machine. An electric bicycle is a great option for a particularly taxing commute, as the extra assistance provided by the motor will get you to work with less effort!
If you're looking to source a bike take advantage of any work cycle schemes that might be available from your employer. Another option could be to borrow one from a friend or hire a bike from your local bike shop to test out whether cycling to work is for you.
3. Stay safe on the road
Whilst you can try to avoid roads where possible, it's difficult to avoid them completely. When cycling on the roads you should use hand signals to indicate which way you're turning and stick to bike lanes where possible. To make yourself more visible to drivers, some high visibility clothing is a good option too. A decent set of lights, like these from Beryl, will keep you visible both in the day and at night! Get a well fitting helmet and you'll be ready to roll.
4. Get ready for work
The clothing you decide to wear is a personal choice. Some commuters will lean towards wearing plain clothes whilst others will decide to wear lycra cycling kit and clipped in shoes. No matter what you wear, comfort is key, so clothes that are light and breathable will feel most comfortable. Think airy gym kit rather than heavy cotton t-shirts!
Another tip would be to have a good quality pannier or rucksack to transport your work gear in. You'll want it to be big enough to fit a spare change of clothes and some shower gel to freshen up with at work. If your workplace doesn't have a shower, dry shampoo or wet wipes are a brilliant way to get yourself ready for the day!
5. Where to store your bike
Store your bike inside where possible, however you can store it outside providing you lock it up correctly. We recommend you use a gold sold secure lock as they provide the maximum amount of protection against theft. When locking your bike, make sure the frame is fixed to the bike stand first and then you can think about fixing wheels second. If you're looking to up your locking skills, check out our ultimate guide to locking your bike securely in the city!
6. Maintain your bike
Looking after your bike needn't be complicated. The main areas to check would be your tyres, your brakes and your drive chain. Make sure your tyres are well inflated before every ride and that your chain is has a thin covering of oil and is running smoothly. Finally, make sure that your front and rear brake is working correctly and providing enough stopping power!
If you have any maintenance problems we offer live tutorials over on our Instagram at 6:30 PM every Monday and Wednesday! Ask our resident mechanic Matt a question, and he'll be sure to answer it for you.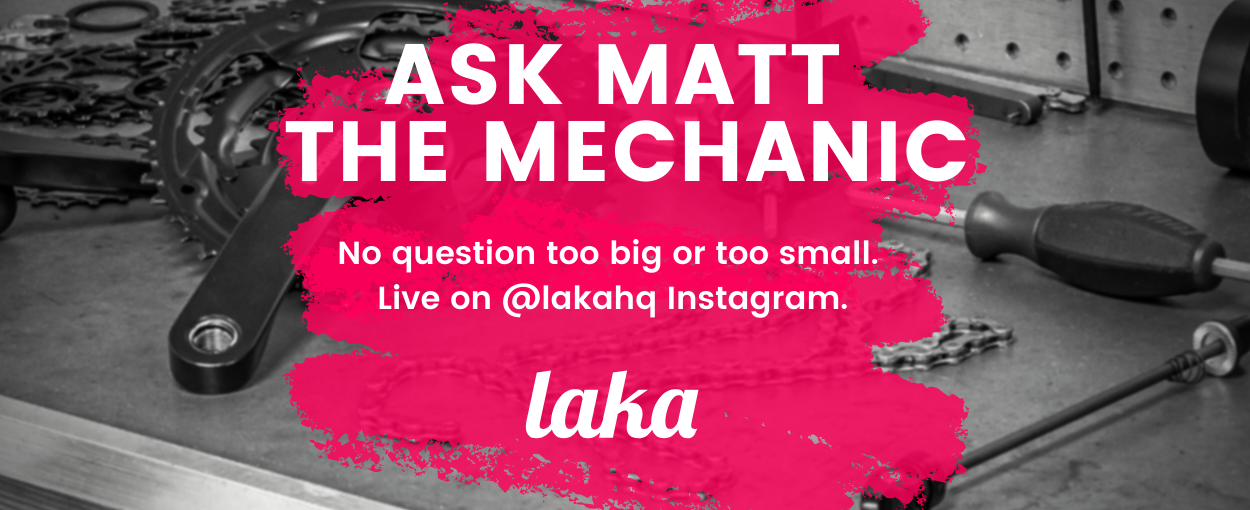 7. Visit a bike shop
Most bike shops around the UK are still open to serve key workers, however it is advised you check their website before visiting. Another thing to keep an eye out for is bike shops that are offering discounts to NHS staff and key workers! Some businesses include Paradise Cycles and Pedal Back Cycling Supplies are both currently offering a discount to key workers.
8. Insure your bike with specialist cover for cyclists
At Laka we offer specialist cover tailored for cyclists. Our bicycle product covers theft and damage, having received outstanding feedback for our claims handling. Forget expensive premiums, complex contracts, spending hours-on-hold, and lengthy claims processes, Laka is the modern way for you to insure your bike!
We've turned traditional insurance upside down, with premiums determined by the number of claims made by the Laka community. There's a maximum cap, so you'll never pay more than a proportion of your insured gear. This saves an average of 25% over other insurers every month!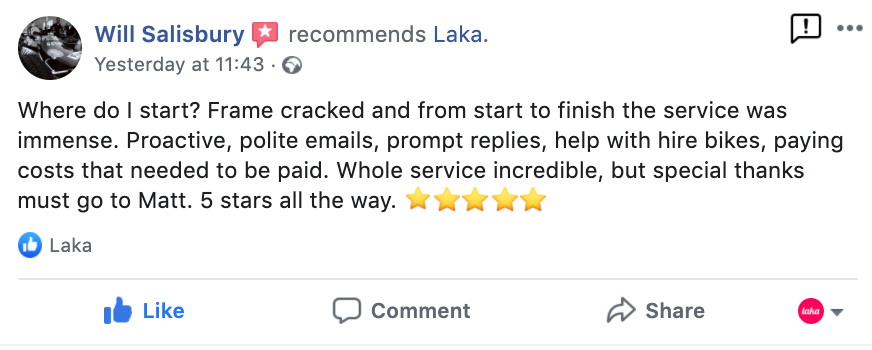 Anything we've missed?
Join our Facebook group to get involved in the discussion. Share advice, handy tips and link up with like-minded cyclists across the globe.
For the ultimate peace of mind think about insuring your bicycle. At Laka, we offer flexible policies to the month leaving you free to cancel at any time. Chat with us to find out more.
Join the Laka ride...
For the ultimate peace of mind think about insuring your bicycle from damage and theft. At Laka, we offer flexible policies to the month leaving you free to cancel at any time.