We dove into the hidden problem of bike theft at the Tour de France and what is being done to stop it.
The Tour de France is known for its energy and passion as the races wind through towns, villages and cities. Whilst the riders, team helpers, and fans are so consumed by the racing, this provides the perfect opportunity for a bike thief to pounce.
Bike theft in the pro peloton
There have been many newsworthy stories of bike thefts on the World Tour before, proving you're never too pro to have your bike nicked. In 2014 Team Sky (now Ineos) had pretty much all of their bikes stolen when 14 bikes were pinched on the eve of Tour du Haut Var in southern France. They were lucky enough to borrow some bikes from the Bretagne-Seche Environnement Team to keep themselves in the race.
More recently in 2019 a charity bike belonging to Qhubeka went missing after the Grand Depart in Brussels. A manic 7-day search followed with police checking out CCTV to try to locate the bike thief. A number of famous cyclists including Eddy Merckx, Peter Sagan (Bora-Hansgrohe), Fabio Aru (UAE Team Emirates) and Cadel Evans shared the events on social media in a bid to try to get the bikes back. Eventually they were retrieved showing what a few high-profile tweets can do if you had your bike stolen!
It was a similar affair at the Spanish National Championships in the same year. A Movistar rider's bike worth 14,000 euros was swiped by an opportunistic thief from a hotel corridor. However thanks to police in Murcia the CCTV was checked and they were able to share photos of the thief on social media to get the bike back. In the end, the bike was returned swiftly.
How teams combat bike theft
All of the thefts above are definitely more opportunistic than pre-planned. And with a race like the Tour de France there is an extra layer of precaution and security than smaller races. Whilst the riders are more accessible at smaller races like the Tour du Haut Var, when it's the Tour de France you'll see more police, more barriers, and more distance between you and the riders.
The shared hotels are strictly watched by security and the start/finish towns will have an extra police presence too. In Paris for the final stage, the whole of the finishing circuit on the Champs Elysee is contained within a barrier to mitigate the potential for bike thieves to strike.
Of course, the teams will all have lofty insurance policies to protect all of their premium frames, carbon rims and team cars too.
What about spectators?
Cycling fans are like no other. Riding to the race is a ritual - but what do you do with your bike when you get to the roadside? It's not uncommon to see flocks of bikes leant against hedges and lampposts during a cycling event.
As the Tour de France came to the UK in 2014, Jack Hudson was unlucky enough to have his bike stolen, even though it was locked to other bikes. The bike had been locked up for "mere minutes" as the bike thief struck when the race had whizzed past.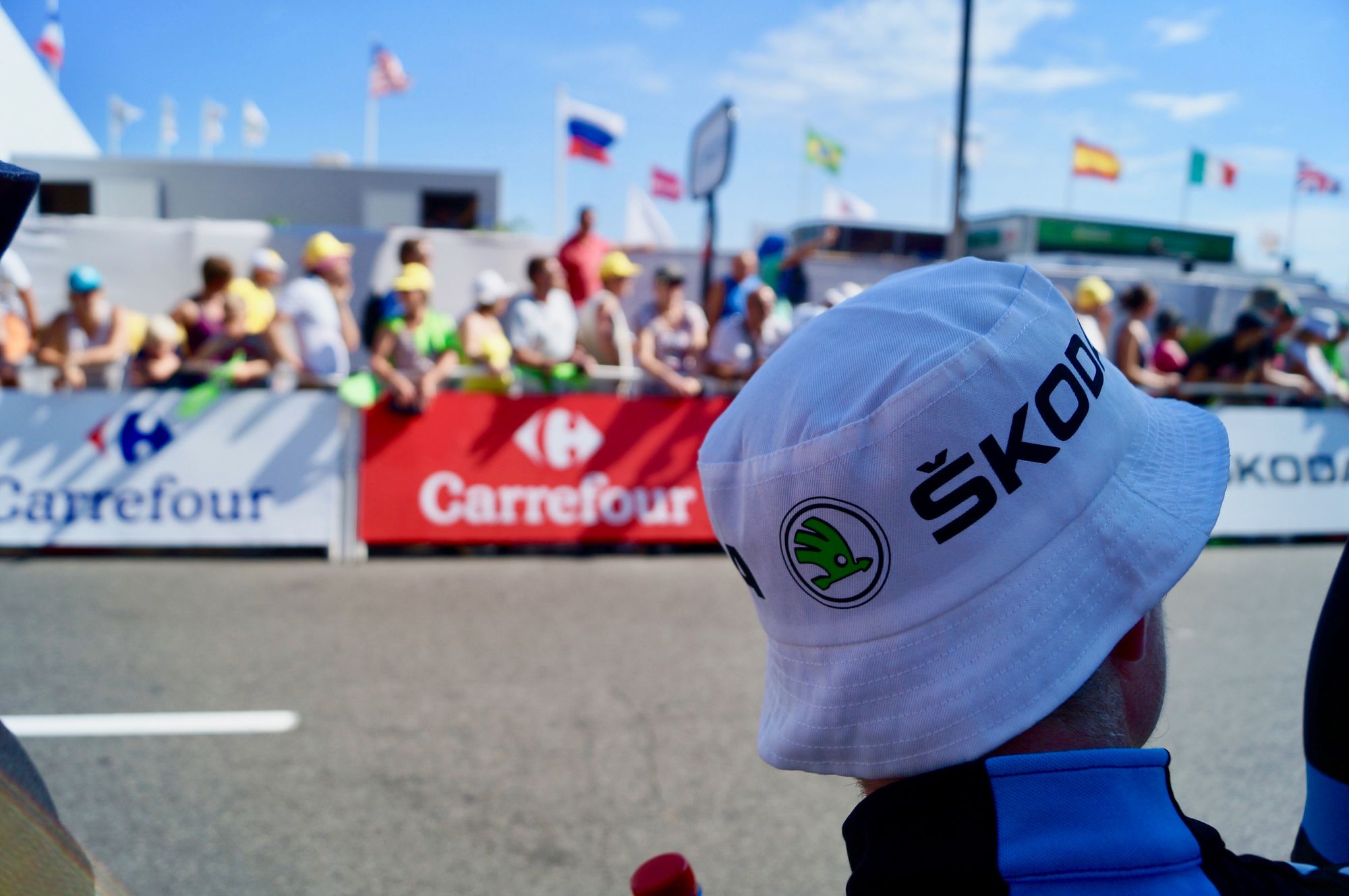 What can you do at the races?
Whether you're watching a professional race or even just leaving your bike at a sportive or cafe, there are a few tips and tricks you can use to keep your bike safe.
1. Keep it close
It might seem obvious, but don't leave your bike hanging around for too long and definitely try to keep an eye on it at all times. If you have a friend with you, ask them to keep watch over it whilst you're away.
2. Use a lock
Carrying a big and heavy lock around with you isn't suitable for road riding - it just doesn't work. But there are a few alternatives you can use that are lightweight and can add peace of mind at races or events. This lock from Hiplok is a neat way to protect your bike when out and about as it can fit in most pockets with ease.
3. Insure
Insuring your bike with a specialist insurance provider like Laka is the best way to protect your bike against theft. With Laka, you'll speak to actual bike people who know what it's like to experience a theft. They'll be with you every step of the way and will have you back up & on the road in no time.
GET 30 DAYS FREE BIKE INSURANCE
From the cobbles to the cafe, cover your bicycle against theft, damage, loss and more. Try our 5-star rated bicycle insurance.
Hit the button below and your code will automatically be applied.