The industry at a glance
Green mobility is booming. Here's the proof in the pudding:
Who are EAV?
EAV are the leading provider of last-mile transport solutions, that are specifically designed for our evolving urban environments - making them zero-emission, low cost, reliable and future-proofed. We're helping to solve the problem of moving goods and people around the urban environment, in a world where there's a heightened sense of awareness about climate change, air quality and health.
We're building new eCargo vehicles for new use cases and new urban environments, via EAV's unique ultra-efficient, lightweight, multi-modular solutions. EAV vehicles are designed down from a van, not up from a bike: a fundamental innovation in eCargo bike design. This unique hybrid allows more deliveries in a shorter amount of time by accessing cycle lanes and pedestrian routes.
The very fabric of EAV vehicles is sustainable by design made from natural fibre composite materials, and by recycled plastics and metals. We manufacture ourselves or locally source all our materials where possible. Our bodywork and chassis are made on site, reducing our carbon footprint and keeps us sustainable.
EAV is on a mission to be a key market player with eCargo bikes and Urban Lightweight Commercial Vehicles taking their place as the optimum efficiency mode of transport, in most use cases, in towns and cities, worldwide.
What trends are you noticing in the green mobility sector?
"End users are under lots of pressure to not only choose a zero emissions vehicle, but also to tackle increasing rates of pedestrianisation and congestion from urbanisation. Because of this green mobility adoption is soaring.
This is helped by market-wide education on the benefits of micro mobility, coupled with the trends of government spending towards cycling initiatives and infrastructure."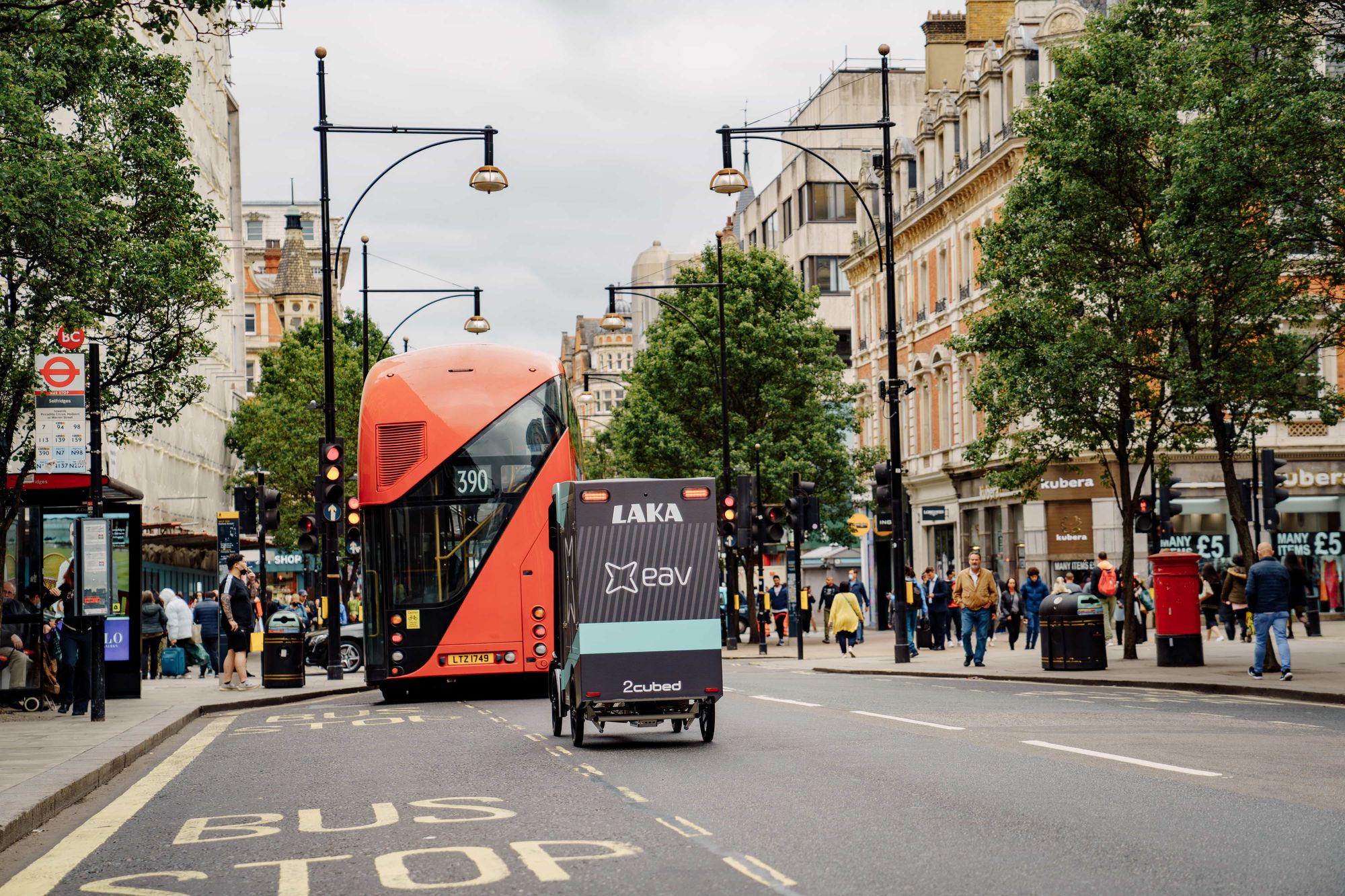 What have you got planned for the future?
"We currently cater for the 'last mile', with our ultra-efficient EAV 2Cubed. This year, we're launching our 'mid mile' vehicle, the EAV LINCS. This vehicle will tie in with our mantra of lightweight, and will be a direct competitor of the electric van, specifically designed for an urban logistics environment.
Cargo is phase one of EAVs product line up; moving goods around urban areas. Moving people is phase two of EAV's product line up."  
What will urban mobility look like down the line?
"Heavy and large vehicles will be removed from the city centre, as vehicle lanes make way for lightweight micro mobility options. Cycle and pedestrian infrastructure will take priority over legacy vehicles meaning people will reclaim the city as a safe environment."
EAV gives Laka their stamp of appreciation
"Partnering with Laka Insurance holds immense value for EAV by ensuring our vehicles are protected comprehensively. Our customers really appreciate the flexibility that Laka offer by being able to tailor their policies to suit the customers' needs, specific to the commercial cargo vehicle sector."
GET AN INSURANCE QUOTE FOR YOUR COURIER FLEET TODAY
And why would you choose Laka? Well:
👉 We've been voted 'Best Cycle Insurance Provider' for 3 years running
👉 We protect many of the largest last mile partners in the UK
👉 We have a 5-star feedback rating.
👉 We'll provide you with the cover you need for the price you need!
GET A QUOTE