Deloitte predicts there will be 300 million e-bikes on the world's streets by 2023, a 50% increase from today's numbers. Put into a business context, this increase will go a long way to tackle the emissions, congestion, and air quality issues many cities face. By embracing e-cargo bikes, businesses can take advantage of the benefits they offer over larger (gas-guzzling) vehicles:

They can move quickly through city streets
Can deliver packages 60% faster than vans
They are cleaner, saving about 90% in carbon emissions  

Of course, the increased use of e-cargo bikes means cities must adapt their infrastructures to make way for this increasingly popular form of transport. We've scoured high and low to bring you our top 18 European cities with superb bicycle infrastructures.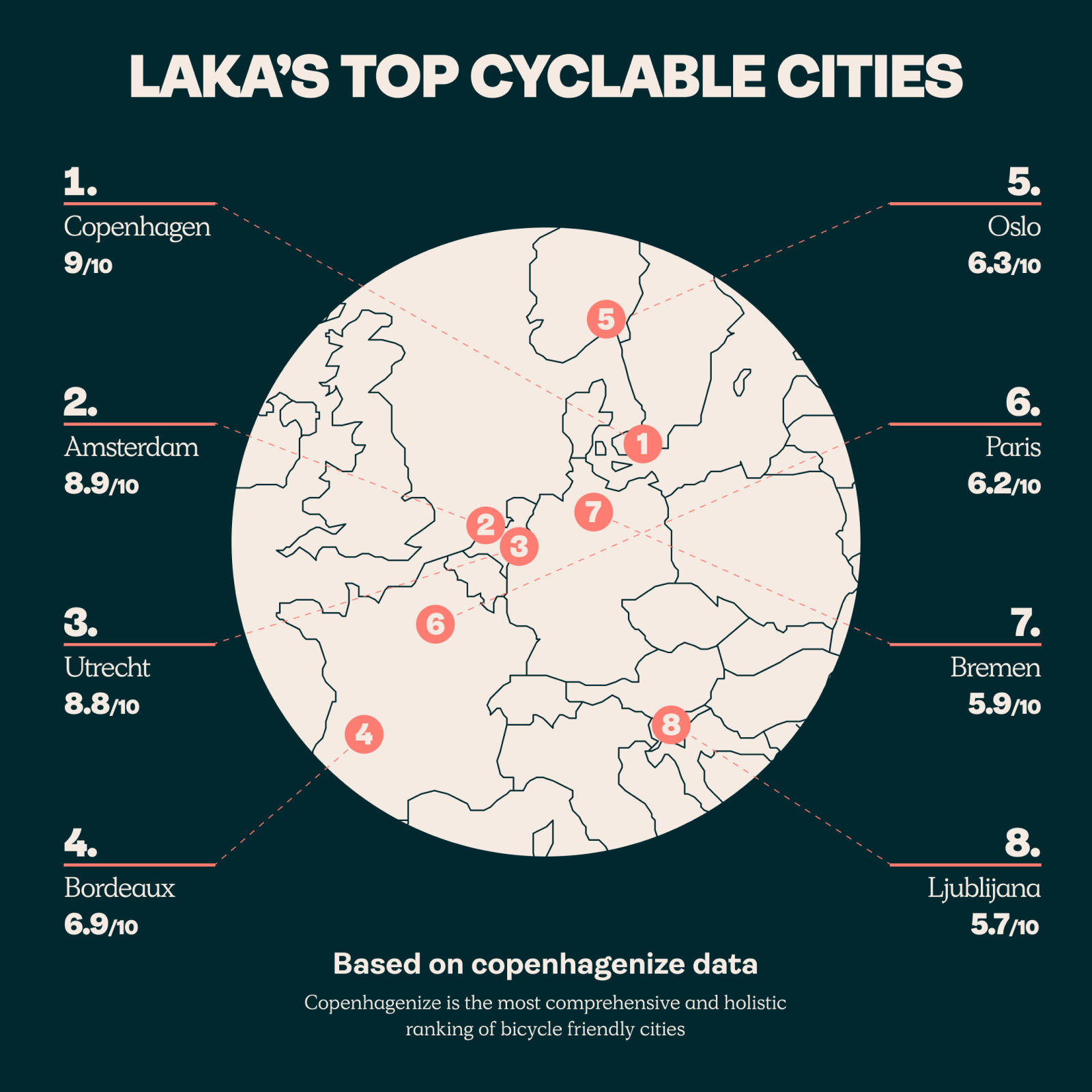 Copenhagen, Denmark
We reckon that when Danny Kay sang about Wonderful, wonderful Copenhagen, he must have been a keen cyclist.
Its biking infrastructure boasts 400km of well-maintained cycle paths and the Cykelslangen, the "bicycle snake", a vast bridge reserved exclusively for cyclists.
This bicycle infrastructure is also paving the way for the adoption of cargo bikes for last-mile deliveries. The Danish capital sees 40,000 delivery riders taking to its roads every day, and it's the first city to implement a parking facility for Cargo bikes.
It's worth mentioning that the popularity of cargo bikes extends beyond businesses. They are also proving a very popular mode of transport for commuters and the school run.
London, UK
Historically, London has not been seen as a cycling destination. Overcrowded roads, dominated by cars, lorries and taxis, put off even the bravest cyclist. But things are changing. In 2020, the number of journeys in London by bike increased by 24.4%,  mainly thanks to the increasing cycling infrastructure and segregated cycleways.
Today, the city's streets are teeming with cargo bikers. The rise of the two-wheeled delivery riders has transformed the way London sees cyclists, which is excellent news for businesses and your average Joe cyclist. On 4th July, Amazon launched its first fleet of e-cargo bikes in London, joining other giants such as DHL and smaller businesses like Pedal Me, Zedify and Ecofleet.
This push towards pedal power is also being seen in more residential areas. Transport for London is working with Sustrans and local authorities on the Healthy Streets Officers programme, which focuses on helping children and families cycle in 32 of the city's 33 boroughs. These School Streets restrict traffic for a short period during drop-off and pick-up times, making it safer for children and reducing congestion and improving air quality.
Of course, when we talk about cycling, we have to mention London's cycle hire scheme (the Santander bikes, aka 'Boris bikes') for those who want to see the sights on two wheels. You can pick up a bike from 40 docking stations in and around the city centre, with the first 30 minutes riding free.
Oxford, UK
Oxford is a city that oozes history and students and wraps its loving arms around cyclists. With almost 20% of its commuters choosing two wheels over four, it has oodles of bike shops and cycle lanes.
Despite its impressive infrastructure, a new £1.2m project will introduce segregated cycle lanes. These Quickways will cross the city, allowing cyclists to potentially reach a "continuous speed" of 20mph (32km/h). But don't forget, it's not a race, and speed isn't everything.
In fact, Oxfordshire County Council has just secured £71,000 of funding to expand the number of electric cargo bikes used to deliver goods around Oxford. This ECObike project aims to encourage local businesses to use these ultra-low emission e-cargo bikes when making deliveries in and around the city.
Amsterdam, Netherlands
Not to be outdone by Copenhagen and Utrecht, Amsterdam's tulips, windmills, and canals provide the perfect backdrop for a bike ride. It boasts nearly 800km of cycle paths, so it's hardly surprising you'll have 60% of the locals for company when pedalling.
Those locals include numerous delivery companies and service providers, including Laka. Believe it or not, cargo bikes are also used in healthcare and the medical industry. Cars are not ideal in Amsterdam. With cargo bikes, parking is not a problem, the busy roads can be navigated quickly, and they are emission-free.
Utrecht, Netherlands
To say that Utrecht welcomes cyclists is an understatement. It has the largest bicycle parking area in the world (more than 12,000 spaces at the central station). Plus, the Vredenburgknoop (the main street leading to the city's medieval centre) is used daily by a whopping 30,000 cyclists. With smart signage, fast lanes, and almost 250km of bike paths, it's a city that has you reaching for your passport.
For businesses, it's a delivery rider's dream. The Dutch postal operator, PostNL, uses electric delivery bikes in Utrecht. Its e-cargo bikes deliver business post and parcels. According to the company, "the electric carrier bike is emission-free and often faster than cars in busy city centres. By deploying electric carrier bikes, PostNL is replacing 20 car rides every day. This means 560 emission-free delivery kilometres daily and a CO² emission reduction of approximately 35,000 kg annually."
Bremen, Germany
Picturesque and almost rural in nature, Bremen is one of Europe's cycling capitals.
With an intelligent traffic management system, the city is doing everything possible to convert its motorists into cyclists. With about 700 km of bike lanes and an innovative "bicycle district" concept, why would you want to be stuck in a car?  
For local businesses, cargo bikes are an attractive alternative to vans. They negate the need for searching for parking spaces, there are no parking charges, and you can get around the town centre more quickly.
In 2021, a pilot project called "Wir satteln um aufs Lastenrad" (we're switching saddles to a cargo bike) was launched to help small businesses make the leap to cargo bikes.
Berlin, Germany
Staying in Germany, Berlin consistently ranks amongst the top cities for cycling, with bikes making up 13% of traffic.
It aims to become carbon neutral by 2050, which is why Berlin is looking to expand cycling and the use of cargo bikes. Companies such as DHL, DPD, Hermes, GLS and UPS are already using cargo bikes in the city.
Over the coming years, Berlin's cycling plan (Radverkehrplan) looks to increase its already impressive 1500km network of cycle paths to a whopping 3000km making it the perfect city for biking businesses.
Oslo, Norway
Oslo has something for every cyclist. It's a city that loves cycling, probably helped by the local authorities having devised a subsidy policy to encourage businesses and residents to use bicycles.
They've even gone so far as to close part of the city centre to types of transportation other than bikes. And a bit like Amsterdam is replacing more than 1,000 car parking spaces with parking lots for the two-wheelers.
Trondheim, Norway
Sticking with Norway, it's Trondheim's turn. Norway's third-largest city is so cycle-friendly that it even has its own (and the world's first) bicycle lift, the Trampe. Inspired by ski lifts, it has helped more than 220,000 cyclists climb the very steep Bbrubakken hill in the historical centre. By the way, if you think that's just the Norwegians being wimps, the climb is 426-foot-long with a 20% gradient!
This innovation makes the city a breeze for its micromobility fleets to negotiate.
Paris, France
Ah, beautiful Paris, one of Europe's most romantic cities and home to the iconic grand finale of the Tour de France. Granted, not a city that immediately appeals to the cyclists – we all know what French drivers are like! But it's getting there.
Between 2015 and 2020, over 150 million euros have been invested to improve the city's bicycle network opening new opportunities for local businesses to take to two wheels.
Paris aims to be carbon neutral by 2050. As part of that ambition, Plan Velo: Act 2 (updating the existing Plan Velo), part of the Paris Climate Plan, aims to make Paris a 100% bikeable city. The aim is, by 2026, to add over 180km of two-way cycling paths, which will create safer cycling pathways against car traffic on 390km of one-way streets, great news for micromobility fleets. The city also plans to configure traffic lights to benefit commuters and businesses who choose to bike or take public transit instead of driving.
Nantes, France
Keeping the French theme, our next stop is Nantes. Way ahead of Paris, it has 500km of cycling paths and its own public bike rental scheme, Bicloo.
Named a Green Capital in 2013 and Velo City in 2015, it's also home to the collective Boîtes à Vélo. In 2012, this group of 24 businesses (including plumbers, carpenters, and caterers) abandoned their white vans and started using cargo bikes to deliver goods and services.
Bordeaux, France
We're not done with France yet. This time. We're off to Bordeaux – the city of wine and cycling (although we don't advise you combine them).
The city is crisscrossed by 300km of cycling paths, making it easy to navigate for tourists. But what about businesses? Like most European cities, Bordeaux's roads are congested, making last-mile deliveries a real headache for many companies. That's why companies such as the logistics giant, Urb-it are switching to pedal power, using cargo bikes.
It also has a network of over 2,000 bikes – half of which are electric – across 184 docking stations. You can rent bikes for a few euros a week, so it's fast becoming the cheapest and greenest method of transport in the south-western French city.
Ghent, Belgium
Ghent is home to delicious waffles and luxurious chocolates. Thankfully, it's also extremely cycle-friendly.  
Cycle paths galore run through and around the city; more importantly, cyclists always have the right of way. This is highly attractive to the many businesses (including DHL) that use cargo bikes in the city.  
To go one step further, the micromobility company Dott is partnering with Dutch e-cargo bike-sharing company, BAQME, to launch a first-of-its-kind service in Ghent, offering a fleet of e-bikes and e-cargo bikes to riders across the Belgian city.
Budapest, Hungary
In recent years, cycling culture has flourished in Budapest, and with it, the use of cargo bikes.
Budapest-based Cargonomia acts as a sustainable urban transport centre and local organic food distribution point through its cargo-bike messenger service. Covering 27km2 of the city, it supplies more than 3,000 food boxes per year. They are joined by other companies, such as General Logistics Systems (LGS) and Hajtás Pajtás, that have adopted pedal power over petrol or diesel.  
For commuters, there are 200 km of bike lanes and paths and the city's bike share scheme. With 98 docking stations roughly a third of a mile apart, it makes seeing the sights a breeze by bike.
Prague, Czechia
Not wanting to be outdone by the Germans, Prague's been evolving into a cycling city since 2003.
Its cycling paths and lanes are improving, and, as a city, it aims to have a comprehensive network of over 1,000km.
When navigating historic Prague, there are three things you need to be aware of:
It's hilly
There are cobbled streets
It has numerous historic narrow alleys
In 2021, Prague opened the first electric cargo bike depot (identified as one of the three best projects in the 'Zero Pollution' category of Eurocities' Awards 2021). That's probably why seven logistics companies (including DHL and DPD) are now using cargo bikes to make deliveries.
Bern, Switzerland
In the heart of the Alps, Bern, the city of fountains, offers striking views, quaint countryside, and (more importantly) a well-developed cycling infrastructure – it's cycling heaven.
Whether you want to explore the city or head out into the countryside (and perhaps tackle a few climbs), it offers bike-friendly hotels, free tours, bike parking and bike rentals.
One of the best-known cycling routes is the Wankdorf route. It not only has a separate cycle track, but it also boasts a 'green wave' for cyclists riding at 20 km/h. What does that mean? Well, it's a cyclist's dream because the traffic lights are coordinated for cyclists, so if they ride at 20 km/h, they hit green lights all the way into the city in the morning rush hour (it's reversed in the afternoon). An interrupted route like this makes for easier and faster deliveries for cargo bike riders.
When it comes to Bern's business community, the rise of the cargo bike is steadily increasing. In fact, it's been welcomed with open arms. Unbelievably, in addition to goods and services being delivered by bicycle, Bern is also home to the 'Bestattervelo" – wait for it – an e-funeral bike with a semi-open top that protects the coffin from the elements without hiding it.
Ljubljana, Slovenia
You may not be all that familiar with Ljubljana, but it deserves a place on our list of cities with the best cycling infrastructure.
This cycling haven boasts 45 miles (73km) of cycle tracks and 83 miles (133km) of bicycle lanes. But it's not stopping there. Its centre is being redesigned to limit motorised traffic and prioritise walking, cycling, and cargo bikes. This will encourage local businesses to 'go green' by adopting a micromobility fleet of delivery bikers.
Luxembourg City, Luxembourg
Luxembourg's businesses are encouraged to ditch their vans and adopt cargo bikes. Local companies are being given the option to take part in a pilot project to test out cargo bikes as an alternative means of transport.
It also has about 600km of cycling routes and 700km of mountain bike trails, making it the ideal city to work and play on two wheels.  
Isn't it time you joined the two-wheel revolution?
We hope our list of 18 cities with the best-bicycling infrastructures has whetted your appetite to consider switching your current four-wheeled transport to a micromobility fleet. More and more countries are reviewing their cities to find new ways to reduce emissions and congestion and improve air quality. Making them cargo bike-friendly is a great start.
By the way, you might want to check out the Copenhagenize Index. Published bi-annually, it lists the top 20 bicycle-friendly cities on Earth. We've already looked at some of them, but there are also a few others on there that might surprise you.
Happy pedalling!
COMMERCIAL FLEET INSURANCE FOR CITY CYCLING
Our insurance will keep your business on the road, no matter what life throws at you.