Still thinking of ways to entertain the kids this half-term? The break from school is a great way to get back on the bike, spend a day getting active and enjoy life on two wheels! Whether your child is a cycling novice or the next Chris Froome, here are Laka's Top 5 cycling activities for the half-term:
1. Visit a bike park or trail centre
Getting to a bike park over half-term is a brilliant way to engage your children in cycling. A good bike park will have a range of trails for all abilities, leaving you free to enjoy cycling in a traffic-free environment. You needn't be a downhill-specialist or back-flipping free rider to enjoy a bike park.
Here are just a few tried and tested bike parks across the UK:
If the weather is looking nasty, an indoor bike park is a great way to hone your skills whilst keeping dry. Dirt Factory Manchester has stacks of exciting trails and features for riders of all ages and abilities. You can also hire bikes, so even if you're trying mountain biking for the first time you can get a taste of riding off-road without having to invest in a bike!
2. Hop on Zwift
Zwift, the virtual cycling game, has taken the cycling world by storm and for under-16s the platform is completely free! Simply submit a consent request form which you can find here.
It works by hooking an indoor turbo trainer up to a computer. Then the speed you cycle at is replicated by your in-game avatar.
All you need to get started is a bicycle, turbo trainer and a device that supports Zwift. Check out Zwift's FAQ for getting set up.
Once you've joined, you can link up with Geraint Thomas, ride up Alpe d'Huez or race others from around the world, all from your living room.
The game adds extra incentive to staying active, especially if the weather's miserable outside.
3. Go car-free
Declare a car-free week and get on a cargo bike regardless of the weather. A cargo bike is the most versatile way to get around town, avoid traffic and keep an eye on the kids whilst you pedal around town.
With carryme, you can even hire a cargo bike for the week. This is a great way to test out whether a cargo bike might be a good option for you. Take a step towards a greener carbon footprint and look super cool dropping the kids off!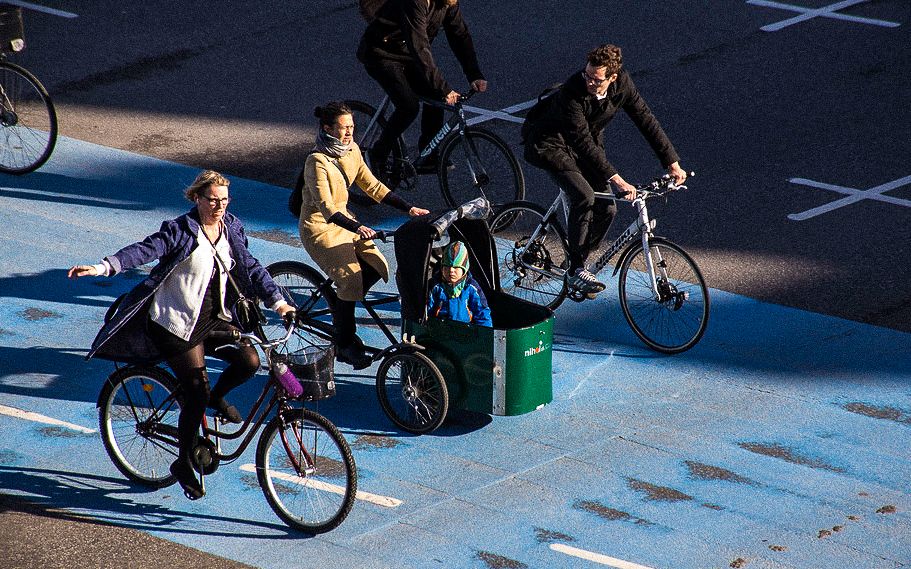 4. Learn to ride or improve your skills
Learning to ride a bicycle is a great way to spend half-term. Or if your child can already cycle, then a set of cones and some imagination is a great way to improve your skills. Best to get down to your local park where the landing is a bit softer!
Alternatively you can send your kids to a holiday activity camp if you find yourself working over half-term. The British Cycling Go-Ride initiative holds holiday camps across the country to offer fun cycle coaching for kids and young riders.
5. Cycle maintenance & repair workshop
Being able to change a tube is a fun and useful skill for any cyclist! Introducing children to bicycle maintenance is a brilliant way to engage their technical brains with repairs and hands-on mechanics.
There are also various maintenance courses that you can sign up to, for more specific learning which can be found by a quick search online.
Getting your child a bicycle
Making sure your child has a suitable bike will help them have the most fun whilst out on the bicycle. Getting a bike from a well-recognised brand will give you peace of mind in knowing that the machine is good.
Top choices for children's bikes are Islabikes, Frog and Specialized. You can also pick up great kids bikes second-hand, where there is usually a quick turnover meaning they are usually in great condition.
Looking after your child's bicycle
Keeping your bike clean and well oiled will help your child enjoy riding much more. Well-inflated tires and a smooth drivetrain are the simple must-dos for maintaining any bike. Check out our guide on protecting your bicycle from damage.
Join us...
For the ultimate peace of mind, insure your child's bike. Despite having to be over 18 to have a Laka policy, adults are able to insure kids bikes on their behalf. The only requirement is that you live in the same household and are registered to the same address.