With a win at the opening stage of the Tour de Yorkshire in 2018 and finishing second in the Commonwealth Games individual time trial, Harry Tanfield is only just getting started.
The 23-year old British Cyclist is racing into 2019 on his very first UCI World Tour, as part of the Katusha-Alpecin team. Going into his first year as a professional cyclist, he kicked off his cycling season in Valencia by taking home a white jersey to add to his growing collection.
We caught up with Tanfield to chat about the preparation leading up to his first World Tour race, the opening weekend of Omloop Het Nieuwsblad and Kuurne-Brussels-Kuurne in Belgium.
Let's roll… (no pun intended)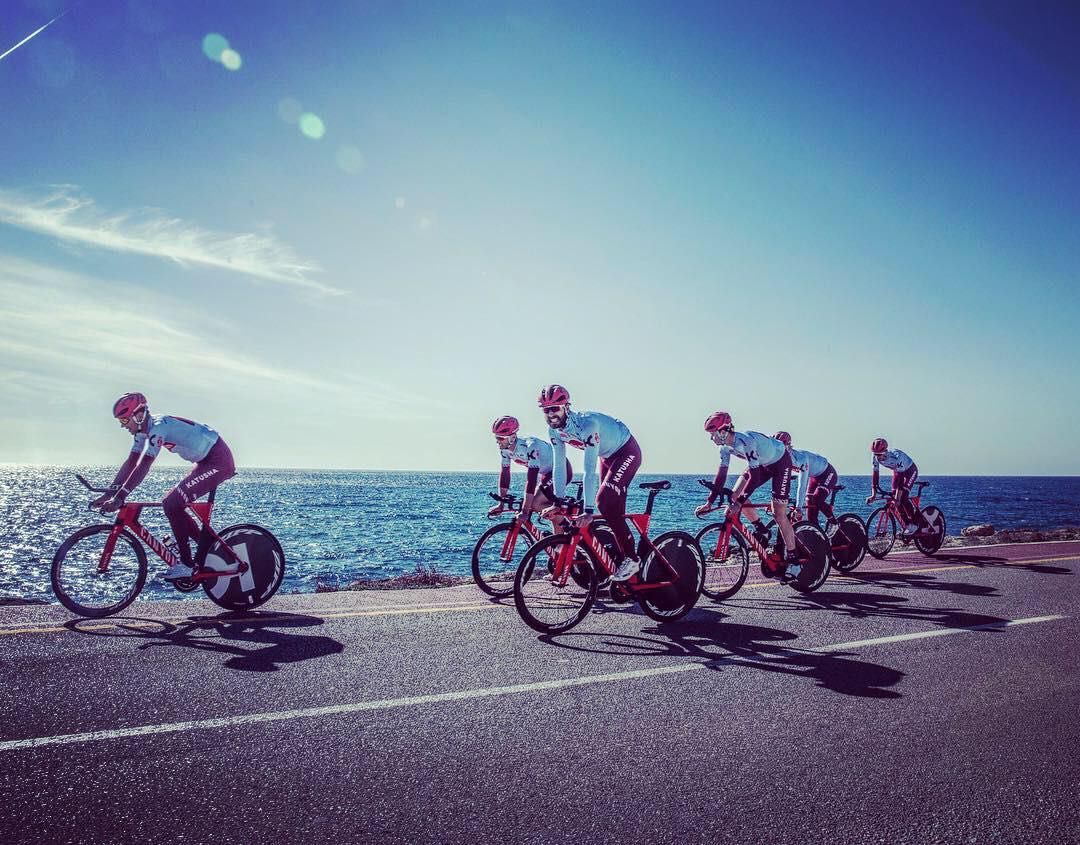 Laka: It's been an exciting start to the year for you, how has cycling changed for you in 2019?
Tanfield: I'm new to the Katusha-Alpecin team this year, and since starting on 1st January I've already had two training camps and a few training races so it's been a busy but exciting time. My first proper race with the team was the Mallorca Challenge, so I had two days there, followed by the Volta a la Comunitat Valenciana. Valencia was great, I got a white jersey on day one! It was an interesting race, it felt like my first real opportunity to get used to riding at a World Tour level. There was definitely an element of shock to see the level these riders are at and to know how far away you are from that.
Laka: What was the biggest difference for you?
Tanfield: It's a real difference on the climbing and mountain stages. Previously, I would never have put myself in a position to do a race like this because I know it's not where my strengths lie. Whereas now with the stage races, these can last 5 or 6 days and the terrain can differ from day to day. You might have some hill days and other flat days, but you need to be able to survive those hill days and still be fit enough to do the flat days and TT's.
When it comes to the World Tour it's less about specialising, and more about the need to have a real all-round high watts per kilo threshold in order to successfully get around the races. You can't think this isn't my course so I don't have to train for it – which is what I've been doing for the past two years, just avoiding it really.  
"I would never have even contemplated racing a bike at this point last year, it's just such a different experience."
Laka: Have you had to change your training and approach?
Tanfield: Not really, I haven't had to change anything but I know going forward I'll need to start my pre-season training earlier. The race I did in Valencia, for example, it would have been a lot easier for me if I had done it in in May. Last year I was riding track in January and only started road training in February. My first race was in mid-March and I started riding races more regularly end of March into April. I had a different approach last year as my main goal was the Commonwealth Games, so I kept my training focused on that and my fitness level wasn't at its highest until after April.
Now with the World Tour, everyone is on such a high level from the beginning of February. I mean I would never have even contemplated racing a bike at this point last year, it's just such a different experience. Last year if I wasn't in great shape and turned up to a race, I would have still managed to get around, but now the level is so high that would never be possible. There is no hiding yourself in a World Tour. If I'm not at my highest level of power, I know I'll have to look at the race as a training opportunity, and just try my best to survive it. It's difficult to initially get in that headspace mentally but eventually, it's going to make you stronger. I know that I have a lot of hard work ahead of me, but I'm excited for the challenge.
"It's going to be crazy, but it'll be interesting to see what happens."
Laka: Do you think that level of conditioning and building of power will adapt for you in seasons going forward?
Tanfield: It comes relatively quickly. After Valencia, I had two solid weeks of training and I feel so much stronger after that. My power is already at a higher level across the board; my endurance, resilience, fatigue and tolerance have all improved. You can't ask your body to put 40 watts on its threshold and to lose 5 kilos in 10 days, you can't even do it in a month. You need 3-4 months; it's about the long-term picture so it all just takes time.
Laka: Are you still mixing up track and road training?
Tanfield: I stopped doing track training at the end of November. I had a week off the bike after Canada and then started training for the Track World Cup in Berlin, but I was also doing a lot of road training at the time. After taking part in Berlin, I stopped riding track and went straight into a 10-day training camp in December. I actually tried to race track a day after that finished but it was awful.
Laka: How are you feeling ahead of this weekend?
Tanfield: First World Tour race! I feel a lot better than I did before doing Valencia, but then again the level of the race now is even higher. Valencia was only a 2.1 race and this is World Tour level, so I don't really know what to expect. I've only ever ridden 1.1 races during pre-season. It's going to be crazy, but it'll be interesting to see what happens.
I'm going to try my best and give it my all, there's nothing more I can do than that. I'll definitely try and stay in the race as long as I possibly can, I don't expect to finish but I will try to get as far as possible. I've also got Kuurne the day after, which is slightly flatter and more favourable for me. I just hope I'm not going to be completely in a box after Omloop!
"I would love to be in the team for Roubaix, that would be the big goal."
Laka: Do you feel like you're going to save a little bit of power for Kuurne, or do you want to try and get yourself around both as best as you can?
Tanfield: It's only two days back to back. A lot of people who race Kuurne will also be racing Omloop the day before. The riders who win these races, they're doing 6 hours' flat out and then doing a race the day after. If they can do that then that's what I need to try and aspire to as well.
Laka: Are you feeling more excited than anything else?
Tanfield: Definitely, it's my first World Tour! We did the pre-race ride today and the forecast for tomorrow is 1-2 degrees higher, so it will probably be a bit chilly and cloudy. The forecast for Kuurne looks pretty awful so I don't know what I'm going to do about that. I've been riding in Spain since January so I've had 20-degree weather the whole time. A lot of these riders though have come from training in Oman or the Algarve, so everyone seems to be in the same boat.
Laka: What's the dream race for you?
Tanfield: I would love to be in the team for Roubaix, that would be the big goal. I mean it's already a big goal but I'm working as hard as I can at the moment, and my weight has come down a little in the last two weeks which helps. I've got another two weeks of training before I start with the races end of March so hopefully, I can improve my shape before then. But first Omloop!
The journey continues. Discover the aftermath of Harry's first World Tour Race. Read part 2 now.