It's time to check in with Harry Tanfield following the opening weekend of Omloop Het Nieuwsblad and Kuurne-Brussels-Kuurne in Belgium. Having taken part in his first World Tour race, Tanfield shares his experience, state of mind and the lessons he took away from the road...
Laka: Harry how did you get on?
Tanfield: It was pretty shocking most of the weekend. I was just slap bang average; I was not in good shape. It was two good days of training, but I'd definitely done more power in my training sessions. It's just such a different way of applying power being in a bunch. I wasn't expecting to get around the whole race, but I thought I'd last longer than I did.
Laka: Did you feel a big pace change on a World Tour race?
Tanfield: No, not really. It was just one of those things, there came a point when I realised I'm shutting down now, my legs are shutting down. There wasn't much I could do. The problem with these races is that when you're in the back, it's just such a fight. At Omloop, the first hour was really chilled but then it started to pick up and we raced for three and a half hours before I was dropped. When I got dropped, I was riding at a pace which I would usually apply and hold for a four-hour race. I just wasn't in good shape so I could only hold it for two and a half hours.
Laka: How was it being in the bunch?
Tanfield: Sketchy, dangerous, terrifying. I've just been crashing so much recently that every time I saw someone flying over the handlebars or going into a ditch on the side of the road, I'd get so nervous. I just don't want to crash.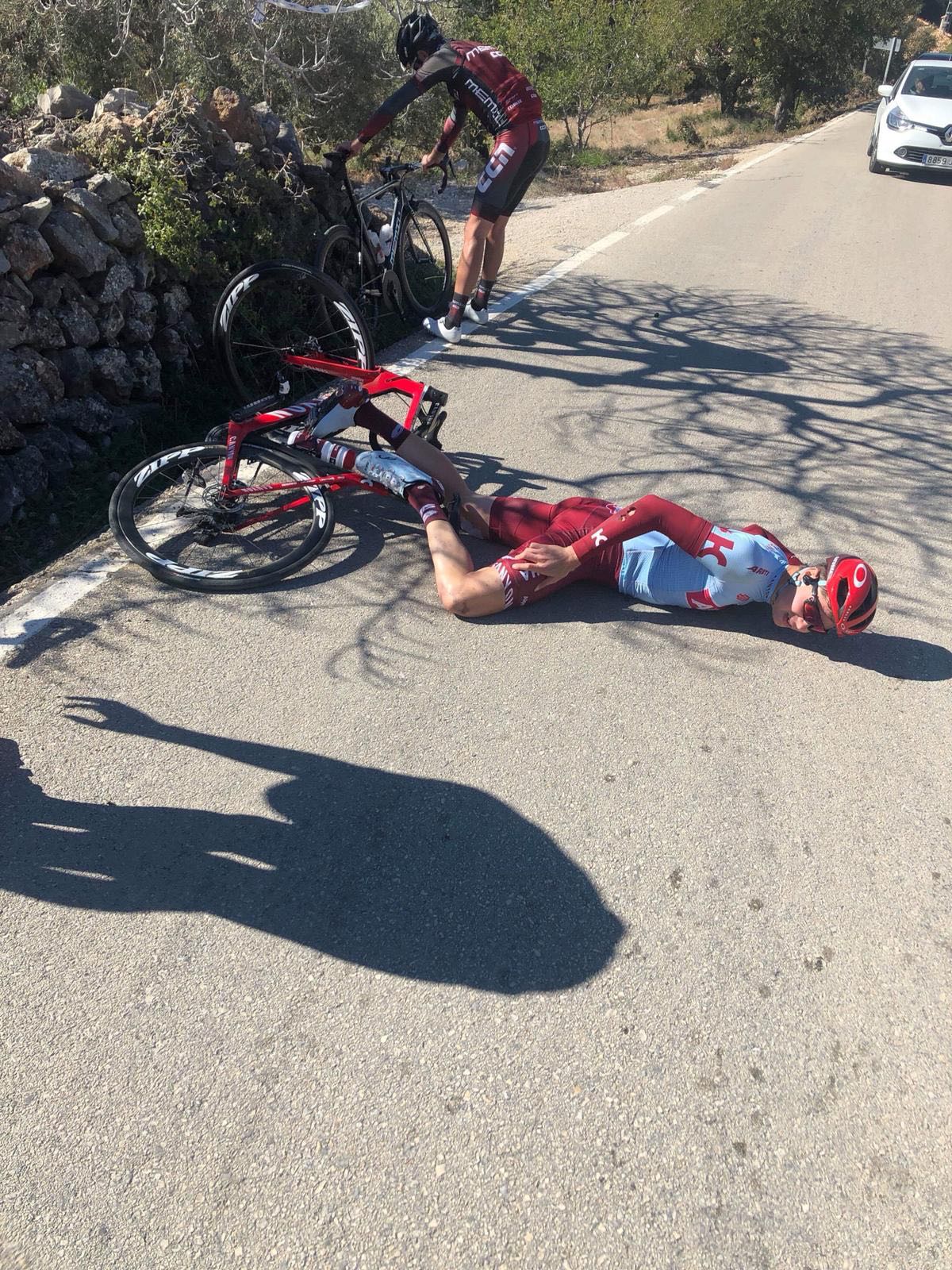 Laka: I don't think anyone wants to crash...
Tanfield: No but riders don't think about that, it's just not a concern and usually I don't think about it either. It's just one of those things and I was overthinking it way too much.
I was riding close to Nils Politt and doing my job, but 100K into the race is when the bike race really starts, and you think to yourself well I've just spent quite a bit of time riding up and down the peloton for no reason. That's the job though, and if you have to get off at 330K then you have to get off. You obviously want to try and last as long as possible and do your job but there's so much going on. When I dropped out, it wasn't just that I had lost the pace but also because I was naturally in the back. It's already a fight to stay at the front of the bunch, but then there's other elements to overcome such as positioning, line ups, being held up by the odd crash, people stopping to walk their bikes. If the riders at the front are at 500 or 600 watts in the crosswind, and you have a 40-man peloton followed by 80 men grovelling the gutter, people are going to start to drop.
They're riding so fast at the front that you need to ride 700 watts to keep up, but the roads cannot hold that number of riders so when they go full power... You know if someone like Tom Bohli, who would never be at the back, suddenly found himself there, he would be dropped because the fight to get to that front position is so intense. You're not fighting for the win; you're fighting to stay in and survive. It's difficult because you lose that motivation to take the risks.
"No matter how much I want to try and be in that top 30, I can't get there at this point so it's done for me. That's how it works."
Laka: Do you feel then that the fight to get to the front is half the battle?
Tanfield: No, that is the whole battle. That is the battle I'm facing because if you've got riders that are all fitter than you, then they can fight harder than you. They're in a position to have a better handle on the bike and to make better decision than you are.
Laka: Are you all talking to each other in that situation?
Tanfield: Not between riders but I do talk with Nils and the team. I was trying to move around the peloton at the start but when it got to around 100K, I was already near the back. For Nils, he knows that if he's not in that top 30, he isn't going to be in the bike race after 20K so he is fighting to stay in that top 30. No matter how much I want to try and be in that top 30, I can't get there at this point so it's done for me. That's how it works.
The riders up front know when there's a climb and crosswinds coming up, even after 30K, they know there's a hard section coming up and they just line it. Those 5 or 6 men riding at the front at 500 watts know that peloton is getting strung out. It won't split or cause any issues, but it's going to tire other riders out. It feels like you can never really relax because you need to always be at the front and fighting.
"I know what it's about now, the fight to stay in."
Laka: How did you find Kuurne? Was it any different?
Tanfield: Kuurne had less bergs but it was raining at the start so the course was wet and there was a lot of wind. The whole course was basically tail cross out and then cross head back so I was also nervous because of the shape, and knowing that people would again be fighting for that position. We knew there were crosswinds so you had to save energy and be at the front. There was no breakaway when I went, we literally raced straight full power for 70K then had a little breakaway but that was picked up again at 95K. From 95-110K onwards there was a crucial climb and cobbles where you had to be in a good position or you'd be out of the race, so again the fight was on. Riders can only relax for so long, because of those crucial sections coming up.
For Kuurne, I wasn't dropped or maxed out that day, I just sort of gave up the fight. After three hours, I just lost my motivation. I knew my legs were hurting so I knew I'd be getting dropped in the next 10K. I was going all out to get around the loop and I thought to myself I have nothing to lose so I still rode on at 350 watts, just cruising into the Kwaremont. There was a headwind there so I lost a bit of time on the group but I could see riders dropping out the back as they started to climb. People had dug in real deep from the Kruisberg, where it was 3K crosswind and downhill and quite technical, so by the time they arrived at the Kwaremont they were maxed out. I rode on and did the Kwaremont, not flat out but at a hard pace, and by the time I got to the top I was in with a group of riders like Rory Sutherland. And that was it, race done for me.
"It sounds a little crude but my ambition is to be better than average."
Laka: What's next for you?
Tanfield: I went to Spain for 4 days training straight after that opening weekend and I've got training tomorrow. I'll do 3-4 hours training every morning and then travel to Scotland and back, travel from home to Cambridge, and the next day from Cambridge back to Spain for 6 days.
Laka: Are there any upcoming races which you're particularly looking forward to? What's the dream race for you?
Tanfield: The next race is on 20th March and from then on it will literally be day on day off, starting with Danilith Nokere Koerse and Bredene Koksijde Classic. We'll have a team of riders rotating to do set races around that. But April is when the proper ones start like the Tour of Flanders and Paris-Roubaix.
Laka: What's your takeaway lesson from your first World Tour race?
Tanfield: I know what it's about now, the fight to stay in. At the moment, I'm in the bottom 20 of the peloton and I need to at least be in the top 50% in order to survive the race. In these races, only about 50% of the people actually get around. It sounds a little crude but my ambition is to be better than average. Currently I'm so far below average I can't even get around, at least if I'm average I can finish the race!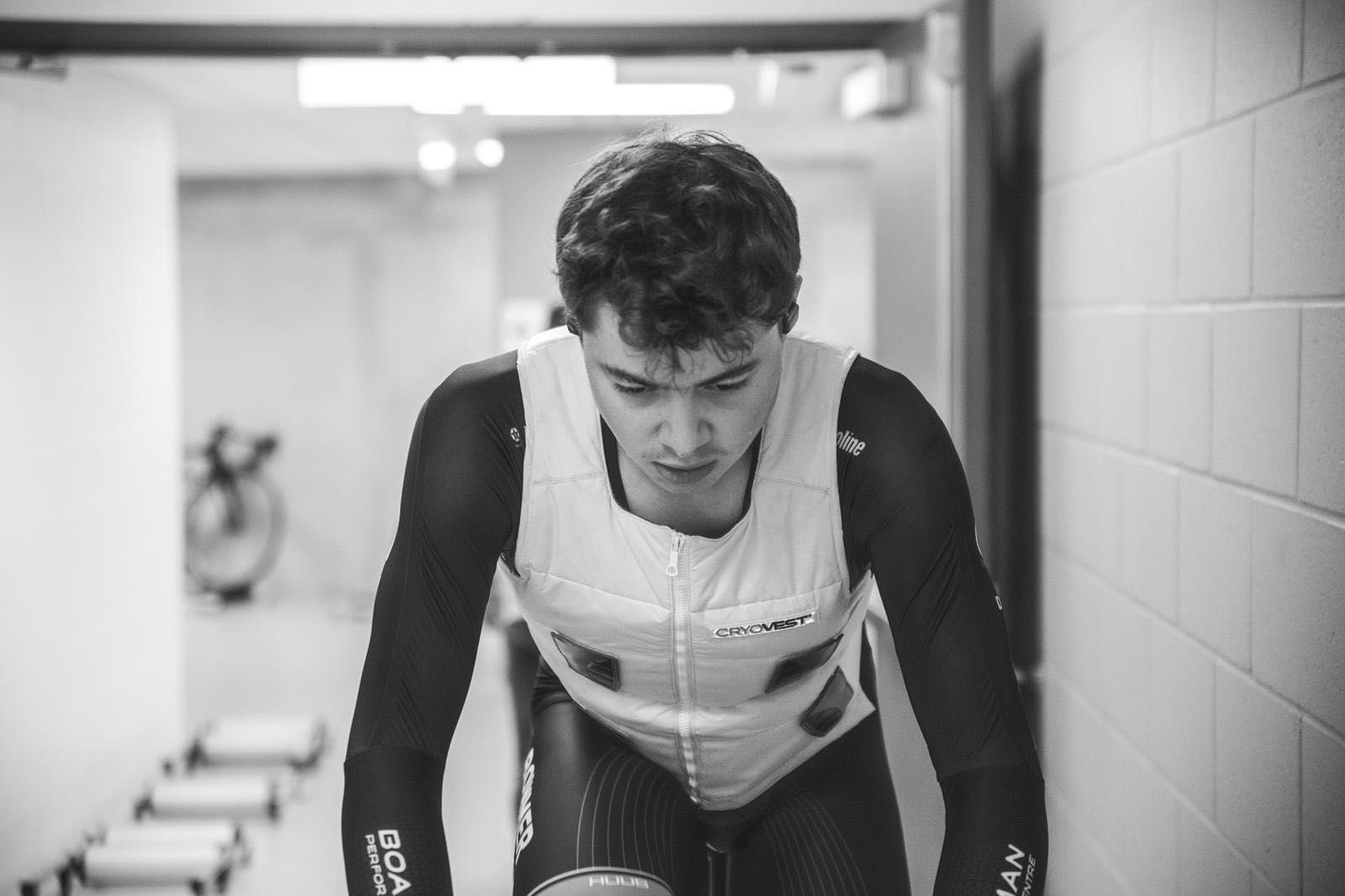 If you tend to crash like Harry has recently, get yourself insured with Laka! Find out more here.