Wondering what to get a cyclist this Christmas? Give a thoughtful something for them, their bike or their home – pop one of these surprises under your tree and be their favourite gift-giver this year.
1-Tour de France poster
What do you buy to someone who loves endurance road racing?An A2 or A3 poster celebrating the Tour de France – sketched by Rob at The English Cyclist, printed on top quality satin photo paper. The History of Tour Winners Jerseys shows all 155 Jerseys ever worn, taking you from Maurice Garin's garment in 1903 all the way to Geraint Thomas' top in 2018. Anquetil, Merckx, Indurain, Froome, Thomas – they're all here.
Want to add another jersey or a message on the bottom? Just ask. And you don't even have to pay for UK postage, leaving you a few bobs to spend on a black frame for the perfect present.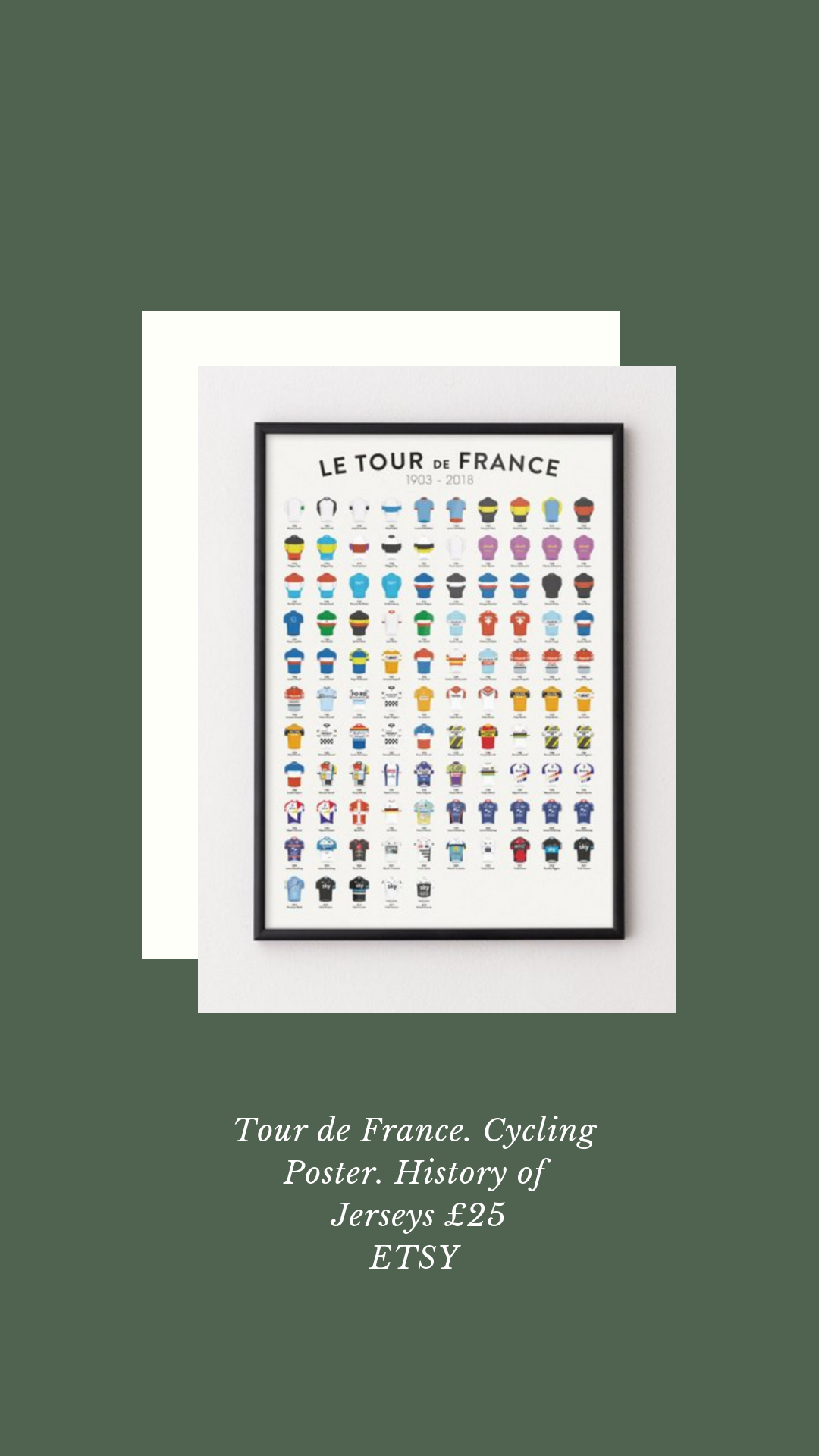 Price: £25
https://englishcyclist.com/
2-Bamboo bicycle decorations
Know someone who always has bikes on the brain? Get them four bamboo ones to hang up with copper wire at home – in the kid's bedroom or home office, on kitchen cupboards or the Christmas tree. They're probably the size of your hand, measuring 6cm by 4cm. You could paint them for a personal touch or keep them natural and looking great with any décor. They're much cheaper than the look, less than £3 each, laser cut and engraved from sustainable wood by artists at Surrey's independent workshop, Oakdene Designs.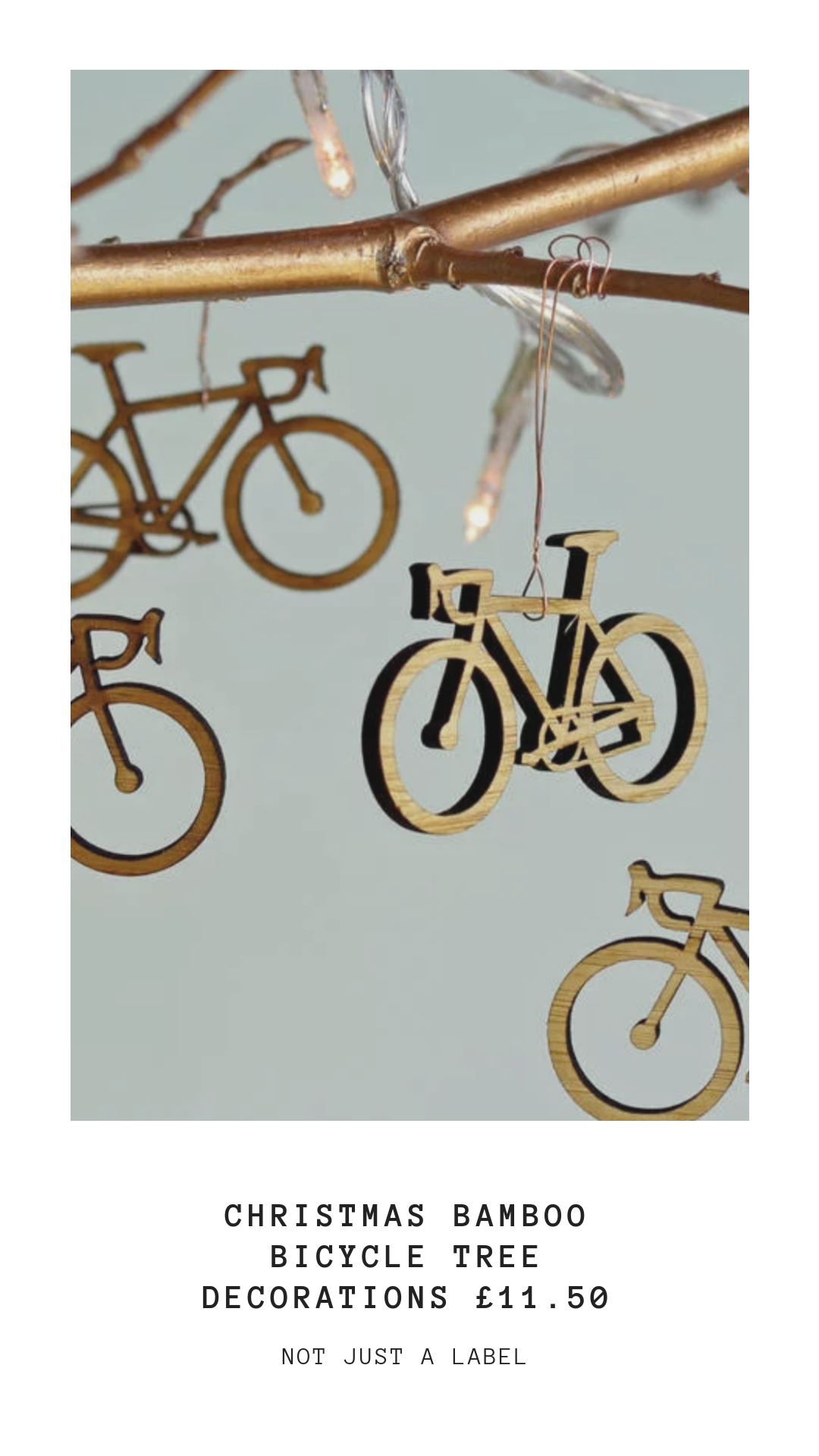 Price: £11.50
https://www.oakdenedesigns.com/products/christmas-bamboo-bicycle-tree-decorations
3-Men's socks gift box
The best Christmas presents are fun but practical – and presented in a box which looks like the Tour de France's yellow jersey. Give the cycling madman in your life four pairs of soft bamboo and organic cotton socks he can pull up to his ankle. A green pair and a denim blue pair with yellow cyclists on, a yellow pair and earth red pair with blue riders on. Get him large if his feet are UK size 7 to 10 or extra large if he's size 11 to 14. Unlike other socks you could stuff in his stocking, these help people who suffer from athletes' foot - keeping his feet in best possible condition, ready to stomp on his pedals.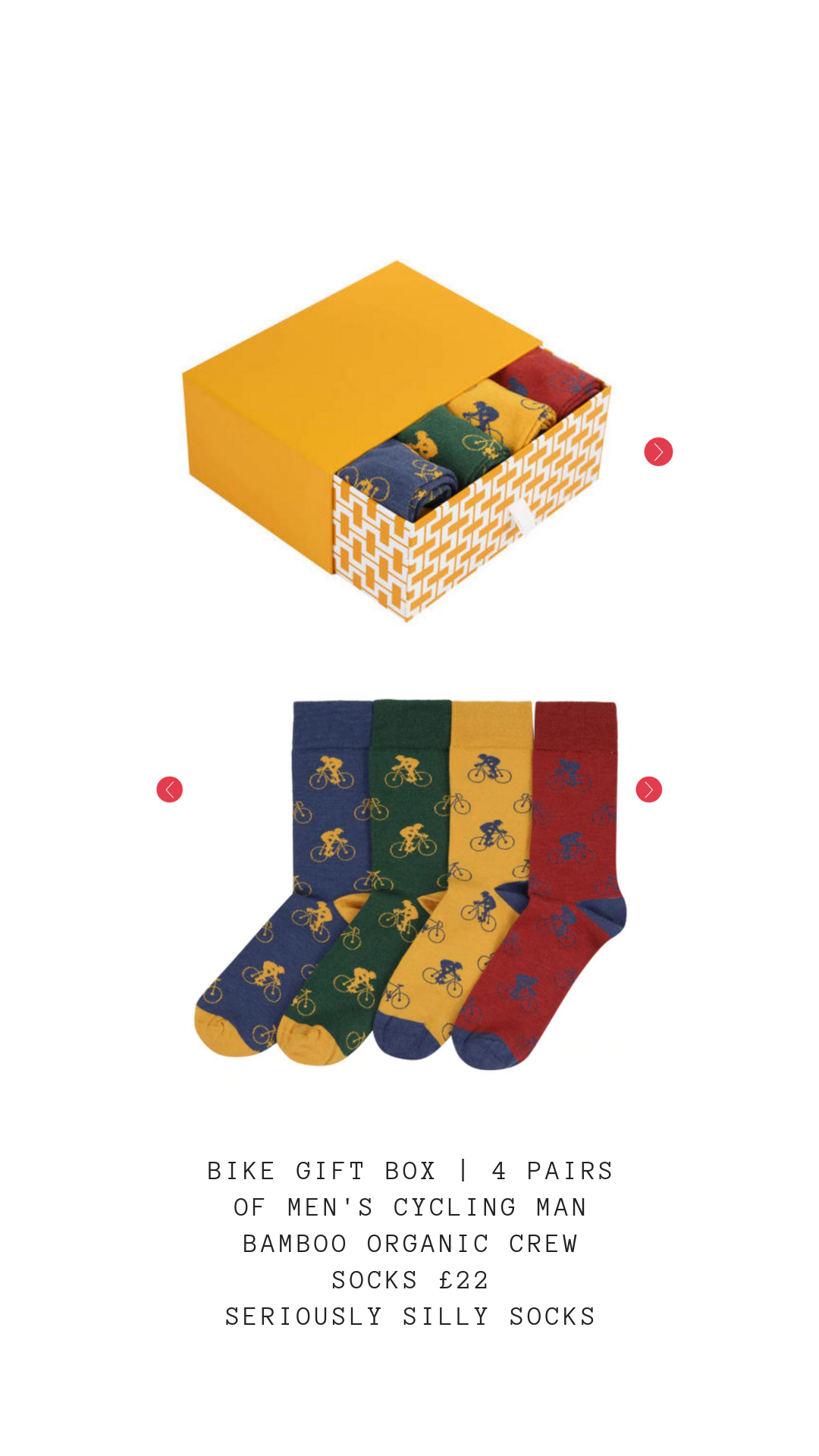 Price: £22
https://www.seriouslysillysocks.com/
4-Epic Bike Rides of the World book
Show them the world this Christmas. Specifically, the 200 best roads to bike on the American, Asian and Australian continents – with a first edition copy of Lonely Planet's hardback book, Epic Bike Rides of the World. You'll be giving a strong dose of inspiration with fifty stories and everything an experienced or novice cyclist needs to plan the ultimate ride. Advice on where to start, finish and stay. Full-page photos, illustrations and maps. Whether they trundle Ecuador's Natchez Trace Parkway or go mountain biking in Tasmania, they'll forever have you to thank for the memories and the ideas.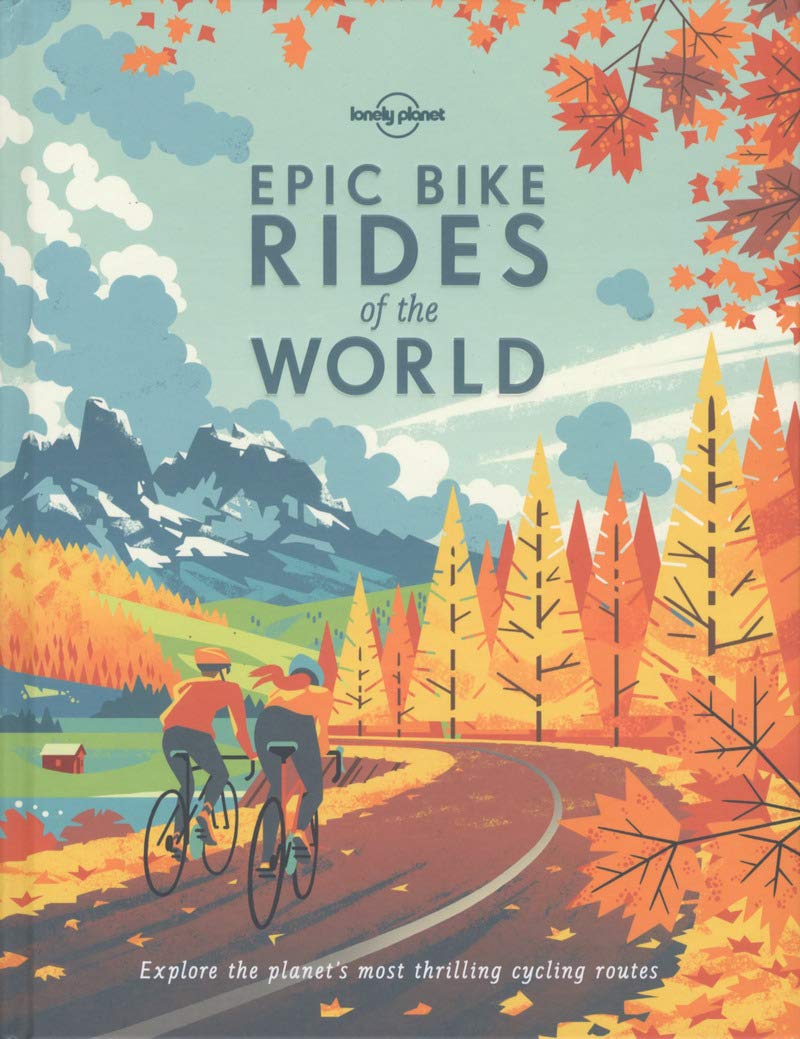 Price: £24.99
https://shop.lonelyplanet.com/products/epic-bike-rides-of-the-world-1
5-Lefrik biker bag
Know a commuter who cycles to work? Bag them the best Christmas present – a light Lefrik biker bag in night blue, black or olive. Tell them to clip it to the saddle of any bike, using the straps for the handle, rear rack and top tube. You'll save them the hassle of wearing a backpack, making rides comfier. And you'll help save the planet too. See, clever Spanish designers created this bag from recycled plastic bottles, making it rainproof and vegan. Zip small surprises inside the mesh pocket for an extra thoughtful gift. And remove the cooler pocket from the main compartment if you like.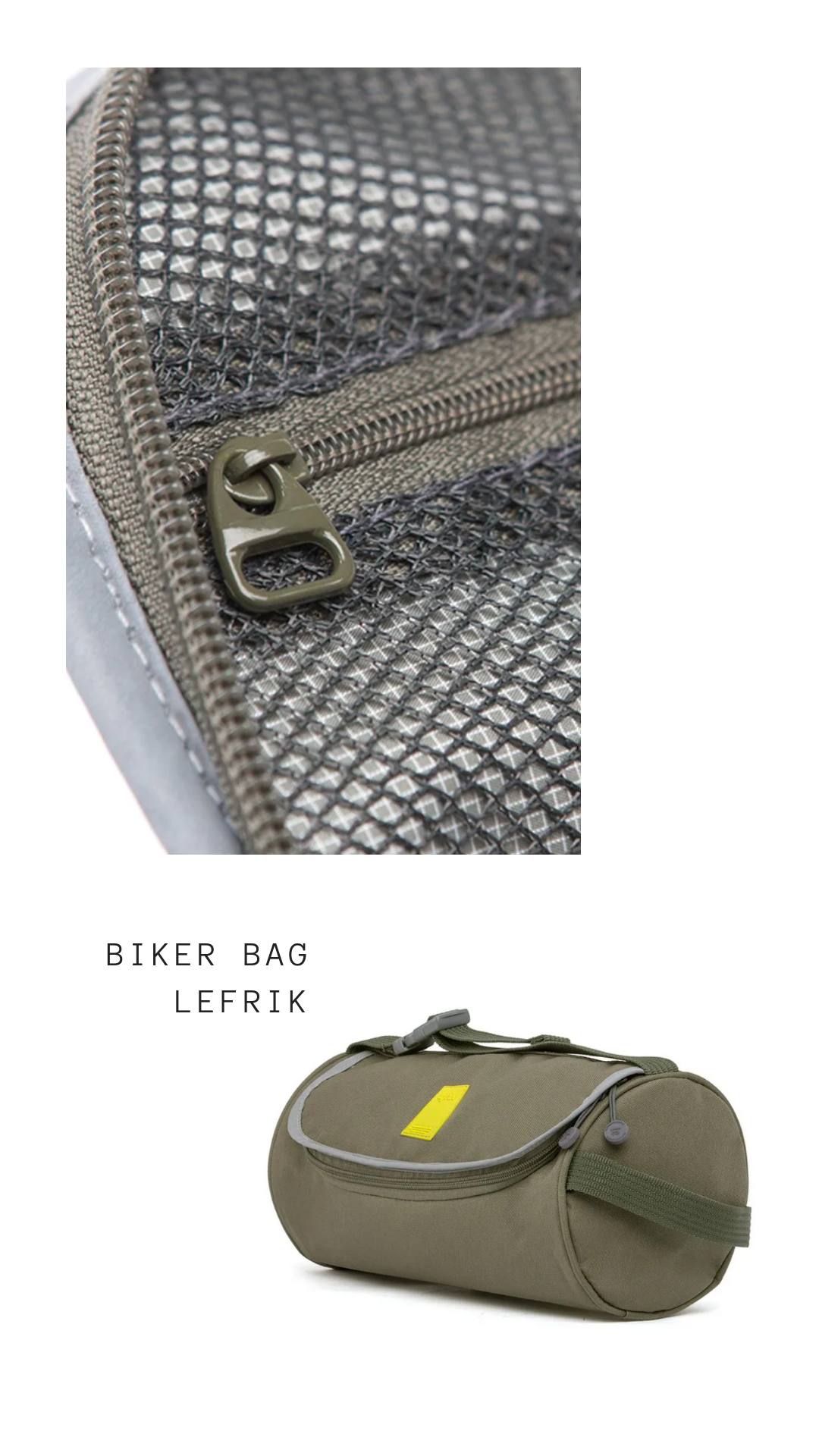 Price: £36
https://www.lefrik.com/
6-The People's Poncho
Hate hearing your cyclist complain about the rain? Let them unwrap The People's Poncho this Christmas and make sure they're never soaked by a surprise downpour again. You can pour an incredible amount of water (a full 12 metres) on it before a drop seeps through the red or navy, black or yellow Japanese polyester. Tell you are lucky recipient to hook your poncho to their handlebars to keep their legs covered, zip keys and valuables in the front pocket, and make sleeves using three poppers on each arm. Relax. The waistband stops it flapping dangerously when you ride. Plus, you'll help drivers see them with two reflective panels and high-vis piping around the entire poncho.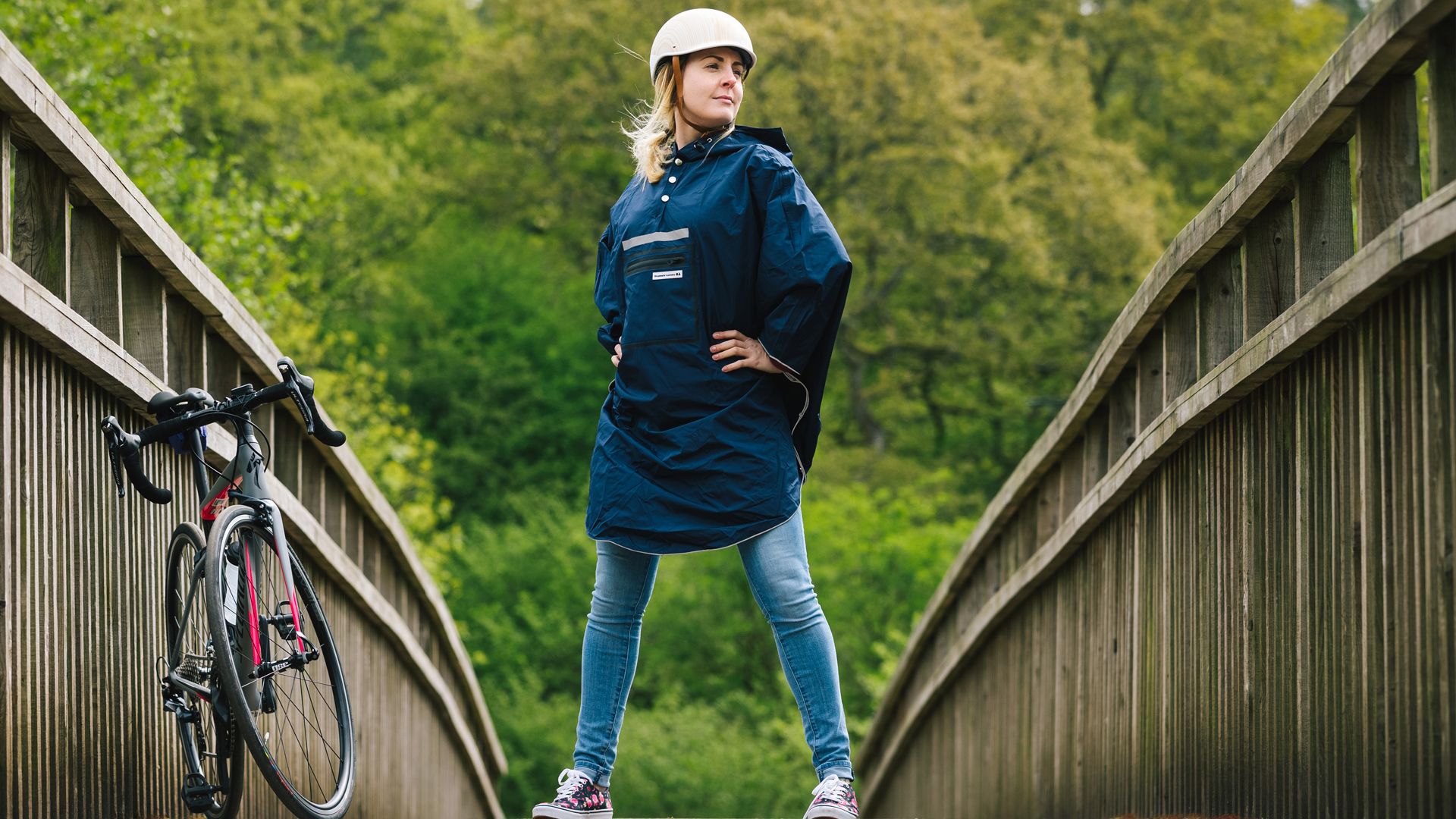 Price: £65
https://www.thepeoplesponcho.co.uk/
7-Carabiner Neatcleats
Know which cycling shoes your biker wears? Look KEO, Speedplay or Time RXS? Crank Brothers, Shimano SPD or Shimano SPD SL? Well then, buy Carabiner Neat Cleats to help keep their pair tidy, together and ready for action. Clip shoes together, sole to sole, in the Neatcleats and use the carabiner clip to hang them somewhere convenient where you're less likely to scuff, trip over or lose them. Attach them to your bike saddle or rear rack, hook them to your bag or the back of your door. And if you're feeling particularly generous this Christmas, pay an extra £19 to personalise your Carabiner Neatcleats with a logo and message or name – you have two lines of fifteen characters to play with.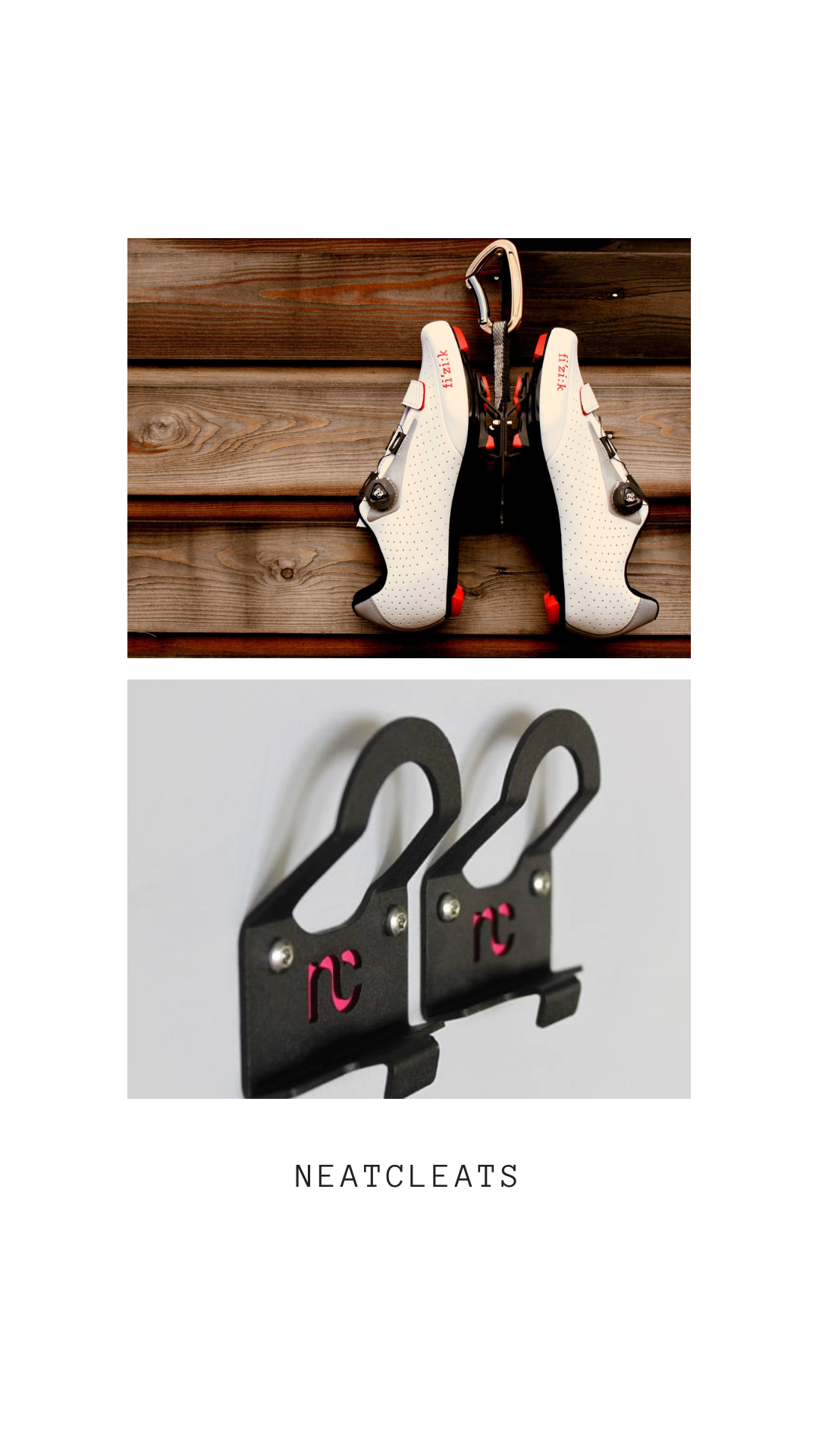 Price: £23.29
http://neatcleats.cc/
8-Bike beer bottle holder
Motivate them to finish their ride in record time and make your lucky recipient the most popular cyclist at the club. How? Give this brown leather bottle holder for Christmas. Pale ales, IPAs, stouts, hoppy Belgian beers – whatever their tipple of choice, you've found a way for them to carry six bottles on their bike frame, not swinging dangerously from their handlebars or rear rack.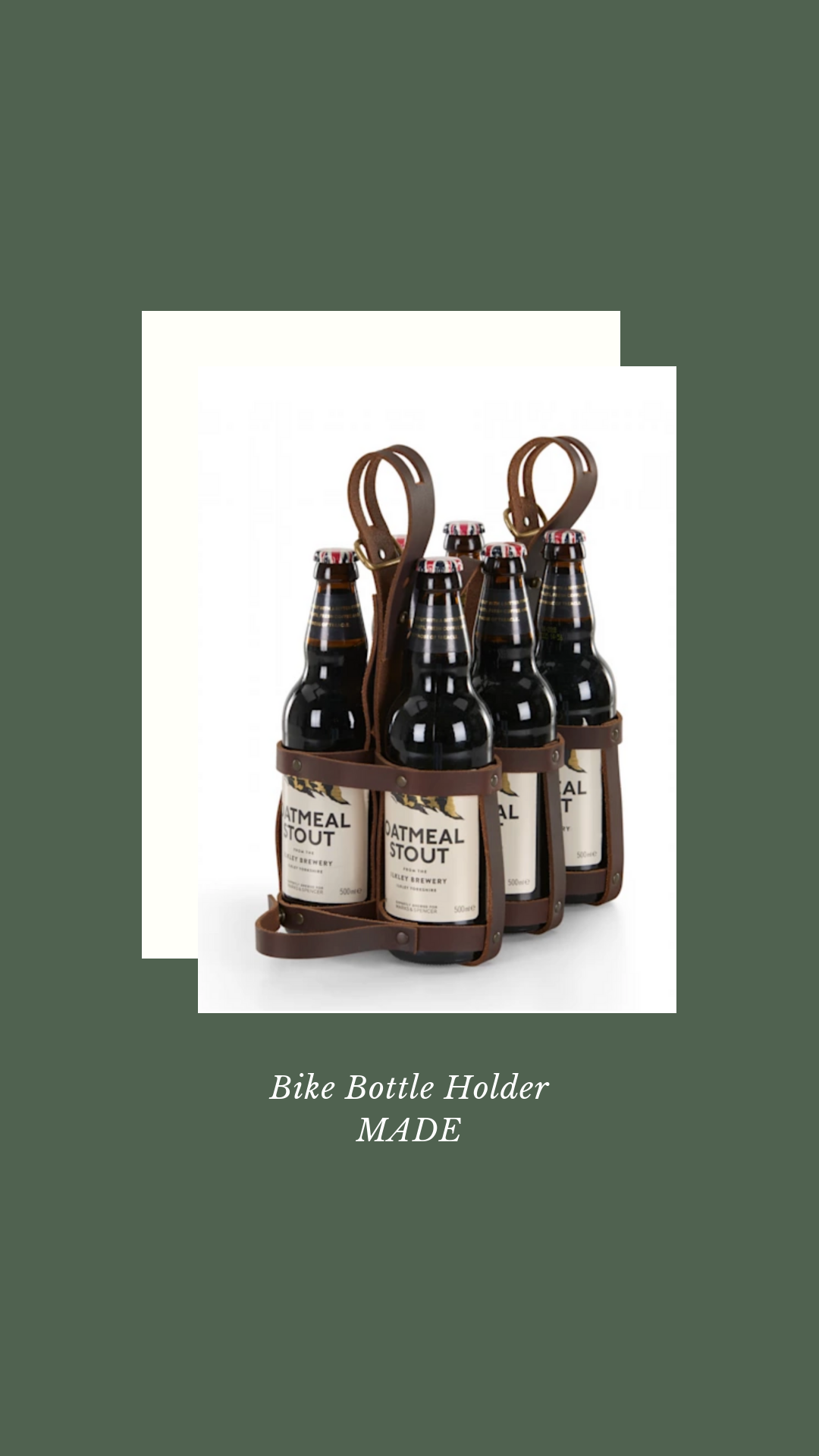 Price: £39
https://www.made.com/
9-Leopard print cycling undies
Know your cyclist more intimately? Treat her to fierce sports underwear she'll feel sexy and ' especially comfy wearing on her bike – a pair of leopard print LPRDs with a softly padded chamois to make the saddle less punishing. Hipster undies for short to medium rides, hot pants for medium to long-distance adventures – in sizes ranging from extra small to extra large. You can wash them without them going bobbly and wear them under jeans, skirts or shorts. However, she likes.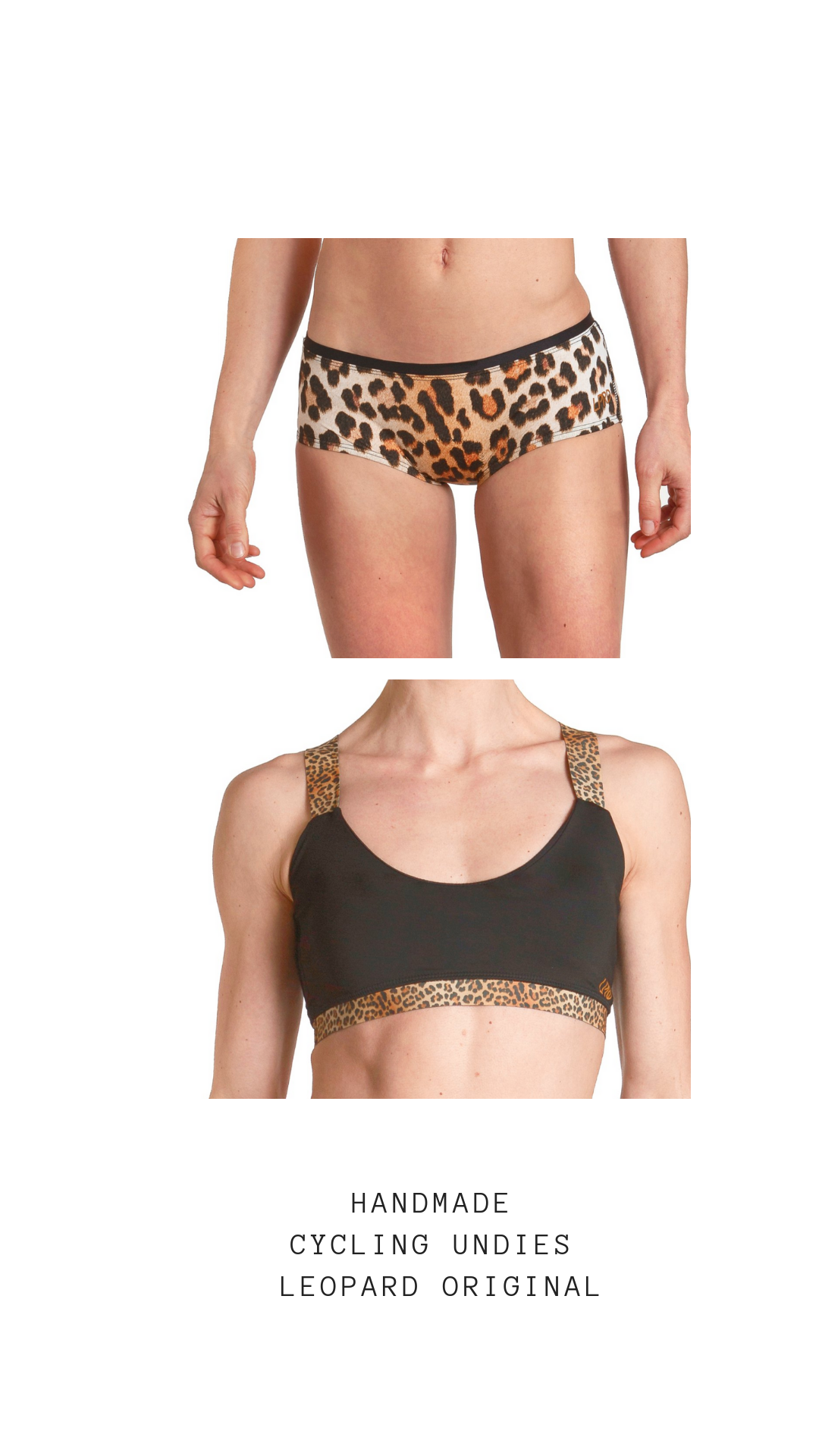 Price: From £53.00
https://lprd.design/
10-Wiggins cycling tribute chocolate bar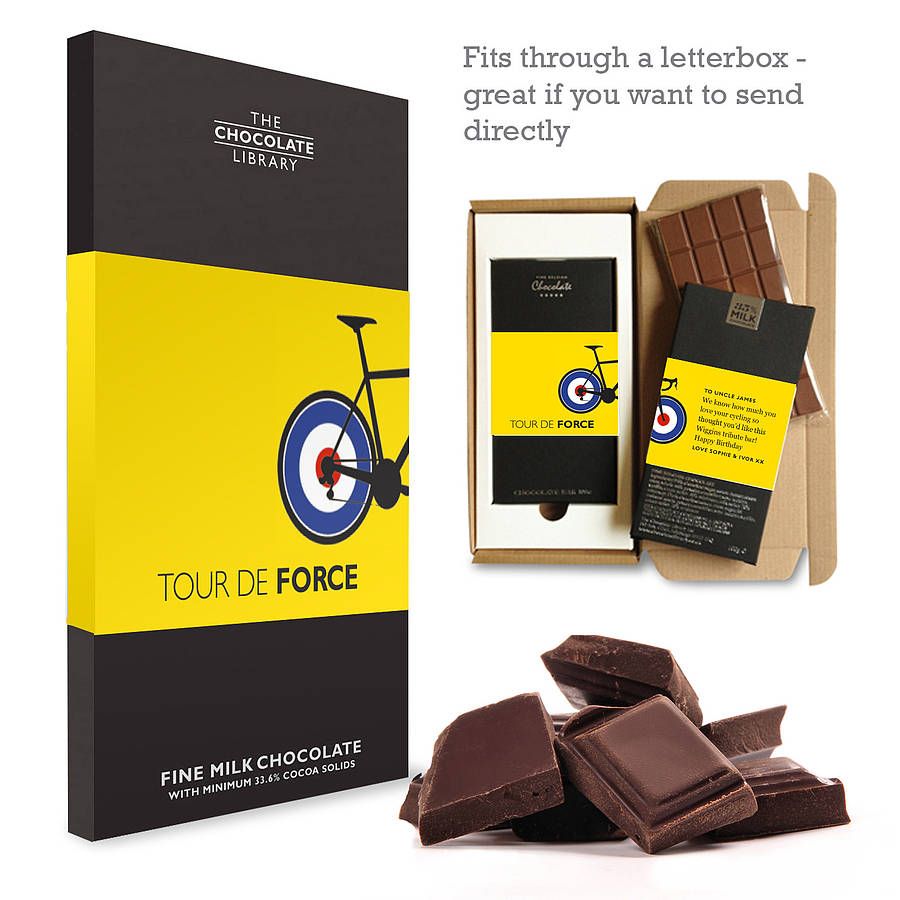 Satisfy their sweet tooth and love of cycling with one perfectly picked stocking filler this Christmas. Wrap a 100g bar of handmade Belgian chocolate and let them eat like a Tour de France and Olympic champion. Like Bradley Wiggins to be exact. Think 70% rich dark chocolate or a 55% bar sprinkled with dried raspberries. White chocolate and coloured candy. Classic milk flavoured with salted caramel and Hebridean sea salt or orange oil and almonds. You're spoilt with nine choccy choices. Write your sweet message for the back of the packaging and get it to gift wrap if you need the postman to push it through their letterbox.
Price: £6.50
https://quirkygiftlibrary.co.uk/